Found March 25, 2013 on Fox Sports North:
ST. PAUL, Minn. Looking back now, Ryan Suter can see all the reasons why his first month with the Minnesota Wild wasn't what he was expecting. Changing teams, systems, coaches, defensive partners; they're all the same reasons Suter didn't want to use earlier in the season as excuses when he was a minus-7 with four points in the first nine games. Suter, off of that 13-year, 98 million dollar contract he signed in the summer, wanted immediate results. The disappointment grew in the quiet Suter. "Oh, it was, you start doubting everything," Suter said. "You get real frustrated." As Minnesota general manager Chuck Fletcher has reminded everyone, Suter and Zach Parise, the two free-agent stars that chose the Wild following last summer's bidding war, didn't sign 10-day contracts. Those 13-year deals are in place for a reason. Minnesota's staff believes in Parise and Suter. Without the benefit of a training camp, the transition wasn't easy, especially for Suter. Suter came from Nashville where he had one coach (Barry Trotz) in his NHL career. He was also tied nearly exclusively to one defensive partner (Shea Weber) in one of the league's best pairings. The Wild's defensive system also varies greatly from the Predators' and left Suter, a seven-year veteran, was being tutored by young defenseman like Jared Spurgeon early in camp. "There's a lot of excuses, but I tried not to make excuses," Suter said. "But looking back now, I can make them. It was just a lot of change going on." Suter has adapted, and as his comfort level has grown and his play improved, so have the Wild, who enter Monday night's game at Dallas two points back of Vancouver in the Northwest Division (with two fewer games played) and fourth in the Western Conference. Suter, meanwhile, leads the NHL in ice time, averaging 27 minutes, 14 seconds per game. He's second among all defenseman in points (26) and assists (24). Minnesota is 14-5-1 in its past 20 games, and Suter had at least one point in 15 of those games. "He's been unbelievable lately, and I thought he's been playing great all season," Parise said last week. "Now you could really see, I think he's gone to another level; the way he's controlling the game and controlling the play and producing offensively, which that's just a bonus for us. He plays 30 minutes a night. It's pretty impressive what he's been doing." Suter is understated. He's not one to break sticks in anger or yell in the locker room. He's as controlled emotionally as his play on the ice. But Parise could tell the mounting frustration in Suter earlier this season. "He doesn't really show it, but you could tell just a little bit from knowing it," Parise said. "You could tell the adjustment was a little tougher. Now, you can tell just the confidence he's playing with and being around the locker room. Not that he was pouting walking around the locker room or anything, but you can tell he feels a lot better." Parise believes his transition from New Jersey was easier as a forward. Suter said he had a talk with Fletcher earlier in the season. Preaching patience, Fletcher told him to wait a month and see how he feels. In the past, that month would have largely been a prepatory one with training camp. This year, Suter and the Wild didn't have that luxury. So, when Suter didn't jump out of the gates, many wondered about that 13-year deal. Of course, about a month in, as Fletcher predicted, Suter's play turned. "I was just overthinking stuff, system-wise and things like that," Suter said. "You need time to adjust and as a player you want immediate results." Two months into the season and now Suter is being discussed as one of the leading candidates for the Norris Trophy, given to the league's top defenseman. The steady approach defensively is apparent as is Suter's ability to start the offense from the defensive zone with precision passing. "You think about it, how much of the game is played in the neutral zone just like ping-pong ball back and forth where when you can get a flat pass in stride, it's a tough thing for a D man to do, but he's got the ability to do that, to get you going, to lead you forward and put it flat on your tape so you don't have to take that extra second trying to send it down," Parise said. "That's a small thing, but that's a difference between just tipping a puck in or carrying it in on a rush." Suter is always around the puck and has helped Minnesota control the puck more than in recent past. "He's always on the ice. That's part of it," Wild coach Mike Yeo joked about Suter being involved in the play so much. "He's just so good at every aspect of the game, all areas; offensively, defensively, competitive-wise, the way he thinks the game, skill. He's a very, very complete player and a guy who shows up every night. Every night he's going to do something great, and a lot of times it's something different, whether it's defensively, whether its offensively. He's definitely on top of his game." Suter says he doesn't like attention, whether it was for the struggles early or the success now. He's receiving more attention these days than he did in Nashville, due in large part to his large contract. Even during the frustrating first month, Suter never doubted coming to Minnesota and knew his transition would take time. He just hoped to shorten the length. "I knew I made the right decision to come here," Suter said. "That was never a doubt. It was just, 'What's going on? What do I have to do to get this going again?'"He's got it going now. Follow Brian Hall on Twitter.
Original Story:
http://www.foxsportsnorth.com/nhl/min...
THE BACKYARD
BEST OF MAXIM
RELATED ARTICLES
ST. PAUL, Minn. With Niklas Backstrom starting 10 straight games, the Minnesota Wild switched backup goaltenders Sunday just to get work for their promising rookies. Minnesota assigned goaltender Matt Hackett and forward Jason Zucker to the Houston Aeros of the American Hockey League and recalled goaltender Darcy Kuemper and forward Jake Dowell. Hackett, 23, and Kuemper, 22, have...
MONDAY'S STORYLINES: Mike Rupp, who has missed the last 3 games with a lower body injury, will be back in the lineup and on the fourth line with Torrey Mitchell and Zenon Konopka. The Wild had recalled Jake Dowell yesterday, who has 7 points and 29 penalty minutes in 26 games with Houston this season, with intention of playing him on the fourth line if Rupp could not go tonight...
Zach Parise scored two goals and added an assist and the Minnesota Wild extended their winning streak to six games with a 7-4 win over Dallas Stars on Monday. Both of Parise's goals came on bounces that barely made it over the goal line. Mikko Koivu and Matt Cullen each had a goal and assist for Minnesota, which won for the first time in Dallas since March 21, 2003, snapping...
DALLAS (AP) -- Zach Parise scored two goals and added an assist and the Minnesota Wild extended their winning streak to six games with a 7-4 win over Dallas Stars on Monday. Both of Parise's goals came on bounces that barely made it over the goal line. Mikko Koivu and Matt Cullen each had a goal and assist for Minnesota, which won for the first time in Dallas since March 21...
Zach Parise scored twice and added an assist as the Minnesota Wild scored a season-best seven goals as they defeated Dallas 7-4. Mikko Koivu, Pierre-Marc Bouchard and Kyle Brodziak each  had a goal and an assist in the win. SPIN: Lost in all the offense is that Minnesota goaltender Niklas Backstrom is 14-3-1 in his last 18 starts. Jaromir Jagr scored for Dallas while Alex Goligoski...
Before I say anything else, I would like to send my condolences to the family of actor Larry Hagman after losing his fight with cancer earlier this year.  Hagman would have fit in with most hockey players as he was a free spirit who loved a good practical joke.  It is with the memories of Hagman the fun-loving person that I write the rest of this introduction.  Larry Hagman'...
Minnesota Wild (18-10-2)  38pts  2nd in the Northwest 2.53 Goals For (19th) 2.33 Goals Against (4th) 18.9% Power Play (14th) 86.2% Penalty Kill (3rd) Top 5 Scorers: 1. #9 Mikko Koivu ~ 7G 19A = 26pts 2. #20 Ryan Suter ~ 2G 24A = 26pts 3. #11 Zach Parise ~ 12G 12A = 24pts 4. #10 Devin Setoguchi ~ 11G 9A = 20pts 5. #7 Matt Cullen ~ 4G 16A ...
As the Minnesota Wild continue their surge toward the postseason, the Phoenix Coyotes must find a way to prevent their playoff chances from slipping further away. The Wild can extend their season-high winning streak to seven games by handing the visiting Coyotes a seventh straight defeat Wednesday night. Zach Parise had two goals and an assist in Minnesota's highest-scoring...
Minnesota Wild (18-10-2, 38 pts) @ Dallas Stars (15-13-3, 33 pts) 8:30 PM CT American Airlines Center, Dallas, Texas   The Wild – 4th in the West Rankings: Goals – 19th, Goals Against – 4th, Power Play – 14th, Penalty Kill – 3rd Much like the Stars much publicized back-to-back troubles of the past couple of seasons, the Wild also have a dubious...
PREVIEW 6:30 AM CDT In the second match of a five-game homestand that runs through April 1, the Dallas Stars (15-13-3) will play the first of two successive games against the Minnesota Wild (18-10-2) on Monday. Tonight's game at the American Airlines Center starts at 7:30 p.m. CDT and will be televised locally on Fox Sports Southwest. This is the second of three meetings...
NHL News

Delivered to your inbox

You'll also receive Yardbarker's daily Top 10, featuring the best sports stories from around the web. Customize your newsletter to get articles on your favorite sports and teams. And the best part? It's free!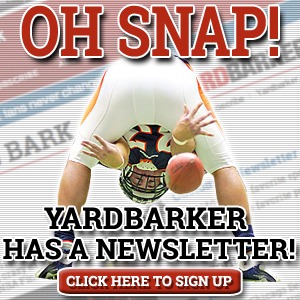 Latest Rumors
The Backyard

Today's Best Stuff

For Bloggers

Join the Yardbarker Network for more promotion, traffic, and money.

Company Info

Help

What is Yardbarker?

Yardbarker is the largest network of sports blogs and pro athlete blogs on the web. This site is the hub of the Yardbarker Network, where our editors and algorithms curate the best sports content from our network and beyond.