Found March 14, 2013 on Fox Sports North:
THURSDAY'S STORY LINE: Jason Zucker, who took a nasty hit from Ducks forward Corey Perry on Tuesday, will be out of the lineup Thursday against the Colorado Avalanche. The league suspended Perry four games for the hit. Zucker skated on his own Thursday morning, and Wild coach Mike Yeo said he anticipates his young forward will travel with the team on its upcoming road trip to Colorado, Vancouver and Detroit. With Zucker out, Pierre-Marc Bouchard will be back in the lineup. Bouchard has been a healthy scratch the past three games. The 28-year-old has 332 points in 542 career games and is a proven playmaker. "I want to see him come in and not play the type of game where you are afraid of making a mistake and where you play safe," Yeo said. "I want to see him come in and play with confidence and make a point. He has the ability to do that. He has the ability to control the play and obviously create, and certainly we have to do that within our structure within the ...
Original Story:
http://www.foxsportsnorth.com/nhl/min...
THE BACKYARD
BEST OF MAXIM
RELATED ARTICLES
ST. PAUL, Minn. Minnesota Wild coach Mike Yeo had just finished watching his team lose a disappointing 2-1 game to the second-place Anaheim Ducks in which Minnesota lost rookie forward Jason Zucker to an upper-body injury and couldn't offer an update on his young scorer. Yeo said he hadn't watched the play, in which Anaheim forward Corey Perry hit an unsuspecting Zucker...
ST. PAUL, Minn. A day after taking a scary hit from Anaheim Ducks forward Corey Perry, Minnesota Wild rookie forward Jason Zucker returned to the ice and said he feels "all right." Zucker, 21, skated on his own shortly after Minnesota's optional practice Wednesday, an indication the speedy forward has likely avoided a concussion. During the second period of Tuesday...
Corey Perry is known as one of the league's best playmakers, but the Ducks forward also knows his way around the penalty box. On Tuesday night in Minnesota, he found himself in the bin after blindsiding the Wild's Jason Zucker with a disturbing hit to the head. Perry was given a 5-minute major for interference and a game misconduct for the incident, which can be seen in the...
Minnesota Wild forward Jason Zucker was helped off the ice after he was elbowed in the head by Anaheim's Corey Perry in the second period of the Ducks' 2-1 victory on Tuesday night. Perry dipped his shoulder and threw an elbow at Zucker's head, sending him crashing into the corner boards. Zucker stayed down on the ice for about five minutes as he was helped by trainers...
Let's go ahead and start this out by saying Anaheim Ducks forward Corey Perry is almost certainly going to get suspended for the hit in the video above. During Tuesday night's contest, Minnesota Wild forward Jason Zucker was chasing the puck into his own zone and moved to pass the puck to a teammate. As he moved to gather the puck, Perry flew into Zucker and hit him hard in the...
In my opinion this is a violation of rule 48 and will cost Corey Perry a game or two from the department of players safety. Wild forward Jason Zucker is in a vulnerable position and the head looks to be targeted. 48.1 Illegal Check to the Head – A hit resulting in contact with an opponent's head where the head is targeted and the principal point of contact is not permitted...
Corey Perry's blindsided hit to Jason Zucker cost him a game misconduct and five-minute major for interference Tuesday night. The late hit to Zucker's head knocked the 21-year-old Minnesota Wild forward's head into the boards and out of the game. Afterwards, Perry showed some remorse for the vicious hit. "I was committed to the hit. … I tried to let up...
Corey Perry doesn't exactly have the best reputation for a goal scorer. So far this year he has nine goals and 15 assists, and he'll probably have a nice hefty suspension to go along with it after this hit in Tuesday night's game between the Anaheim Ducks and Minnesota Wild: It's obviously a late hit, as proven by the interference call that was the initial...
Don Brennan of the Ottawa Sun thinks the Ottawa Senators should land big-ticket free-agent Corey Perry this summer.  " If Melnyk wants a championship as much as he lets on, he must still toss and turn with nightmares of how Perry played such a large role in keeping him from one that spring. If he wants to sip from the Cup as he says, he must be prepared to offer Perry a deal...
from Eric Stephens of Ducks Blog, Corey Perry figured that he would receive some form of discipline from the NHL for his hit on Minnesota's Jason Zucker and the possibility of him being out of the Ducks' lineup was realistic. But a four-game suspension? That one didn't enter the winger's mind. "I think it's caught a lot of people off guard,&quot...
Darren Dreger of TSN was on the NHL Network today and for the first 1:45, talked realignment.  Then trade talk was brought up, with the names Ryan Miller, Chris Stewart, Jay Bouwmeester (pay attention Detroit fans), Mikka Kiprusoff and Corey Perry discussed.  
NHL News

Delivered to your inbox

You'll also receive Yardbarker's daily Top 10, featuring the best sports stories from around the web. Customize your newsletter to get articles on your favorite sports and teams. And the best part? It's free!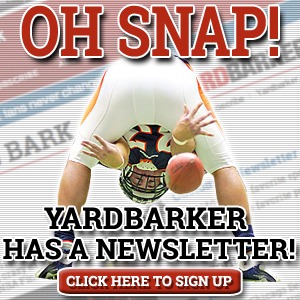 Latest Rumors
Best of Yardbarker

Today's Best Stuff

For Bloggers

Join the Yardbarker Network for more promotion, traffic, and money.

Company Info

Help

What is Yardbarker?

Yardbarker is the largest network of sports blogs and pro athlete blogs on the web. This site is the hub of the Yardbarker Network, where our editors and algorithms curate the best sports content from our network and beyond.