Miami Heat superstar LeBron James defended Seattle Seahawks All-Pro cornerback Richard Sherman, who called the 49ers' Michael Crabtree a "sorry receiver" during an interview on FOX Sports following the NFC Championship Game. "I don't know one "thug" that graduated from Stanford and also working on their Masters!" tweeted James on Thursday. 
Paul (right shoulder) hasn't played for the Clippers since January 3rd The Los Angeles Clippers are 29-15 so far in this half-finished 2013-14 season, which is good enough for Doc Rivers' team to be the No. 4 seed in the Western Conference as of this moment. Another notable aspect of L.A.'s season is that the Clips have not had star point guard Chris Paul in the...
Peyton Manning and the Denver Broncos are headed to New Jersey next week to play the Super Bowl at MetLife Stadium. New York Giants quarterback Eli Manning, who plays his home games at MetLife Stadium, will be offering his older brother a few tips on the stadium's quirks. "I might have a few things for him, but I don't want to reveal that, because I don't want to give it...
COOPERSTOWN, N.Y. – Greg Maddux and Tony La Russa will not have logos on their Hall of Fame plaques. The decision was announced Thursday by the Hall, which said Joe Torre's plaque will have the logo of the New York Yankees. Plaques for Tom Glavine and Bobby Cox will have Atlanta Braves logos, and Frank Thomas' will have the logo of the Chicago White Sox. The six will be inducted...
Tweet Darrelle Revis — the cornerback many considered the best in the NFL before Richard Sherman played (and talked) his way into the title — believes that Sherman put himself ahead of his Seahawks teammates during his post game interview last Sunday. "I didn't think that was good on his part," Revis told the Tampa Bay Times. "If you listen...
Mary Kay Cabot reports that the Cleveland Browns have hired Bills DC Mike Pettine as their new head coach. The post Report: Browns Hire Mike Pettine As Their New Head Coach appeared first on NFL Trade Rumors -.
BY NICK ST. DENISVirgin America and Geno Smith are buddies again. At least publicly.A week after the New York Jets quarterback exited a flight to prior to takeoff in Los Angeles, the result of an incident and reported "verbal altercation" with an on-board attendant, the airline issued an apology to Smith."After a full review of the incident, we believe it was the result...
Lolo Jones is once again a hot topic of discussion, this time for her selection to the U.S. bobsled team last week. She will compete in Sochi, Russia in about three weeks time. Lolo was a scene stealer at the Summer Games in London in 2012, even though she failed to win a medal. Her […]Continue reading...
Former NFL wide receiver Keyshawn Johnson is happy pop star Justin Bieber got arrested for driving under the influence, driving with an expired license and resisting arrest "without violence." "At first he was a little belligerent … using some choice words, questioning why he had been stopped," Miami Beach Police Chief Raymond Martinez said at a press conference. Johnson...
NFL commissioner Roger Goodell is open to the idea of players using medical marijuana in the future.
You could say Darrelle Revis is happy with the Buccaneers' recent coaching changes. In an interview with the Tampa Bay Times on Wednesday, the veteran cornerback ripped former Bucs coach Greg Schiano, saying he created a "real tense atmosphere" that made players not want to come to work. "The atmosphere, I felt like, was real tense," Revis said. "Guys didn't...
USA Basketball announced today 28 players have been selected for the 2014-2016 USA Men's National Team pool, from which the 2014 USA World Championship Team and, if the U.S. qualifies, the 2016 U.S. Olympic Team will be selected. Returning to USA basketball for 2014-16 are: three-time Olympic medalists and two-time Olympic gold medalists Carmelo Anthony (New York Knicks) and...
All Sports News

Delivered to your inbox

You'll also receive Yardbarker's daily Top 10, featuring the best sports stories from around the web. Customize your newsletter to get articles on your favorite sports and teams. And the best part? It's free!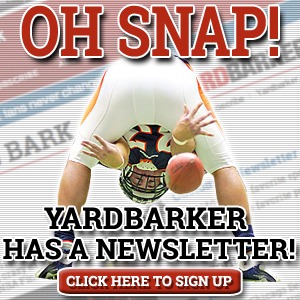 THE HOT 10: Who's Trending
Latest Rumors
Best of Yardbarker

Today's Best Stuff

For Bloggers

Join the Yardbarker Network for more promotion, traffic, and money.

Company Info

Help

What is Yardbarker?

Yardbarker is the largest network of sports blogs and pro athlete blogs on the web. This site is the hub of the Yardbarker Network, where our editors and algorithms curate the best sports content from our network and beyond.