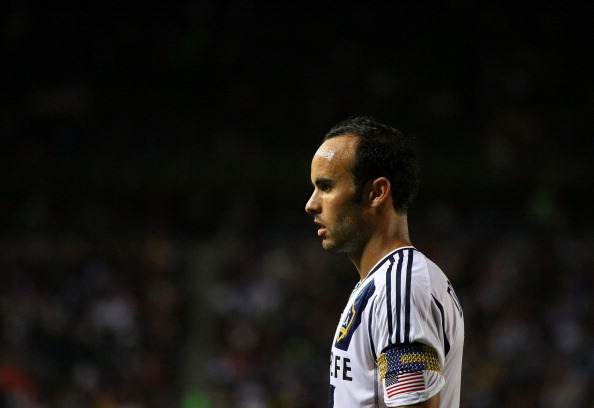 Los Angeles Galaxy captain Landon Donovan told ESPN in an interview that he needs a break from his soccer career because of physical and mental exhaustion. Donovan said he will have to push through the next games as the Galaxy begin their playoff run against the Vancouver Whitecaps. "Your body's going to tell you it's time to take a break and that's what my body is telling me this year, there's no question. "I don't want to feel that way. I want to do it because I'm enjoying it and loving it," Donovan told ESPN. "So I need time where I can just pause, and breathe and rest, let my body heal, let my mind refresh, and I think at that point, I'll be excited to play again." Donovan has been a huge part of the United States National Team over the years. But after missing early World Cup qualifying games in September and October with a knee injury, Donovan isn't sure the team wants him around. "When you're a guy who's never been hurt for the most part and then all of a sudden you have all these injuries, I think people start to question it," Donovan said. "Maybe he's faking it, or maybe he's not really hurt, or maybe he doesn't want to come in. That's really frustrating." Donovan has played in each of the U.S.'s World Cups since 2002. "I don't feel any obligation to play. I don't feel any responsibility to play," Donovan said. "I think I've put in a lot into this whole thing. I'm proud of what I've done and what I've been a part of. But I can't fake it." "If I'm not enjoying playing anymore, the World Cup is the last thing on my mind," he said. "I need to make sure that I'm enjoying playing every day. If I'm not enjoying it, none of that stuff really matters." "I'm no good to any team if I'm playing half-hearted or if I'm playing at 80 percent physically," he said. "I can go through the motions and do an OK job, but I don't want to be doing an OK job. I want to be making an impact." Donovan is the U.S.'s top career goalscorer and has won four MLS cups.  He said he's already planning for the future if his career does end. "I honestly don't exactly know what's going to come and what the future holds, and I'm OK with that. But I'm not going to know until I get away from it for a bit." Photo: Landon Donovan © Action Images
Read the rest of this story...
MORE FROM YARDBARKER

Soccer News

Delivered to your inbox

You'll also receive Yardbarker's daily Top 10, featuring the best sports stories from around the web. Customize your newsletter to get articles on your favorite sports and teams. And the best part? It's free!