Found June 12, 2013 on 90Soccer:
USA 2-0 Panama Reactions: U.S. Men's National Team Head Coach JURGEN KLINSMANN On the team's performance: "We were very pleased with our performance. I think throughout the entire game we were in control of it. Every area on the field the guys did their job. We prepared them for doing certain things and they executed it 100 percent. Amazing crowd. It was just, I think, a wonderful atmosphere that the players enjoyed tremendously – we all did. We pushed for a second goal, that's what we said at halftime. We wanted to add another one to just sort of finish things off and that second goal came, funny enough to Eddie Johnson who plays here, and we are very pleased. But we still have another one to go so we want to get those three points as well against a very strong Honduras side later this week in Salt Lake City." On if he is seeing what he wants from the team: "As coaches, we always want to improve things. No matter what stage you take over a team you just want to help the team to get better and you want to give them as much knowledge as possible and as much guidance as possible in order for them to improve, to grow, and to start fine-tuning things and that's what we said over the last couple of days. We want to fine-tune things. We want to improve the understanding on the field. We want to build partnerships. If it's on the flanks, if it's the two centerbacks, if it's Jozy [Altidore] and Clint [Dempsey] up front, if it's Michael [Bradley] and usually Jermaine Jones – today it was, in a very, very strong way, Geoff Cameron, we want to just improve that one game at a time. I think that they are growing in that process. When you bring young players along you want to give them that opportunity, too. I think the players, no matter if it's a more experienced one that comes in like Brad Davis or it's a young player like a Joe Corona, they understand their roles. They know now that's what we demand from them. Obviously overall as a team we want to just get better and improve and be able then to compete one day with the best out there." On Jozy Altidore: "He knows he has our full support in his development. Again, we have talked often about Jozy and often we forget how young he still is. You got to give him a bad game or a bad performance as well. But you also got to kick him in his backside when you think he needs it. It's just normal. He's playing a position I played my whole career for 18 years for big clubs so I know what's going through his mind, I know when he struggles and what we demand from him is when you struggle just fight for your way back into the game and do your job for the team. How he is doing that in the last couple of games is absolutely outstanding. Already against Costa Rica, in Mexico, and he continues now to do that. It helped him obviously scoring against Germany because that's what you need. A striker needs goals for his confidence. I think he is also learning. I had a long chat with Ernie Stewart out there in Washington, his technical director at Alkmaar. He learns to use his body as well. He is such a physical presence and sometimes he doesn't use it. I think he is just now starting to use it, to shield the ball and to do a lot of work for us. It's really nice to see that coming along." On Geoff Cameron: "We asked him to win a lot of balls back, cover the two centerbacks and have a strong, strong presence in there. I don't know how many balls he recovered; he was constantly there. And then we asked him to play it simple, and he did that. We said once you get that ball, then just keep it simple, find Michael Bradley, find Clint [Dempsey], find the players around him and cover our two centerbacks. It was a huge performance by Cameron for us. It's really important to see that players step in if somebody is injured, if somebody is yellow carded like it happened now, and it gives us even more confidence to go into the next game knowing that whoever steps in now will get his job done." On moving forward in the Hexagonal Round: "We just need to get points after points. Next week is huge. We want to finish these couple weeks now with another win. Again, I said it today and I will say it again before that game, it's a must-win. You're at home, you've got to win your home games, then it makes it a lot easier going where we need to go. It's going to be our job next week. If that happens then that would be just a very good position to have going into the fall period with four more games to go. But I think the team realizes now that you have to give everything you have, and you have to also learn to manage a game when you're a goal up and go for the second one, and not just thinking you've got to hold that result. I think that's what they did today. They were really eager and hungry to add another goal. And we could have added another one or two, but we are fine with that. It's important that they keep playing, their rhythm, their pace, with their confidence going forward constantly. That's really what pleased us a lot today." On the playing surface: "I think every time probably when a grass field is put on top of turf it causes a little bit of discussions. The field was totally fine. The players were fine with it. They did a tremendous job with the field. They accommodated every wish we had, water it here, water it there, rolled it again this morning. I can just give the biggest compliments to everyone here for the field." On Brad Evans: "I think Brad Evans is growing into this role. He is making a very strong case for himself in our group to play that role and I think if you go through that entire team today it was really a complete performance from everyone involved." On the defense: "I think they just grow into that role. They fine tune things. More playing time means better understanding has developed. But you don't know what the next game will bring you. I think question marks will be always there. That's just normal. What's Important is that on this road towards Brazil we get the job done and get the points and qualify and then we can start another period to plan. It is impressive to see how Omar [Gonzalez] and Matt [Besler] take their roles and how confident they are now and they don't shy away from anything. Then we have guys in the back like Clarence [Goodson], he can play that play that blindly if there's need to it. That's what we want to build a bigger roster for everything." On playing against Panama: "We saw the last couple of games from Panama and I think Julio Valdes is doing a fantastic job with the team. It's a very strong team dynamic. They can pass through the middle and they can cause you problems at any time. And they caused us a couple of problems still. Even when they were down 2-nil they still pushed it. It was what we expected, but I think that today we were just kind of more dominant. I think we had that confidence to control the game, and they made it very, very difficult for a very good Panamanian side and therefore I think today we really deserved that." On Eddie Johnson: "That's very simple. Since we try to double our positions and we try to always have somebody behind that is almost as good as the starter. Eddie's role was if something happens to Graham Zusi or even on the left wing, we can throw him in there even if something up top happens. He has done tremendously and he deserves a huge compliment. Talking about Brad [Evans] before and Eddie, I'm constantly talking to Sigi [Schmid] here about how they are doing and we kind of have a feeling that we can follow him and help him therefore we were very pleased to have him in such strong shape now." U.S. MNT Goalkeeper TIM HOWARD On the backline: "We were strong in the back, not giving up many chances at all. We kept a really good line, caught them offside a few times." On the defense: "We did well. That's what it takes, kind of get thrown into the frying pan, take your lumps, and get better. If you play enough games and stink you're off. They've done well. They've gelled; we're young and learn together. We're trying to slowly but surely, each game, be a little bit better. We're trying our best, it's not going to always be pretty but we're striving for perfection. On Geoff Cameron: "Awesome performance. He was strong on the ball, he set up one of the goals, really, really, good. I thought he was dialed in there. It was great to see; he deserved it. He's easy on the eye the way he moves. He has those long, loping strides and he's very coordinated. He seems like he's really calm in that position as well which is pretty awesome. His body language is very calm." On things coming together: "Two in a row, six points is coming together. It feels good. You talk about a nine point swing, and we're on the verge of that. So if we can get three we can set us ourselves up for a great fall." On the crowd: "Fantastic. I think there was baseball game today, and if there wasn't there would be even more. I thought it was amazing to have a football stadium, and have the bowl be almost filled. It was really, really cool. It was inspiring for us." U.S. MNT midfielder MICHAEL BRADLEY On the win: "Yeah, big win for sure. Especially when you look around the group right now and the results, three points are big. Every guy who stepped onto the field tonight should be proud of what they did. We talked beforehand about coming out and setting the tone from the start with our reactions when the ball turns over. We wanted to go after them and be aggressive and put them in a game right away where they would be uncomfortable. I think as far as doing all those things it was really good." On the crowd: "Obviously for me you can't talk about the game without talking about the crowd—unbelievable. The best crowd I've played in front of in the United States without a doubt. From all the players, a big thank you to everyone who was here in the city who makes this a special night for us. People should know the difference it makes when you play in an atmosphere like this." On players stepping up: "Geoff [Cameron] and Eddie [Johnson] both came in and had real good nights. We talked yesterday before training how one of the qualities of this team has always been that on big nights when certain guys aren't there that guys are ready to step in and make sure the team doesn't miss a beat. I think that's the biggest compliment you can give those guys—they stepped in in a big situation and gave really big performances." On performance of young guys: "It is important for these guys for who it is the first time through qualifying to understand what it's all about, to understand what it's like when you go play on the road and what those games are like, and it's important for them to understand how quickly then you have to shift gears and know how to take advantage of playing at home." U.S. MNT forward EDDIE JOHNSON On scoring a goal in his home stadium "It's a dream come true. To play in the U.S. jersey, first of all, is an honor, but to play in front of my fans that I play in front of week in and week out—I couldn't have asked for a better feeling after the goal tonight." On the atmosphere : "I've been telling the guys throughout the week to wait until game day. They got a taste of it in the Vancouver game. It's all the boys have been talking about after the game: the crowd and how they'd love to play in Seattle one day, and saying 'Eddie you're lucky to play in front of such great fans with great passion.' They all said it was like a European atmosphere. That's good to hear and to play here week in and week out, I'm grateful." On playing midfield for the National Team : "It's a challenge. At the end of the day, you want to improve as a player and better yourself and add to your game. Coach Jurgen, he's been sticking me out there because he sees something in me that the previous coaches from the National Team haven't seen. He's a big motivator. When you're out there he gives you a ton of confidence, and tells me and tells the rest of the guys to go out there and have fun. Right now we're having fun, but most importantly we're all on the same page and we all have one common goal, and that's to qualify for the World Cup. We have one more game to put us in a good position to make that happen." On Geoff Cameron's pass to him before his goal: "It was a good ball. We talked at halftime about how he has a lot more time on the ball than he knows and that I was going to try and come off the back shoulder of the last defender. Omar and Brad tried to find me a couple of times in the first half, but it was just a great ball by Geoff. He plays that position quite a bit in Stoke City and he was called upon to do a job tonight, and he did it." On his goal: "Tonight we possessed the ball really well. We talked about it—Michael Bradley and Clint Dempsey—playing with a lot of confidence and guys wanting the ball. It's just like playing up top if I'm out wide and you can see a play developing, and just setting my defender up—waiting for him to take his eye off me and having that natural instinct to try and get in behind. I saw that Geoff had time on the ball and it was on his strong foot. I knew if it was on his strong foot then I knew I could make a run in behind. I like my chances running in without the ball in behind the back defense." On if he knew it was a goal when the ball was coming : "I didn't know it was a goal. The ball was good and it was just about my first touch. Your first touch is everything—you set yourself up for your next touch. I lured across my defender and the most important thing for me was to relax and to be composed in the box. The first touch was good and at the end of the day, if I'm a winger I become a striker in the box when I'm in front of the goal." http://www.ussoccer.com/  
Original Story:
http://90soccer.com/wordpress/ussocce...
THE BACKYARD
BEST OF MAXIM
RELATED ARTICLES
A mere three months ago, Jurgen Klinsmann was a man who reportedly had lost control of the U.S. national soccer team, leading many to call for his head. An ugly come-from-ahead away loss to Honduras in the Americans' opener in the fourth and final round of World Cup qualifying followed a long string of lackluster performances. If Klinsmann's predecessor, Bob Bradley, had...
U.S. soccer coach Jurgen Klinsmann has made two changes to his lineup Tuesday night against Panama, inserting Eddie Johnson and Geoff Cameron into the starting lineup. The changes were necessitated by a concussion suffered by Jermaine Jones against Jamaica and a yellow card suspension to Graham Zusi and changed the U.S. to a 4-2-3-1 allignment. Tim Howard started in goal with the...
My how things have changed.  The United State Mens National Team began the year a bit on the ropes.  The team had an up and down type 2012 and were eager to begin the final stage of CONCACAF World Cup qualifying.  Ten matches with up to thirty points up for the taking.  Of the six teams left in the hexagon shaped tournament, three qualify outright while the fourth will take on...
The U.S. Men's National Soccer Team hit its stride a year and a day before the start of the 2014 FIFA World Cup finals in Brazil. The Americans defeated Panama by a score of 2-0 in front of a raucous crowd in Seattle, Wash., thanks to goals from Jozy Altidore and Eddie Johnson. The resurgent forwards were among those players who came up big, as the U.S. delivered its most complete...
Soccer News

Delivered to your inbox

You'll also receive Yardbarker's daily Top 10, featuring the best sports stories from around the web. Customize your newsletter to get articles on your favorite sports and teams. And the best part? It's free!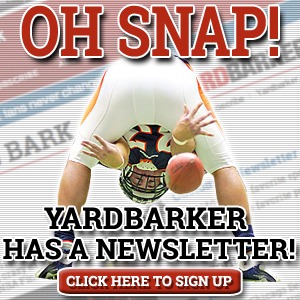 Latest Rumors
The Backyard

Today's Best Stuff

For Bloggers

Join the Yardbarker Network for more promotion, traffic, and money.

Company Info

Help

What is Yardbarker?

Yardbarker is the largest network of sports blogs and pro athlete blogs on the web. This site is the hub of the Yardbarker Network, where our editors and algorithms curate the best sports content from our network and beyond.