Posted February 02, 2013 on AP on Fox
David Beckham has won league championships in three countries on two continents, earns millions of dollars in endorsements and his name is practically synonymous with celebrity itself. He has his own cologne, for goodness sake. So why is he even bothering to sit on the bench for the Paris Saint-Germain football club? His royal highness of football doesn't need the money - and he's said he'll donate his PSG salary to charity - but he does need to start thinking about life after the game. At 37, Beckham is practically a dinosaur for the sport, and he acknowledged in his welcoming press conference on Thursday that he probably won't be in the team's starting lineup. Instead, Beckham may be beginning to put in place a plan for life after the final whistle. Ellis Cashmore, a sociologist who writes about sports and media culture at Staffordshire University, said that prolonged exposure is always useful to celebrities building empires. In that way, the deal with PSG does double work: It keeps his name in lights for longer and also garners extra attention for the charitable contribution. ''When he does stop playing, which is going to be quite soon, his overall brand appeal will inevitably decline because we will inevitably forget about this guy,'' he said. ''I think he's probably thinking, I want to stay in the shop window for a bit longer.'' But Cashmore also cautioned against being too cynical in assessing Beckham's motives: ''The guy is an athlete. He wants to do what he loves to do.'' Bruno Satin, an independent players' agent who was with IMG for a decade, also said that the move to PSG - even if it's to sit on the bench - is a step up for Beckham. ''For him, to be on the PSG team, it's a higher level than being on the Los Angeles Galaxy,'' he said. ''For the world of football, for real football, the Los Angeles Galaxy is nothing on the map of football.'' Some wondered if Beckham was trying to avoid the notoriously sticky fingers of the French state with his plans to donate his salary. But Sandra Hodzic, a tax lawyer with Salans, said the deduction an individual can take on such contributions is limited. Instead, it would be smarter for PSG to directly donate the salary - and take a big tax break in the process. Doing so would have an added benefit for the club: UEFA, the governing body for European football, mandates that clubs break even. The donation could allow PSG to essentially write off Beckham's entire salary - a huge help for a team notorious for mega-contracts. Beckham, meanwhile, would be better off trying to avoid becoming a French tax resident at all. So far, Hodzic said, he is making all the right moves: His family is staying in London, he plans to live only part-time in the country for less than six months, and his primary source of income -whether or not he donates his salary - isn't being earned in France. Beckham's agent did not return calls for comment on specifics of the contract. Still, the charitable contribution has raised the question about what Beckham is getting out of the deal. For one, he likely is still getting a cut of rights to his image. Jerseys with his name on them were already selling out at the PSG store on the Champs-Elysees on Friday. Cashmore, who wrote a book called ''Beckham,'' calls him a ''marketing phenomenon'' and estimates that about 70 percent of Beckham's income comes from endorsement deals - with Adidas, for instance. That makes salary almost irrelevant - especially for a man estimated by the Sunday Times Rich List to be worth 160 million pounds ($253 million). But the football feeds the endorsements, Cashmore says. ''It makes an awful lot of business sense to perpetuate, to prolong his active competitive football career,'' he said, especially with a team that's doing fairly well this year. ''It makes an awful lot of sense for him to showcase himself because it will generate more income from his various other sponsorship and licensing activities.'' But certainly this move, as any at this late-stage in his playing career, is being made with an eye on what will come next. Cashmore said that when Beckham signed with the L.A. Galaxy, there was an understanding that he would eventually become an ambassador for American soccer. That plan clearly fell by the wayside - perhaps because Major League Soccer decided it was just too expensive to keep on the star after his presence on American soil failed to generate more interest in the game. It's possible, Cashmore said, that Beckham is looking for a similar deal after his stint at PSG, which is Qatari-owned. The tiny, wealthy nation is hosting the World Cup in 2022, and Beckham's contract with PSG will establish a relationship with it; from there, a role as, say, an ambassador for the tournament would seem more natural. ''For his after-career conversion, it's important to have links with major actors in the world of sports,'' said Satin. And Qatar is certainly one. It has poured money into PSG, drawing major names like striker Zlatan Ibrahimovic. It also funds the satellite network Al Jazeera, which could provide Beckham with a platform. And then there's the World Cup. In the end, though, Satin said the clue to Beckham's thinking may be as simple as the eternal draw of Paris. ''PSG has become a glamorous club, a pretty nice club in a beautiful city,'' said Bruno Satin, an agent. ''It's just two hours on the Eurostar (train) from London.'' ---- AP Sports Writer Rob Harris contributed to this report from London. ---- Follow Sarah DiLorenzo at http://www.twitter.com/sdilorenzo
Original Story:
http://msn.foxsports.com/foxsoccer/so...
THE BACKYARD
BEST OF MAXIM
RELATED ARTICLES
David Beckham never could say no to a challenge. From the very first time he ever picked between clubs, he opted for the better one; the harder choice, signing his first professional apprenticeship papers with Manchester United over his local club T ottenham Hotspur at age 14. Now, at 37, rather than play out a final encore to his many fans in some exotic locale where he is guaranteed...
At Paris Saint-Germain, David Beckham may again prove that there is still some good football in his 37-year-old legs. If not, no matter, because in Paris he's chosen a city where simply looking fabulous is enough to turn heads and make people go ''Wow!'' And Beckham is a master at that. PSG doesn't need Beckham to tear up and down the pitch week-in, week...
David Beckham lit up a subdued transfer deadline day in Europe by securing perhaps the final move of his globetrotting career, a surprise short-term deal with ambitious French club Paris Saint-Germain. Otherwise, there was plenty of speculation but precious little activity on the transfer market Thursday, with the top clubs reining in spending to ensure they adhered to UEFA'...
David Beckham is officially back in soccer, the 37-year old superstar recently signed a 5 month deal with Paris Saint-Germain , David will also be donating his entire salary from the team to a children's hospital. David was presented today to the media at the French club's Parc des Princes stadium. For his press conference David looked dapper as usual, suiting up in traditional...
David Beckham's sudden arrival at Paris Saint-Germain has been warmly received by French media and sport alike. Beckham joined the cash-rich club on Thursday and then surprised people again by announcing he would donate his salary to a children's charity. The 37-year-old former England captain turned down several other offers as he bids to win the championship with a fourth...
Originally posted on Top-soccer.com After receiving up to a dozen offers from all corners of the world, David Beckham ended months of speculation by announcing his decision to sign for Paris St Germain on the final day of the transfer window. Manager Carlo Ancelotti managed to persuade the 37 year old Englishman to join the Ligue 1 revolution, and join his squad in their quest to...
Emirates airlines has agreed in principle to a new five-year jersey sponsorship deal with Paris Saint-Germain, the big-spending French team that just signed David Beckham. Emirates senior vice president Boutros Boutros told The Associated Press on Friday the sponsorship contract should be completed this month. Last year, PSG's Qatari owners were reportedly in sponsorship talks...
Paris St Germain responded to the much-publicised arrival of David Beckham with a comfortable 4-0 win at Toulouse to strengthen their position at the top of the Ligue 1 table. The former England captain on Thursday signed for the Parisian club until the end of the season but ruled himself out of this fixture because of a lack of match fitness, having not played since December. ...
Days ago, former England captain David Beckham was training with Arsenal. Now, he's swapped the life he knows best for the French capital, Paris. Just before Christmas 2012, Beckham ended his 5 and-a-half year spell with Los Angeles Galaxy and has since been a free agent. With the usual hype around the January Transfer Deadline Day this move has been perhaps one of the biggest...
Zlatan Ibrahimovic scored his 20th league goal in as many games to help Paris Saint-Germain thrash Toulouse 4-0 away from home and move provisionally three points clear of Lyon at the top of the French league. The day after David Beckham joined the club on a five-month deal until the end of the season, PSG sent out a statement to Lyon and third-place Marseille with a dominant performance...
Soccer News

Delivered to your inbox

You'll also receive Yardbarker's daily Top 10, featuring the best sports stories from around the web. Customize your newsletter to get articles on your favorite sports and teams. And the best part? It's free!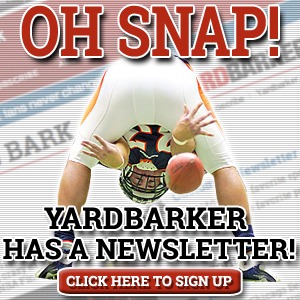 Latest Rumors
The Backyard

Today's Best Stuff

For Bloggers

Join the Yardbarker Network for more promotion, traffic, and money.

Company Info

Help

What is Yardbarker?

Yardbarker is the largest network of sports blogs and pro athlete blogs on the web. This site is the hub of the Yardbarker Network, where our editors and algorithms curate the best sports content from our network and beyond.