It seems Fernando Torres' time as an Atletico Madrid player is coming to an end. Where next?
Fernando Torres may face a decision on his future at Atletico Madrid this summer. Atletico Madrid coach Diego Simeone replied with a simple no when asked if he would battle to keep Fernando Torres at the club beyond the summer. Torres is out of contract in June and has scored just two goals in 16 appearances in La Liga so far this season. The veteran has also seen his starting time...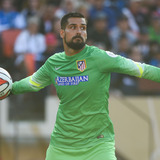 Fernando Torres was an appropriate figure for the honorary kick off before Atletico Madrid's first ever home match at the Wanda Metropolitano in front of 68,000 supporters. And while the new stadium is in theory a necessary move in order to fulfill Atleti's financial and sporting ambitions, Torres reiterated that the memories of parents and children walking hand in hand to the Vicente...
MADRID -- Atletico Madrid says Fernando Torres has been released from the hospital following a scary head-to-head clash which left him unconscious. Atletico says a CAT scan did not reveal any damage to his head or neck. Doctors have ordered the 32-year-old former Spain striker to wait 48 hours before practicing or playing again. Torres collapsed and lost consciousness after knocking...
Atletico Madrid fans held their breath when striker Fernando Torres hit the pitch hard after a brutal collision with a Deportivo la Coruna player during Thursday's match. Torres went to control a ball that was in the air, when his opponent collided with the back of his head, sending him flying. (@cazchez) March 3, 2017 Torres was carted off and immediately taken to a hospital to...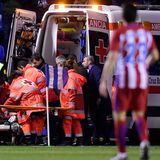 Fernando Torres suffered what Atletico Madrid called a "traumatic brain injury" in the team's 1-1 draw with Deportivo la Coruna on Thursday. The striker was taken to the hospital, where he will remain for the night.The club said Torres was stable and conscious but will stay under observation before undergoing tests on Friday.Torres was injured when he challenged for a ball in the...
The Spanish Federation released their provisional roster for the upcoming EURO 2016 tournament on Tuesday and there were a few surprises.  Most notably, strikers Diego Costa of Chelsea and Fernando Torres of Atlético Madrid were not included in the 25-man roster.  Other exclusions included Juan Mata of Manchester United, Santi Cazorla of Arsenal, Bayern Munich's Javi Martinez, and...
Fernando Torres is back to lead the Atletico Madrid attack but an injured Yannick Ferreira Carrasco exited early in the second half, so there were mixed emotions for Diego Simeone's side Sunday in a 1-0 victory at Getafe.Torres, a longtime Atletico fan favorite scored the goal as the visitors prevailed and moved back into a share of the La Liga lead. But the loss of the speedy young...
Ten months on from his return to Atlético Madrid, striker Fernando Torres explains what it means to represent his boyhood… The post Torres on his feelings for Atlético appeared first on TheSoccerDaily.com.
Fernando Torres returned to the Vicente Calderón to an adoring crowd of thousands on Saturday, appearing in an Atlético Madrid kit for the first time since 2007. It's almost as if the crowd was unaware that Torres had become a misfit at Chelsea and was unwanted by AC Milan who brought him in on loan in the previous transfer window. El Niño's rise to soccer prominence began with...
MORE STORIES >>
Soccer News

Delivered to your inbox

You'll also receive Yardbarker's daily Top 10, featuring the best sports stories from around the web. Customize your newsletter to get articles on your favorite sports and teams. And the best part? It's free!