Found September 01, 2012 on Tennis Panorama :
Saturday, September 1, 2012
THE MODERATOR:  Questions, please.
Q.  That was pretty tough and hot and a difficult match, wasn't it?
ANDY MURRAY:  Yeah, it was tough.  Yeah, obviously very, very hot, very humid.  It's a quick court, that one, as well.  You know, obviously Feliciano has one of the best serves in the game.  So there's some games, you know, that were frustrating at times because you have no say in how the points go.  Obviously, I mean, the last few sets were tough.  I mean, I just played a little bit better at the end of the tiebreaks, a little bit more solid than him, and that was the difference.  But, you know, had chances.  So mentally it was quite a challenging match because I was up a break I think in the last three ‑‑ two of the last three sets.
Q.  How deep did you have to dig to come through?
ANDY MURRAY:  It was tough.  It was physically challenging.  I actually felt better towards the end of the match than I did maybe halfway through it.  I think it was probably down to a combination of things, you know, having not played that much in these conditions.  It's just taking a while to get used to it.  Normally we get that three‑week training block in Miami before we come over to the States.  Because of the Olympics, obviously missed that.  So it's been tough.
Q.  How does that compare with Australia when it really heats up?  Is it tougher?
ANDY MURRAY:  I mean, it's different.  I mean, both can be brutal.  It's maybe a bit more draining, you know, when the conditions are like that with the humidity.
Q.  Here?
ANDY MURRAY:  Yeah.  But because in Australia it obviously gets hotter when the court's hot, your legs really, really feel it.  You know, your legs are burning because of the heat there.  Also, because it's so dry, as well, you also feel like you're sucking in warm air, too, which is a bit uncomfortable at times.  But they're both challenging.  Both take time to get used to.
Q.  On reflection, how big was the breakpoint, the rally that was one of the most extraordinary of the tournament?
ANDY MURRAY:  I think it was obviously very important.  I was starting to play better as the match went on.  I mean, I don't know exactly if there was a net cord in the point, but there was obviously a lot going on.  He came to the net, there was a dropshot, I made a good volley cross‑court.  Points like that can change the match.  The momentum was kind of with me a little bit after that; whereas before that it was with him.  Both of us had our chances.
Q.  You've dealt with him relatively easily in all your six matches before.  What did he do today that made it more difficult?
ANDY MURRAY:  I think he served well.  He went for big second serves.  That was maybe the difference.  You know, I wasn't getting as much depth on my returns because of that.  You know, conditions can play a part in it as well.  It was lively, quick conditions.  His serve was bouncing off the court a lot.  It can be tough to control the returns.  Yeah, I mean, I always say you never take matches or any players for granted because on any given day, you know, things can change.  If you don't play your best, they play a great match, you know, you can lose.  Sometimes you just have to find a way to get through.  I did that today.
Q.  Did you worry not being able to go to Miami would have this effect?
ANDY MURRAY:  Well, I mean, the best training you can do sometimes is on the match court.  You know, obviously not getting that many matches in on the hard courts and in these conditions before probably didn't help.  But having played a match like today in the heat and the humidity ‑ obviously it was about four hours ‑ I'm sure tomorrow I'll be tired.  But it may help me for the remainder of the event.  So just have to wait and see, do all the right recovery stuff.  I feel okay just now.  Hopefully I'll be all right tomorrow.  Get a good practice in, get myself ready for the next round.
Q.  You're not worried that playing so much today will have a knock‑on effect?
ANDY MURRAY:  I hope it's a benefit, if anything.  I need to spend time on the court.  I need to go through tough moments, tough situations, you know, because I haven't been through them the last ‑‑ you know, I've been in pressure situations but not necessarily physically demanding conditions.  Today was that and I hope it helps me.
Q.  You tell us sometimes what you eat before a match.  After a match as physically draining as that, what type of food do you put in yourself?
ANDY MURRAY:  A lot of protein.
Q.  Meat, fish?
ANDY MURRAY:  Meat, fish.  I have like protein shakes I take after the match.  I try to get about 150 grams of protein in me today, tomorrow.  That helps repair the muscles.  Yeah, just really a lot.  I need to eat a lot.  You can lose two or three kilos.  Matches like that, you don't drink properly.  Obviously when you finish you're still burning calories.  Yeah, I just need to make sure I stay topped up on that.  If you don't, you'll be tired going into the next match.
Q.  What will be on the menu tonight?  Big steak?
ANDY MURRAY:  Sushi.  Sushi tonight.  Go for sushi tonight, I think.  We actually had steak a couple nights ago.  Maybe tomorrow I'll do that.  I try and eat ‑‑ for dinner I'll have fish one night, chicken the next, then steak.  Try not to have the same thing every day.  Probably be good to get some steak tomorrow.
Q.  It looks like you're going to play Raonic, who you played three times this year.  Can you talk about the challenges he presents.
ANDY MURRAY:  Yeah, I mean, he has a huge serve.  He's improved a lot from the back of the court.  He goes for his second serve, as well.  You know, he can serve some doubles but also get free points from his second serve, too.  Yeah, you know, it's a similar kind of match to playing Isner.  I would say they have a similar game style.  You know, he has the same power on the serve as Isner.  Probably can't hit the spots that he can because of the height, but is maybe a little bit more solid from the back of the court.  But, yeah, this is his best year on the tour so far and it will be tough.
Q.  Do you see him as someone that is really going to be a contender for majors?
ANDY MURRAY:  Yeah.  I mean, I think he obviously has the potential.  When you have big, big weapons, that obviously helps.  He's had some good wins this year.  He's also had some tough losses.  Like against Tsonga at the Olympics, he lost a very close one.  He lost a close one against Querrey at Wimbledon, as well.  His match with Hewitt in Australia was a tough match, too.  He's obviously playing better and better.  He's gaining experience all the time.  Yeah, he's definitely going to be dangerous.
Q.  How do you see Nadal's injury, his future?
ANDY MURRAY:  I mean, I don't know exactly the exact problem he has with his knees.  I'm sure he'll come back strong.  It might just take a little bit more time.  He's not really been out for really long periods of time beforehand.  But he's always come back to be one of the best players in the world.  So I would expect the same this time.  But it might just take a little bit more time because of the length of the injury.
Q.  You're having a great summer.  If you had to step back and say what the one or two toughest things you've had to go through in your career, what would those be?
ANDY MURRAY:  Toughest in any respect?
Q.  Yes.
ANDY MURRAY:  My wrist injury when I was young.  That was pretty hard.  It was really painful.  Took me a while before I started feeling comfortable on the court again.  It was probably about three months but wasn't really feeling good till five, six months afterwards.  I found that hard.  Yeah, I mean, a lot of the stuff you do away from the court when you're training, that hurts a lot.  That can be some of the toughest stuff that you do mentally and physically.  That can be some of the most challenging.  And then in terms of matches, I mean, Wimbledon this year was probably tough for me.  But I haven't rebounded from a tough loss like that one like I did obviously at the Olympics beforehand.  So I was happy with the way I played at the Olympics because of how hard Wimbledon was.
Q.  Going away as a kid, was that tough?
ANDY MURRAY:  Yeah, I was 15 when I left home.  The first few weeks were hard.  But when you're 15 and it was in Barcelona, I met a lot of new people.  I didn't have my parents to tell me what to do all the time.  And, yeah, you have a bit more freedom that way.  But it's hard.  Sometimes when you're that age, you have some problems, not being able to speak ‑‑ you can speak to them on the phone, but not having your family around, yeah, can be hard.  But it also I think helps you later on in life, as well.  So there's positives and negatives to leaving home.
Q.  Did you get to watch Laura yesterday?
ANDY MURRAY:  I didn't see the first set or the end of the third set.  I saw a fair amount of the middle part of the match.  But I was practicing during it.  Afterwards, I obviously went to do all my physio, stretching, all that stuff.  But I saw parts of it.  To beat somebody as good as Li Na, she obviously played a fantastic match.
Q.  How impressive is it to put massive wins like that back to back?
ANDY MURRAY:  Yeah, I think sometimes when you have your first big win, it can relax you.  I think maybe in some ways because of the quality of the players she's played after winning against Kim, it was always going to be tough the next round to come back.  But she's playing against Li Na, who was probably expected to beat her.  So she's playing right now with nothing to lose.  She's going for her shots.  She's relaxed.  She's had two massive wins.  She's now got a chance to play against the defending champion.  I'm sure she'll be playing on Ashe tomorrow at some stage.  It's great.  It's a great experience for her.  I hope she can keep it up.  She's definitely got a chance tomorrow if she plays like she did the last couple of rounds.
Q.  Have you run into Roddick at all?
ANDY MURRAY:  I actually haven't seen him yet.
Q.  How do you deal with that situation?  Do you leave him alone?  Do you say something if you see him?
ANDY MURRAY:  I think I'd probably congratulate him if I saw him.  Yeah, I'm sure he's obviously going to want to try to win the event.  I mean, it would be the best way ever to obviously finish.  But, you know, if I saw him, yeah, I'd congratulate him on his career and hope he enjoys his last tournament 'cause, you know, he's been around on the tour a long, long time.  He's very well‑respected amongst the players.  Yeah, it's a shame that he'll be finishing.  But, you know, I'm sure he'll enjoy his life after tennis.
Q.  It's obviously such a big achievement for anybody to win one major.  Do you ever look at Roger's 17 and wonder how that kind of achievement is possible?
ANDY MURRAY:  Yeah, I mean, obviously everything that he's achieved, Sampras before him, obviously Rafa, his record at his age, hopefully he still has a few more years left at the top of the game, it's incredible.  But that happens in a lot of sports.  You have exceptional, you know, players that have a combination of many things from great work ethic, talent, all the other intangibles that you have.  They're incredibly talented individuals that have learnt how to use all of their skills in the most important situations.  I mean, I can see how it happens.  It's happened before in other sports.  But the consistency in doing it over such a long time is what is so impressive.  You know, obviously Roger now is 31, I think, and he's still No. 1 in the world.  He's playing great tennis.  You know, I think it's good for our sport.  But it's a very, very hard thing to do.  So you won't see it that often.  I'm sure it will be a while before someone breaks his record of majors.
Q.  When we spoke to Feliciano, he said any other era you would be No. 1 for a long time.  Given a choice, would you rather be in this era, which makes it tougher for you, or is there a part of you that wishes those guys didn't exist?
ANDY MURRAY:  Obviously, you know, if they weren't there, there would be more chance for me to win major tournaments.  But I think I've improved as a player because I'm competing against them, as well.  You know, if you look at it purely on how much people have won, then, yeah, I would obviously rather be in a different era.  But I think I'm playing better tennis than some guys may have in the past because I've had a chance to compete with them, play at this level, again those guys.  There's obviously pros and cons to it.  I enjoy competing against them.  I'm happy to be part of a bunch of guys that plays against them on a regular basis and it's definitely improved me as a player.
FastScripts by ASAP Sports
Original Story:
http://www.tennispanorama.com/archive...
THE BACKYARD
BEST OF MAXIM
RELATED ARTICLES
It was not really a day to play tennis for three hours and 53 minutes against a tough and determined opponent, but that was what Andy Murray had to endure in the third round of the US Open when he met an old foe, the 30th-seeded Spanish left-hander Feliciano Lopez. A year ago, the pair had also met in the third round and Murray had swept through, 6-1, 6-4, 6-2. This time, it was...
FLUSHING MEADOWS, NY – Olympic champion  Andy Murray gutted out a four-set win over Feliciano Lopez 7-6(5), 7-6(5), 4-6, 7-6(4) in a third round contest on Saturday at the US Open. The Scotsman who is seeded third said it was a difficult match. "Yeah, it was tough," said Murray.  "Obviously very, very hot, very humid.  It's a quick court, that one, as well.  You know...
With the loss of Mikhail Youzhny in the first round and Jo-Willie Tsonga in the second, we think it's a good time to present you with Adidas collection the brand created for its male ambassadors. Create Andy Murray's 2012 U.S. Open Look Andy Murray, U.S. Open 2012 adidas Men's Adipower Andy Murray Barricade Tennis Crew Tee - $46.99 adidas Adipower...
Tennis News

Delivered to your inbox

You'll also receive Yardbarker's daily Top 10, featuring the best sports stories from around the web. Customize your newsletter to get articles on your favorite sports and teams. And the best part? It's free!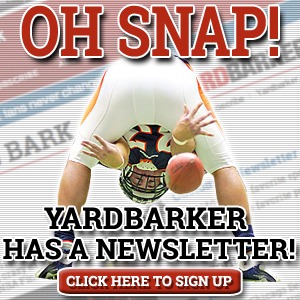 Latest Rumors
Best of Yardbarker

Today's Best Stuff

For Bloggers

Join the Yardbarker Network for more promotion, traffic, and money.

Company Info

Help

What is Yardbarker?

Yardbarker is the largest network of sports blogs and pro athlete blogs on the web. This site is the hub of the Yardbarker Network, where our editors and algorithms curate the best sports content from our network and beyond.