Found December 10, 2012 on Larry Brown Sports:
Via Larry Brown Sports:
It wouldn't be the holiday season without Caroline Wozniacki busting out her Serena Williams impression, complete with a stuffed shirt and some butt enhancements. Over the weekend, Woz stuffed her clothes during an exhibition match in Brazil against Maria Sharapova and paraded around as if she were Serena. She pulled the same stunt a year ago and the crowd seemed to enjoy it then as well. Sharapova, who struggled immensely with the real Serena this year, had little trouble with Wozniacki winning 6-2, 7-6.
I'm still going to give the nod to Andy Roddick when it comes to Serena impressions, simply because it's just that much funnier to see a guy execute it. For whatever reason, tennis players seem to love impersonating each other. Serena is one of the most popular targets, but she can rest assured knowing that imitation is the most sincere form of flattery.
Original Story:
http://larrybrownsports.com/tennis/ca...
THE BACKYARD
BEST OF MAXIM
RELATED ARTICLES
I love a good a good joke. I find laughing to be theraputic and having a sense of humor is key to a happy life in my opinion. Having said that, I'm not sure how I feel about this. Tennis ace Caroline Wozniacki was playing in an exhibition match against Maria Sharapova recently. Wozniacki broke out [...]
The problem with people who talk and write for a living is that they always have to say something. Have to. It has to be loud, too, if they want to get hits online or ratings on TV. The formula? Inflame an issue quickly, then boil it down to sound bites that can be defined in clear, black-and-white, up-or-down points against the person sitting at the other side of the table. They...
Caroline Wozniacki imitated fellow tennis star and good friend Serena Williams over the weekend, and it got plenty of laughs. But not everyone was laughing. Wozniacki, who is white, stuffed towels in her chest and butt during an exhibition in Sao Paolo, Brazil, to imitate Williams, who is black. In fact, it wasn't even the first time she's pulled this funny stunt, as she did...
Caroline Wozniacki did a rather harmless and playful imitation of Serena Williams during a recent exhibition match against Maria Sharapova in Brazil. Wozniacki stuffed her shirt and skirt with towels to replicate the curves of Williams' body. The crowd enjoyed it. Wozniacki enjoyed it. No big deal, right? Besides, Wozniacki and Williams are friends. And most importantly, it was...
Saturday Night Live makes fun of someone, regardless of race or ethnicity, everyone laughs and thinks it is such an honor to be parodied. Another athlete does the same thing, and it is careless and racist. Truth be told, Eddie Murphy going undercover as a white guy and receiving preferential treatment was one of the [...]
Caroline Wozniacki and Maria Sharapova recently played an exhibition match in Sao Paulo. Sharapova won the match (6-2, 7-6), but Wozniacki won the battle of fine entertainment.Watch as the 22-year old tennis pro gives her best Serena Williams impersonation by stuffing a towel in her shirt and another one in the back of her skirt. Good stuff. I'm just not sold that two towels...
Caroline Wozniacki decided to have some fun at an exhibition in Brazil Saturday against Maria Sharapova when she stuffed her skirt and bra with towels to joke on fellow player Serena Williams. Some will probably get offended by Wozniack impersonation of Williams during the match, but the two are friends so it was probably all in good fun.  
I guess if you can't win much anymore you have to resort to entertaining the crowd in other ways. That's exactly the idea behind Caroline Wozniacki, who's taken to jokes instead of wins. This past weekend she reused a Serena Williams impression during a match vs. Maria Sharapova. The crowd seemed to like it, but [...]
Caroline Wozniacki imitates Serena Williams in a recent exhibition match against Maria Sharapova. The clown princess simply needs to go out and imitate herself some titles now. **Follow us... Full story at Bob's Blitz ~ http://www.bobsblitz.com
Novak Djokovic and Serena Williams were honored Tuesday as the International Tennis Federation's world champions for 2012. Djokovic won the men's award for the second straight year, while Williams took the honor for the third time in her career. Djokovic won the Australian Open and was runner-up at the French Open and U.S. Open. He finished the season No. 1 in the ATP rankings...
(December 11, 2012) The ITF announced that Novak Djokovic of Serbia and American Serena Williams are the 2012 ITF World Champions. This is the second successive year Djokovic has received this honor, while Williams is named Women's World Champion for the third time.   Americans Bob and Mike Bryan are named Men's Doubles World Champions for the ninth time in 10 years, while Sara...
By David Kane As we edge closer to December 21st and the world hurtles closer to its Mayan-predicted end, more and more signs of the apocalypse appear to be popping up. For one, the American media largely ignores tennis, save for the weeks during the US Open. Yet, at the height of the off-season, the sport found itself as a topic of conversation on the popular talk show, The View...
Tennis News

Delivered to your inbox

You'll also receive Yardbarker's daily Top 10, featuring the best sports stories from around the web. Customize your newsletter to get articles on your favorite sports and teams. And the best part? It's free!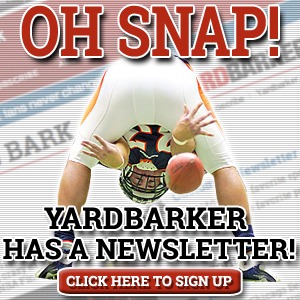 Latest Rumors
Best of Yardbarker

Today's Best Stuff

For Bloggers

Join the Yardbarker Network for more promotion, traffic, and money.

Company Info

Help

What is Yardbarker?

Yardbarker is the largest network of sports blogs and pro athlete blogs on the web. This site is the hub of the Yardbarker Network, where our editors and algorithms curate the best sports content from our network and beyond.