Found July 15, 2013 on Wrestling-Edge.com:
- Scott Hall tweeted out a new photo of he and wrestling legend Lex Luger:- Chris Jericho was at the Sirius/XM studios today to record two shows. He will be hosting Ozzy's Boneyard this weekend and Liquid Metal this week on Sirius.- The Bella Twins were interviewed by The New York Daily News to promote Total Divas and were asked about their workout routines. Nikki Bella replied and mentioned her boyfriend, WWE Champion John Cena:"One thing my boyfriend taught me is it's all about the booty and the squats. They're the key to killing cellulite and getting a bigger butt."The post New Photo of Scott Hall and Lex Luger, What Has John Cena Taught Nikki Bella?, Chris Jericho appeared first on Wrestling-Edge.com.
Original Story:
http://www.wrestling-edge.com/photo-s...
THE BACKYARD
BEST OF MAXIM
RELATED ARTICLES
- The online pre-sale for the 2013 WWE SummerSlam Axxess fan fest begins today at 10 AM PT with the code TWAXXESS. - As noted earlier, John Cena appeared on "Live With Kelly and Michael" on this morning to promote the E! Network's new Total Divas reality show. Embedded below is footage of Cena and Strahan sumo wrestling.
Insider leaks months of PPV results: An apparent WWE insider has been accurately leaking the results for every PPV since Elimination Chamber on the Reddit Squared Circle page. This would have to be somebody high up in WWE, most likely in creative. Lets just hope they stick around until next year's Wrestlemania when the online bookmakers are taking bets for the match outcomes! And...
- WWE posted this video for Natalya and Total Divas: - Big Show will be returning on Monday's RAW. - Chris Jericho finished up with WWE, for now, at last night's SmackDown tapings. He tweeted: "So long to @WWE for now…2013 was one of my favorite in ring yrs ever! Thx for always sticking w Y2J & see u on the road soon w @FOZZYROCK!" Early Word on Jericho's Return...
- Chris Jericho tweeted the following about his RAW match with Rob Van Dam last night: "Amazing match with @TherealRVD tonight on #raw. He's back and better then ever! Always had great chemistry and always will…" A fan commented that it's scary how Jericho is probably in his prime at 42 years old. Jericho replied: "I agree! 2013 has been one of my favorite...
WWE.com has a new article up, talking about an upcoming appearance by WWE Champion John Cena on the ABC morning show "Live with Kelly & Michael" this Monday at 9 AM ET. The article mentions Cena and co-host, former NFL player Michael Strahan, doing battle in a "No Holds Barred Match" on the show Monday. Cena will be there to talk WWE, Money in the Bank, Make-A-Wish, RAW...
- Here is WWE's latest promo for this year's SummerSlam from Los Angeles: - Rosa Mendes announced on Twitter that WWE announcer Tony Chimel has lost 58 lbs – his goal and his record. Apparently Chimel was using Rosa's "Musclemania" program. - WWE used a different lighting for the Mark Henry vs. John Cena match at Money in the Bank last night. Jim Ross commented: "Subtle...
Brad Maddox tells John Cena he's going to allow him to pick his opponent for Summerslam. Randy Orton comes out and tells John Cena he may not be WWE Champion when Summerslam rolls around. Fandango interrupts and comes out and says Orton will be cashing in the briefcase against him, not John Cena. Fandango tries to get John Cena to say his name with him but Randy Orton attacks him...
- NBC is schedule to air "WrestleMania: The World Television Premiere" on Saturday, August 3rd. The special will take a behind-the-scenes look at the two-year-long rivalry between The Rock and John Cena, culminating in their championship match at this year's WrestleMania 29. - As of Saturday, there haven't been any major script changes to Sunday's Money in the Bank pay...
- When news leaked last week of WWE's plans to do an angle where John Cena let the WWE fans pick Daniel Bryan as his SummerSlam opponent, WWE officials went ahead and did the angle on this week's Raw. It was originally planned to happen a few weeks from now, closer to when Total Divas aired. The feeling at Raw was that they wanted to put the official SummerSlam main event out...
- The Usos tweeted about their loss to The Shield at Money in the Bank: "Thanks to that HOT Philly crowd!! Knocked down 100 times,…stand up 101..keep pushin. Thanks again to the Universe…#USOOO" "Ups and downs, wins and losses….Take time to thank the man above…say your prayers…out" - Wade Barrett tweeted about the Money in the Bank Ladder Match that he participated...
Partial Source: The Wrestling Observer – The plan as of two weeks ago was to have John Cena retain the title against Mark Henry at Money in the Bank tonight. Of course, plans can and always do change but that was the going plan at last week's WWE TV tapings. – Kenny McIntosh sent in this interview recap: Inside The Ropes debuted their 'Where Are They Now?' Interview series...
WWE News

Delivered to your inbox

You'll also receive Yardbarker's daily Top 10, featuring the best sports stories from around the web. Customize your newsletter to get articles on your favorite sports and teams. And the best part? It's free!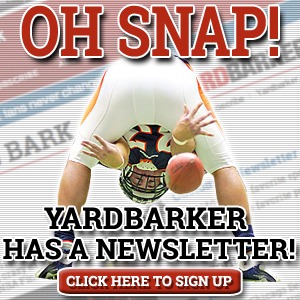 Latest Rumors
Best of Yardbarker

Today's Best Stuff

For Bloggers

Join the Yardbarker Network for more promotion, traffic, and money.

Company Info

Help

What is Yardbarker?

Yardbarker is the largest network of sports blogs and pro athlete blogs on the web. This site is the hub of the Yardbarker Network, where our editors and algorithms curate the best sports content from our network and beyond.