Former junior lightweight world titleholder Francisco Vargas, one half of the 2015 and 2016 fight of the year, will face Rod Salka on April 12.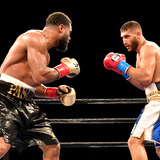 A boxing match was stopped on Saturday night after one of the fighters was unable to continue because his ear was nearly torn off.Stephen Smith had a nasty cut down his left ear that was causing heavy bleeding and needed some medical attention. His fight with Francisco Vargas at the Mandalay Bay in Las Vegas had to be stopped after the ninth round because of the cut. Afterwards,...
INDIO, CALIF. – Action heroes are special. There are precious few of them in any generation. We like to pretend that every fight was an event, but mostly they are like any other fighter except for a few great nights.   Mickey Ward was in his share of dreck fights. So was Arturo Gstti. We aren't supposed to say that. We're supposed to revere them. And we do. But maybe we put too much...
So far, so good for 2017 in boxing, eh? Got us feeling like Scrooge McDuck this weekend. Carl Frampton vs Leo Santa Cruz II, Saturday, Showtime, Las Vegas. Showtime's hot streak of great match-ups continues with a re-pairing of two men who shared the ring for a Fight of the Year-caliber bout. Frampton won the last featherweight smash-up clearly if not by a wide margin, and not...
Francisco Vargas vs Takashi Miura lived in a long shadow. It certainly was the kind of fight you might circle on your calendar on Nov. 21 as one to watch, if you were the sort of diehard boxing fan who was serious enough about the sport to know the names of two men in one of boxing's serially sorriest divisions, junior lightweight (and, also, if you were the kind of person who still...
Francisco "El Bandido" Vargas (22-0-1, 16 KOs) and "Wild" Will Tomlinson (23-2-1, 13 KOs) fought in an action packed battle last night live on HBO Latino Boxing from the Freeman Coliseum in San Antonio, Texas. In the main event, Vargas and Tomlinson faced off in a bloody match as both fighters suffered lacerations to the face and took hard punches to the body. The fight continued...
Francisco "EL Bandido" Vargas and "Wild" Will Tomlinson hosted a conference call to discuss their upcoming bout live from the Freeman Coliseum in San Antonio, Texas on Thursday, March 12, broadcasted live on HBO Latino Boxing. FRANCISCO "EL BANDIDO" VARGAS "I am very excited and motivated, and I know Will Tomlinson is coming ready for a good fight, and I'm going to give him my best...
Golden Boy Promotions returns to San Antonio, Texas on Thursday, March 12 with a special HBO Latino Boxing two-fight live telecast co-promoted by Leija*Battah Promotions. In the headlining bout, 2008 Mexican Olympian Francisco "El Bandido" Vargas (21-0-1, 15 KOs) will put his undefeated record on the line when he faces off against Australian "Wild" Will Tomlinson (23-1-1, 13 KOs...
JuanMa Lopez just can't help himself — if there's a brawl to be had, he'll walk right into it. Francisco Vargas escorted him there Saturday on the Showtime pay-per-view undercard of Saul Alvarez-Erislandy Lara, and to his everlasting credit and detriment, JuanMa said, "sure." The fight was stopped between the 2nd and 3rd rounds. JuanMa has been a ton of fun for a long time, with...
Golden Boy Promotions is proud to announce another addition to its vast roster of fighters with the signing of 2008 Mexican Olympian Francisco Vargas. The rising junior lightweight star will look to add professional accolades on top of his impressive amateur accomplishments with an eye on a run at a world title with the help of the top team in boxing today. "I'm extremely excited...
MORE STORIES >>
Boxing News

Delivered to your inbox

You'll also receive Yardbarker's daily Top 10, featuring the best sports stories from around the web. Customize your newsletter to get articles on your favorite sports and teams. And the best part? It's free!