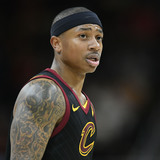 Speaking to reporters over the weekend, Isaiah Thomas shared his two cents on a handful of topics, suggesting that he has received a disproportionate amount of blame for a struggling defense that has been ranked in the bottom five all season, writes Dave McMenamin of ESPN. Thomas also bristled at the idea that anyone with the Cavs would be questioning his shot selection, and said...
Thomas died on Saturday on Chicago. Dwyane Wade is away from the team due to the death of his longtime agent, Henry "Hank" Thomas. Wade, who missed Saturday's game against the Pacers as a result, posted the following message on Instagram: "I'm writing this letter to you as i cry both tears of SADNESS and tears of JOY. I know— i know—i can hear your voice saying "Come on my man"you...
The recent days were sad ones for the NBA and particularly for Dwyane Wade, as his longtime agent, Henry "Hank" Thomas passed away at the age of 64. The latter represented the Cleveland Cavaliers guard, along with other Miami Heat players in the past like Chris Bosh and Tim Hardaway, and is considered a very influential figure for the Cavs veteran. The former 12-time All-Star took...
Cleveland Cavaliers guard Dwyane Wade was excused from Friday night's game against the Indiana Pacers to deal with what was being called a "personal matter." The three-time champion took to Instagram on Saturday to explain his absence from the Cavs' win. As it turns out, Wade's personal issue was the death of his agent, Henry Thomas — a man he viewed as a father figure. Thomas, 64...
Thomas played a role in assembling the Miami Heat's "Big Three" that won consecutive NBA championships in 2012 and 2013.
England prop Kyle Sinckler leaves training camp in Portugal with a possible hamstring strain and will be replaced by Henry Thomas.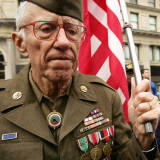 Hollywood and the military have always had a unique and sometimes complicated relationship. While numerous films depict feats of heroism on the battlefield, few films truly capture the difficulties in transitioning from combat to civilian life. That said, films like 2017's "Thank You For Your Service" show a commitment towards sharing the stories of returning vets, highlighting their...
EDEN PRAIRIE, Minn. – Henry Thomas believes the Vikings defense is the real deal. "The defense is unbelievable," Thomas told Vikings.com during a visit to Winter Park for alumni weekend earlier th...
MORE STORIES >>
Boxing News

Delivered to your inbox

You'll also receive Yardbarker's daily Top 10, featuring the best sports stories from around the web. Customize your newsletter to get articles on your favorite sports and teams. And the best part? It's free!