We've updated our Privacy Policy.
By continuing to use this site, you are agreeing to the new Privacy Policy.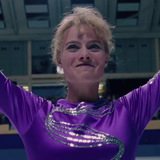 If you haven't seen the fast-paced, action-packed and eccentric trailer for "I, Tonya," you might want to sharpen your skates and get on that because the next great sports biopic is upon us. It plays like the wicked lovechild of "Goodfellas," "Fargo," and "Blades of Glory" with one remarkable significance: "I, Tonya" is based on the true story of ostracized, professional skater,...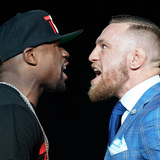 Floyd Mayweather Jr.'s victory over with MMA champion — and boxing rookie — Conor McGregor captivated audiences due to its novelty, gambling, trash-talking and relentless hype. While boxing promoters are the masters of over-hype, here's a look at some of the most over-hyped events in sports history. Hyped events that lived up to the billing are excluded — this is for the events that...
Want more news first thing in the day? Sign up for the Yardbarker Morning Bark newsletter here.Good morning and welcome to the YB Box Score, what we're reading while we wait for Woody Johnson's endorsement in 2017.Happy birthday to Sam Wyche, Vinnie Jones, Jeff Fassero, Joe Juneau and Kyle Calder. On this date in 2007 Bill Cowher resigned as head coach of the Pittsburgh Steelers...
LIKE WHAT YOU SEE?
GET THE DAILY NEWSLETTER:
EDITOR'S NOTE: On May 25, 1965, Muhammad Ali defeated Sonny Liston in the first round of a heavyweight bout that produced one of the strangest finishes in boxing history as well as one of sports' most iconic moments - photos of Ali hovering over Liston on the canvas, shouting at his opponent to get up. After the fight, the 23-year-old Ali called the punch that dropped Liston his...
NEW YORK -- Boxing fans are getting a chance to own a piece of one of the most hotly debated title fights ever. The gloves worn by Muhammad Ali and Sonny Liston in their 1965 heavyweight rematch in Lewiston, Maine, are going on the auction block, just months before the fight's 50th anniversary. They're expected to bring in more than $1 million at the Heritage Auctions sale on Feb...
In today's sports environment, fans and athletes have a warped sense of what it means to be hated. It seems all too often that even the rough and tumble characters that enlist in the most aggressive sports out there, like football, boxing, or mixed martial arts are crying victim after a few hard questions from the […] The post Floyd Patterson And Sonny Liston: The Good Negro Vs....
Can you imagine how Muhammad Ali would have utilized social media back in his day? The man was infamous for talking trash and I can only imagine what sort of hashtags he would have come up with for his opponents. It may be too late for him to talk trash, but the man formerly known as Cassius Clay has finally done it.He's joined Twitter.@MuhammadAli/TwitterThe decision came on the...
( First of two parts ) Cassius Clay was in a psychotic rage. Or at least he wanted to the world to think he was. "You ain't got no chance!" he yelled at Sonny Liston. "You whupped!" It was the morning of Feb. 25, 1964. The fighters were weighing in for that night's heavyweight championship fight. Two priests were at the Miami Beach Convention Hall. They'd been brought in as spiritual...
George Chuvalo was a major heavyweight contender of the mid-1960s, arguably endowed with the toughest body of any boxer who ever lived. This was so much so that Muhammad Ali (then Cassius Clay) sought to avoid facing him for a time, and Sonny Liston never elected to accept a challenge from the then-Canadian heavyweight champion. In a scenario typical of boxing, the fight came close...
Scott Cooley of Covers.com put together a top five of greatest sports conspiracies, including Muhammad Ali's "phantom punch" on Sonny Liston in the boxers' rematch in 1965. The rematch of the Muhammad Ali and Sonny Liston world heavyweight championship was highly anticipated after the first fight ended abruptly when Liston tapped out because of a shoulder injury. But the viewing...
MORE STORIES >>
Boxing News

Delivered to your inbox

You'll also receive Yardbarker's daily Top 10, featuring the best sports stories from around the web. Customize your newsletter to get articles on your favorite sports and teams. And the best part? It's free!