We've updated our Privacy Policy.
By continuing to use this site, you are agreeing to the new Privacy Policy.
Coach Cal is proud of how far his team came after it appeared their season was lost long before the postseason began. Many of us woke up this morning after a long night last night and still can't get over what transpired in Atlanta. That sick feeling you had? Calipari is feeling it too. The Wildcats' head coach had this message for the Big Blue Nation on Twitter this morning....
Kansas State's players felt disrespected but were up in the stands, celebrating with fans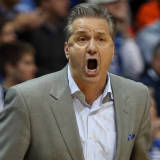 Kentucky Wildcats head coach John Calipari took to Twitter Friday morning to weigh in on a season that ended with a 61–58 loss to the Kansas State Wildcats in Thursday's Sweet 16 showdown. While Kentucky's overall season was an up-and-down affair, the Wildcats seemed to be hitting their stride heading into the NCAA Tournament. However, it was all for naught as the No. 5 Kentucky...
LIKE WHAT YOU SEE?
GET THE DAILY NEWSLETTER: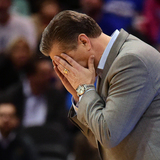 Everyone was penciling Kentucky into the Final Four — the problem was that they had two more games to play to get there.Given that only ninth-seeded Kansas State and 11th-seeded Loyola-Chicago stood between Kentucky and a Final Four appearance, it seemed like a foregone conclusion that they'd punch their ticket to Glendale.But that's why they play the games.Kansas State jumped out...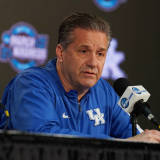 John Calipari said after his Kentucky Wildcats lost to Kansas State in the Sweet 16 on Thursday that the inexperience of his young team showed through during the game.Calipari's Kentucky squad lost 61-58 in a game where fouls became the story. Kentucky was sent to the line 37 times and made just 23 of their attempts. They were tied in the final minute at 58 but came up short, and...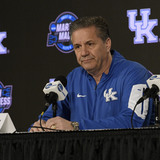 The Kentucky Wildcats are suddenly the highest remaining seed in the NCAA Tournament's South regional, with the top four seeds in the region falling to early upsets. That means the young Wildcats may have a surprise Final Four bid in their future.John Calipari doesn't want his players to listen to any of that, warning his players "don't drink that poison.""The poison being we have...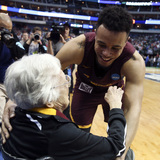 16 teams are still standing in the NCAA Tournament, and that group will be whittled down to eight after Thursday and Friday's games. In what has been a chaotic season, the dust is still settling in some parts of the bracket after a series of seismic upsets blew things wide open.Just because some of the top teams are out, though, doesn't mean the storylines are any less intriguing...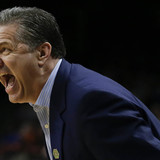 The South Region in the 2018 men's NCAA Tournament has been loaded with upsets, but Kentucky coach John Calipari isn't about to give his competition any bulletin-board material.Although the Wildcats are the No. 5 team in the region, they're the highest remaining seed because of four major upsets. Still, Calipari wants to ensure nobody thinks that means UK has an easy path to the...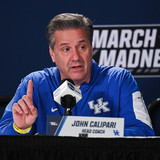 The coaches in Saturday's Buffalo-Kentucky second round game have sparked a bit of a miniature rivalry.Kentucky coach John Calipari did not take kindly to Buffalo coach Nate Oats's accusation that he was "whining" about his team's relative lack of experience, saying he was just being honest about his freshman-heavy team."I don't know if it's whining or I'm telling the truth," Calipari...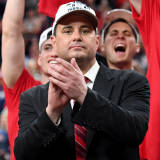 Let's be honest: You probably don't need more reasons to watch the NCAA Tournament. If you're like most of the rest of the country, you're going to watch whether you're at work or home, and you're going to hide your behavior from your boss — unless you're your own boss, in which case, lucky you!In any event, let's take a look at a few good reasons to partake in the Madness.Duke will...
MORE STORIES >>
College Basketball News

Delivered to your inbox

You'll also receive Yardbarker's daily Top 10, featuring the best sports stories from around the web. Customize your newsletter to get articles on your favorite sports and teams. And the best part? It's free!
THE COLLEGE BASKETBALL HOT 10