Ohio State struggled to find separation, but Kam Williams wouldn't let the South Dakota State Jackrabbits end his college career. Yesterday the No. 5 seed Ohio State Buckeyes played their first tournament game since 2015 and they faced a dangerous No. 12 seeded South Dakota State team. The 40 minutes of action contained plenty of back-and-forth […] Ohio State Basketball: Kam Williams...
BOISE, Idaho (AP) — Kam Williams made a tiebreaking four-point play with 1:36 left, then added a trio of free throws after being fouled on another 3-point attempt, lifting Ohio State to an 81-73 victory over South Dakota State in the West Region on Thursday. Fifth-seeded Ohio State (25-8) built a 13-point lead by reeling off 16 straight points midway through the second half of a...
Ohio State guard Kam Williams has been suspended indefinitely for violating team rules.
Via
ESPN
February 04, 2018
COLUMBUS, Ohio (AP) -- Ohio State guard Kam Williams has been suspended indefinitely for violating team rules.
The redshirt senior's suspension comes from a violation of team rules. Hours before the Ohio State Buckeyes were set to take on the Illinois FIghting Illini on the hardwood, an announcement came out that redshirt senior guard Kam Williams was suspended indefinitely for a violation of team rules. The suspension is a blow to the Buckeyes' on-court production and leadership. Williams...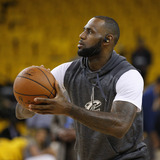 LeBron James on Wednesday whipped the Internet up into a frenzy — actually on two occasions (more on that later) — when he took to Twitter to ask of any potential pick-up basketball action options from his millions of followers. Of course, everyone and their brother and/or sister responded to the Cleveland Cavaliers superstar's inquiry. Responses included invites from rec leagues...
EVANSTON, Ill. (AP) Kam Williams scored 21 points, and Ohio State beat Northwestern 65-56 for its seventh straight win on Wednesday night. Williams finished one point shy of his season high and hit five 3-pointers. He was about the only one connecting for either team, helping the Buckeyes (11-5, 3-0 Big Ten) extend their best streak since a 15-0 start in 2013-14. They pulled...
The Ohio State men's basketball season is right around the corner. The Buckeyes will take on Walsh in exhibition play on November 8th. To help get you ready for tip-off, The Buckeye Battle Cry will be bringing you Player Previews leading up to the beginning of the season. Today, we take a closer look at one of the program's best sharpshooters. There might not be a ton of expectations...
There haven't been many instances where Ohio State fans could honestly say that Amir Williams was the difference maker in an Ohio State victory. On Saturday, it was his presence in the paint that helped pace the Buckeyes to a 87-71 win over the Morehead State Eagles at Value City Arena. Williams took over in the first six minutes of the ballgame. After scoring the first four points...
Kam Williams scored 13 points off the bench in the first half and D'Angelo Russell shot 5/8 in the opening frame to help pace Ohio State to a 97-43 victory over the Big South's High Point Panthers at Value City Arena Wednesday night. The Panthers, who struggled to rebound the basketball in the first half without John Brown in the lineup.  Last year's Big South Player of the Year...
MORE STORIES >>
College Basketball News

Delivered to your inbox

You'll also receive Yardbarker's daily Top 10, featuring the best sports stories from around the web. Customize your newsletter to get articles on your favorite sports and teams. And the best part? It's free!
THE COLLEGE BASKETBALL HOT 10