BLACKSBURG, Va. (AP) Montay Brandon scored 16 points to lead Florida State to a 73-65 victory over Virginia Tech on Saturday. Brandon paced a balanced Seminoles attack that saw 10 players score. He hit 6 of 9 from the floor, and Florida State (13-11, 5-6 ACC) shot 54.3 percent (25 of 46) for the game - its best shooting performance since hitting 58.6 percent against North Florida...
TALLAHASSEE, Fla. -- Montay Brandon scored 18 points on 7-of-7 shooting, and Florida State rallied from a 16-point first-half deficit to beat No. 23 Miami 55-54 on Sunday. The Hurricanes' Sheldon McClellan missed a floater in the lane as time expired. Brandon had 12 of his points in the second half to spark the rally for Florida State (12-10, 4-5 Atlantic Coast Conference). Kiel...
It was winless week for Florida State, but yet another efficient one for junior Montay Brandon, who leads FSU in both scoring and rebounding this season. Brandon is the Florida State Basketball Player of the Week for the fourth time this season for his performances against Pittsburgh and N.C. State. Brandon earns the honors for the week of January 12th through the 18th after shooting...
  Florida State guard Montay Brandon didn't believe his lying eyes as the Seminoles scored the game-winning basket against rival Florida on Tuesday night. He literally had to look at the scoreboard to confirm what he saw. Teammate Devon Bookert had just badly missed a 3-point attempt in a tie game as the clock wound down, but somehow the ball found its way through the net. The ball...
For the third time this season, the Florida State Basketball Player of the Week honor goes to junior slasher Montay Brandon. Florida State played just one game this week, but again, Brandon was the best player on the floor for the Seminoles. In Monday afternoon's lackluster 63-59 win over Stetson, Brandon scored a game-high 17 points on 7-for-11 shooting and added 6 rebounds. Brandon...
The 2014-15 men's basketball season for Florida State is just eight games old, but through the early parts of the season, there is no doubt as to which Seminole has made the biggest strides since last season. For the second time in three weeks, junior slasher Montay Brandon is the Florida State Basketball Player of the Week. Brandon earns the honors for the week of December 1st through...
It's been a rough start for Florida State during the 2014-15 season as the Seminoles sit just 1-3, but one of the more pleasant surprises has been junior slasher Montay Brandon. Although FSU has been in action for a little over a week, Brandon earns the first Florida State Basketball Player of the Week honors for his performance in the first four games of the year. After averaging...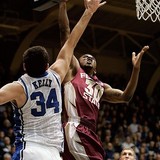 Ian Miller and Florida State have just four regular season games remaining. (Sam Greenwood/Getty Images) Four regular season games remain for FSU After what looked like a season salvaging victory at Wake Forest on Saturday night, Florida State let an opportunity for a big victory slip away at home on Monday. The Seminoles raced to a 21-6 lead over North Carolina, but failed to...
Virginia Commonwealth is the biggest win for Boris Bojanovsky and Florida State this season. (AP Photo/Ricardo Arduengo) Florida State looks to enhance resume' before start of ACC play With just two weeks remaining before ACC play starts for Florida State, the Seminoles will be looking to bolster their non-conference resume'. FSU currently sits at 6-3, but have let opportunities...
MORE STORIES >>
College Basketball News

Delivered to your inbox

You'll also receive Yardbarker's daily Top 10, featuring the best sports stories from around the web. Customize your newsletter to get articles on your favorite sports and teams. And the best part? It's free!
THE COLLEGE BASKETBALL HOT 10