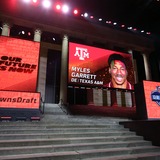 Here we are. The first round of the 2017 NFL Draft has drawn to a conclusion. There were some major surprises along the way, especially at both quarterback and wide receiver. All said, six players at those two positions were selected within the first 12 picks.Among the most-active teams in the first round, both the Cleveland Browns and San Francisco 49ers ended Thursday's action...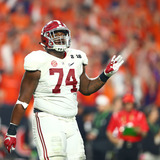 Alabama offensive lineman Cam Robinson has issued a warning to Clemson against trying any of their oddball behavior against him. Robinson was asked on Wednesday ahead of Monday's National Championship Game about a controversial play by Clemson against Ohio State. In that playoff game, Clemson sophomore Christian Wilkins was seen grabbing at the private areas of a Buckeyes wide receiver...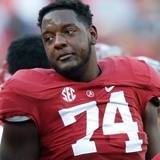 The legal situation regarding Alabama Crimson Tide star offensive lineman Cam Robinson and defensive back Hootie Jones has just taken another interesting turn. Early Tuesday morning, Robinson and Jones were arrested on a myriad of charges, including possession of a controlled substance, illegal possession of a firearm and illegal possession of a stolen firearm, a felony. The arrest...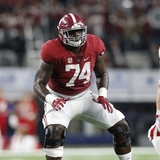 Alabama received some jolting news early Tuesday. Two players, one of them star left tackle Cam Robinson, were arrested in Louisiana. The charges against the 6-foot-6, 329-pound junior included possession of a stolen firearm, a felony. The other player was Laurence Hootie Jones, a junior defensive back."We are aware of the situation involving (reserve Alabama defensive back) Hootie...
Two University of Alabama football players -- junior offensive lineman Cameron Robinson and junior defensive back Laurence Hootie Jones -- were arrested early Tuesday morning in Monroe, La.According to the Ouachita Parish Sherriff's office, Robinson -- projected by many as a top-10 pick in the 2017 NFL Draft -- faces a felony charge of illegal possession of a stolen firearm and a...
Alabama offensive tackle Cam Robinson was reportedly arrested in his hometown of Monroe, Louisiana, per Pro Football Talk. A player who many scouts have been high about as a potential top draft pick next year, Robinson is facing a felony weapons charge and a misdemeanor drug charge and is still in custody. "Jail records show that he is facing a felony charge of illegal possession...
Well, this isn't too good of a look for the Arkansas Razorbacks head coach. During Saturday's game between Arkansas and the Alabama Crimson Tide, a video was recorded that shows Bret Bielema delivering one of the most blatant flops we've seen on the football field. After a play goes out of bounds, Bielema can be seen jawing at Alabama offensive tackle Cam Robinson. Not only does...
On Saturday, the Alabama Crimson Tide suffered a bit of an injury scare when star offensive tackle Cam Robinson was taken from the practice field. The obvious hope is that Robinson was not seriously injured and that he would be available for the Sept. 5 season-opener at AT&T Stadium in Arlington, Texas against the Wisconsin Badgers. On Sunday, the Crimson Tide provided an update...
There is some scary news for the Alabama Crimson Tide. According to reports, star offensive tackle Cam Robinson "was taken from the practice field" on Saturday with a possible foot injury. Robinson is one of the most talented tackles in the nation, so there is obvious reason for concern. Confirmed by @AaronSuttles – Alabama left tackle Cam Robinson was 'taken off the field today...
MORE STORIES >>
College Football News

Delivered to your inbox

You'll also receive Yardbarker's daily Top 10, featuring the best sports stories from around the web. Customize your newsletter to get articles on your favorite sports and teams. And the best part? It's free!
THE COLLEGE FOOTBALL HOT 10