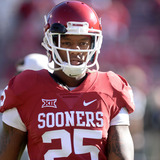 330 NFL hopefuls were invited to Lucas Oil Stadium in Indianapolis, Ind. for the 2017 NFL Combine, which is held through March 6. During their time there, the young prospects will be run through the wringer, fielding questions from professional scouts and putting their athletic skills on display for the football world to see.For some, the NFL Combine will provide a springboard to...
Playing in what some would call a "meaningless bowl game," Michigan tight end and projected first-round draft pick Jake Butt suffered a potentially severe knee injury. Despite this, an injury which was believed to be to either the MCL or ACL, Butt stated that he has no regrets on his decision to play in the bowl game. never once crossed my mind to sit this game out and I would never...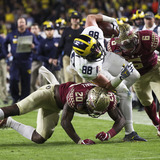 What happened to Jake Butt during Friday's Orange Bowl serves as yet another reminder of why players like Christian McCaffrey and Leonard Fournette decided not to play in their teams' bowl games. The Michigan tight end left the Orange Bowl early in the second quarter after being tackled by two Florida State players inside the 10-yard line following a catch and run (video here)....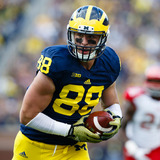 Jake Butt insists he doesn't mind that his surname often makes him the butt of jokes. In fact, instead of trying to avoid it, he has a radically different approach: Bring it on, as there's not a taunt, wisecrack or snarky comment he hasn't heard. Butt has become so used to it over the years that the Michigan Wolverines tight end — get it? — actually welcomes the kidding and ribbing...
Michigan Wolverines tight end Jake Butt opted to return for his senior season after a strong junior campaign, and took to Twitter today to lay some praise on his teammates who share his position on the field. If one were to ask Butt, Michigan's tight ends will be the best in the nation in 2016. Truly believe this will be the best tight end unit in the country #wheresTJ pic.twitter...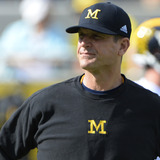 Opposing coaches hate it. The NCAA President is not a fan. Yet if you ask Michigan football players what they think about Jim Harbaugh's decision to take the program to Florida for spring practices, you'll get a slightly different take on the matter. Interestingly enough, at least one player is surprised nobody did ask the players what they thought. Tight end Jake Butt, who opted...
Michigan Wolverine tight end Jake Butt has been performing very well so far this year. He has caught 31 passes for 418 yards and a touchdown this year. A lot of those yards came against Rutgers last week and Butt was rewarded for it. After catching four passes for a career-high 102 yards, Butt has been named the Mackey Award Tight End of the Week. Butt leads all Big Ten tight ends...
Twitter/@JBooty_88 We have all seen the Nebraska touchdown where their receiver ran out of bounds on his own behalf, came back in the playing field and caught the winning touchdown to beat Michigan State.  Michigan tight end Jake Butt saw the play and (allegedly) tweeted pure foolishness.   The "little bro" reference is, of course, referring to Michigan State dating back to the...
Michigan Wolverines tight end Jake Butt has a funny name, and a lot of fans. The senior is also having a decent season so far, posting 14 receptions for 132 yards and a touchdown. Thus, it's really no surprise that fans have showed up to the Big House wearing Butt jerseys, albeit with some slight variations on his name. Check out this photo from Butt's personal Twitter page. Small...
Instagram Giants wide receiver Odell Beckham, Jr. released this rather impressive (see also disgusting) display of his ball skills on Instagram earlier in the week.  Sure, he used gloves which have more tack than most velcro, but it's still sick. On Wednesday, Michigan tight end Jake Butt tried to show that he can do the same.  And while I won't knock JB for being a decent tight...
MORE STORIES >>
College Football News

Delivered to your inbox

You'll also receive Yardbarker's daily Top 10, featuring the best sports stories from around the web. Customize your newsletter to get articles on your favorite sports and teams. And the best part? It's free!
THE COLLEGE FOOTBALL HOT 10