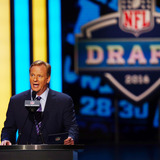 Despite weeks and months of NFL draft preparation, there will be players drafted who turn out to be busts.The draft is an inexact science, and the bust whammy does not favor any particular position.In five or so years from now, these players are the most likely candidates to make the 2017 draft's All-Bust Team.(NFL.com and NFL Draft Scout were used for scouting information.) Quarterback...
BATON ROUGE — It's 6:19 a.m. on the last Monday in January — or more specifically, 47 hours and 41 minutes until the official start of National Signing Day — and the LSU Football Operations Center is already buzzing. Surrounded by a three-story floor-to-ceiling display of trophies and pictures, a giant video board plays LSU football highlights non-stop. The halls on the first floor...
Big news out of Baton Rouge today, as reports have surfaced that LSU star inside linebacker Kendall Beckwith, a senior and top NFL Draft prospect, tore his ACL. Kendell Beckwith did indeed tear his ACL. Donnie Alexander says he's been rehabbing in #LSU's training room. — Ross Dellenger (@RossDellenger) December 20, 2016 Making things more surprising is that the injury occurred...
The LSU Tigers had a pretty scary incident earlier this week when leading linebacker Kendell Beckwith went down with a non-contact knee injury. Fans everywhere took a collective gasp as it looked like their star player could be lost for his senior season after opting to return instead of entering the Draft. Beckwith had an MRI and the team announced that it was negative for any kind...
LSU linebacker Kendell Beckwith suffered a knee injury in practice yesterday on a non-contact play and had to be helped off the field, according to a tweet from Ross Dellenger of The Advocate. #LSU LB Kendell Beckwith suffered a knee injury at practice on Thursday, source said. He needed to be helped off field. No more info. — Ross Dellenger (@RossDellenger) March 11, 2016 Dellenger...
LSU got a big boost to its prospects for the 2016 season -- as both Tre'Davious White and Kendell Beckwith announced they will return for their senior seasons on Monday. Beckwith had 84 total tackles a season ago, including 10.0 tackles for loss. Not only did he command the defense supremely well from a communication standpoint, but Beckwith was a tackling-machine from the middle...
The LSU Tigers look to be one of the best teams in the country for the 2016 season, but they were expected to do so without two big pieces of their defense. That doesn't seem to be the case now as both pieces have announced they will return for their senior seasons. Both linebacker Kendell Beckwith and cornerback Tre'Davious White were expected to declare for the NFL Draft this year...
You hear of athletes having dream jobs for what they want to do if their professional career doesn't pan out. Some want to go back and coach, some want to end up on television discussing the sport they played and some want to pursue something in their degree field, like going to medical school. LSU star linebacker Kendell Beckwith is one of the top defensive players in the SEC and...
Both teams came into the game with identical 3-0 marks in 2014, but although LSU was the team ranked eighth in the nation, it was the unranked Mississippi State Bulldogs that walked out of Death Valley with the 34-29 victory. The game served as a coming out party for the Bulldogs and introduced the team as worthy contender in the West. In an unlikely twist, the Tigers are planning...
LSU's Leonard Fournette, Jalen Mills, and Kendell Beckwith are all expected to have big seasons in 2015. That assertion was reaffirmed this week with the release of the preseason awards watch lists, on which all three players were named, according to Death Valley Voice. Fournette was recognized as a potential candidate for the Maxwell Award, which is awarded annually to the best...
MORE STORIES >>
College Football News

Delivered to your inbox

You'll also receive Yardbarker's daily Top 10, featuring the best sports stories from around the web. Customize your newsletter to get articles on your favorite sports and teams. And the best part? It's free!
THE COLLEGE FOOTBALL HOT 10