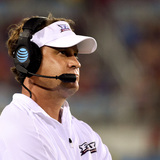 Lane Kiffin's Twitter bravado knows no bounds.Kiffin appeared to troll the Alabama football program yet again when he responded to a tweet. During Friday night's Virginia-UMBC game, sports personality Clay Travis asked if there was a top team that was as boring to watch as Virginia. Kiffin responded to the tweet on Saturday, saying "Hmmmm" along with a crying laughing face. Kiffin...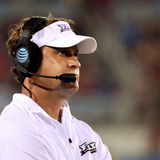 Lane Kiffin is building a monster at FAU one transfer at a time.For his latest act, Kiffin landed former Alabama running back BJ Emmons, who signed with Florida Atlantic on Wednesday. Emmons was a top running back in 2016 and rushed for 173 yards on 35 carries for the Tide that season. He transferred to Hutchinson Community College and played there last year, so he would be eligible...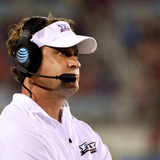 When Lane Kiffin and Florida Atlantic take the field in 2018, they'll be doing so without 2017's starting quarterback. Jason Driskel, who led the Owls on a 10-game winning streak to finish the year, announced his immediate retirement from football. Driskel completed 66.5 percent of his passes as a junior, for 2,247 yards with 15 touchdowns and only four interceptions.While it's hard...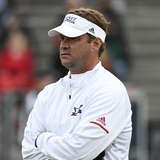 Age is just a number, but when a 24-year-old is hired as the offensive coordinator at a Football Bowl Subdivision program, the decision will turn heads. Lane Kiffin has brought in Charlie Weis Jr. to lead the Florida Atlantic offense.Chuck King of FAU Owl Access reported the move, noting that Weis will be the youngest current coordinator in the FBS.The son of former NFL assistant...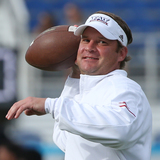 Lane Kiffin talks a lot of crap about Alabama and Nick Saban, but he must see some value in what his old boss has done as he's now hired a second person away from the Crimson Tide. According to Bruce Feldman of Sports Illustrated, Kiffin hired defensive analyst Wes Neighbors to become his new safety coach at FAU. Previously, Kiffin hired then-Alabama strength coach Wilson Love to...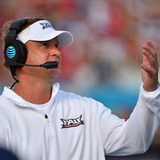 Lane Kiffin has become an entertaining follow on social media, but one of his hilarious, harmless tweets actually resulted in an NCAA violation.In late October, the Florida Atlantic head coach responded to posts from Lamar Jackson and joked that the Louisville quarterback should return home to South Florida and play for FAU.While appearing on The Dan Le Batard Show, Kiffin — after...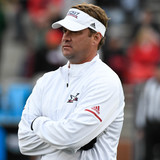 Lane Kiffin has made it abundantly clear that coaching at Alabama was not something he enjoyed, and he gets more and more candid about his time in Tuscaloosa by the day.In an appearance on "The Dan Le Batard Show" this week, Kiffin said his departure from Alabama has reminded him that football is supposed to be fun."It doesn't have to be miserable," Kiffin said, as transcribed by...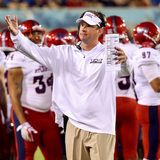 Lane Kiffin showed no mercy during FAU's 50-3 thumping of Akron in the Boca Raton Bowl on Tuesday night.Not only did Kiffin's squad win by 47 points, but the Owls head coach was doing things like going for two while up 35-3 in the third quarter, and throwing passes up 50-3 in the fourth quarter.So why did Kiffin do all that? He says it was prompted by an Akron official talking trash...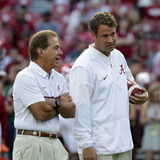 Lane Kiffin spent three years on Nick Saban's staff as offensive coordinator of the Alabama Crimson Tide. While the new Florida Atlantic Owls head coach obviously learned a thing or two from Saban, Kiffin seems to not agree with his former boss' habit of "humiliating assistant coaches."Kiffin famously and publicly was on the receiving end of several Saban tirades during his tenure...
MORE STORIES >>
College Football News

Delivered to your inbox

You'll also receive Yardbarker's daily Top 10, featuring the best sports stories from around the web. Customize your newsletter to get articles on your favorite sports and teams. And the best part? It's free!
THE COLLEGE FOOTBALL HOT 10