Former Tigers were among those taking in practice
It looks like football might run in the Fournette family DNA. Leonard played for LSU, his younger brother Lanard is currently on the Tigers' roster, now coach Ed Orgeron is already trying to get the next generation in purple and gold. Fournette named his son Leonard as well, he's the fourth in line of Leonards in the Fournette family. The best part of this photo is Leonard IV giving...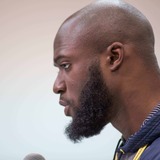 Where would Leonard Fournette be if not for the game of football? It's a question the NFL draft hopeful answered during an interview with "PFT Live."He told "PFT Live" that he considers football "to be a literal life-saver," per Michael David Smith of Pro Football Talk. He said that the game, which he started playing as a freshman in high school, kept him away from the darker elements...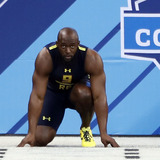 One of the most popular notions ahead of the 2017 NFL draft is the Carolina Panthers selecting a running back.It makes perfect sense. The team needs to get Cam Newton some help and the veterans on the roster in the backfield could use a spell. Whether the pick at No. 8 is LSU's Leonard Fournette or Stanford's Christian McCaffrey is where folks usually get caught up.Not Carolina general...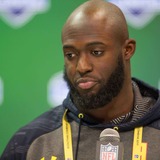 Do NFL teams worry Leonard Fournette might not be passionate about the game of football? According to one report, the answer is yes."One question that's faced LSU RB Leonard Fournette concerns his passion for football," wrote Albert Breer of The MMQB. "And there's a widespread feeling he's driven by stardom."We've seen this all too often in the NFL. A player has all the talent in...
Leonard Fournette and the Carolina Panthers are a match made in heaven. Fournette, the big, bruising back out of LSU often cited as the best in class, would make quite a formidable backfield next to Cam Newton in Carolina. The Panthers are at least thinking about the idea and will host Fournette for a pre-draft visit, per the Charlotte Observer's Joseph Person and Jourdan Rodrigue...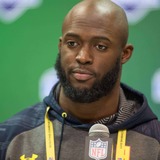 Maybe it really was water weight. After showing up to the combine at 240 pounds, Leonard Fournette weighed in at 228 pounds Wednesday at his pro day. This is much closer to what he likely weighed on game days during his tenure at LSU. The power back wowed even at 240 pounds when he ran his 40-yard dash in 4.51 seconds at the combine, though he didn't particularly impress in other...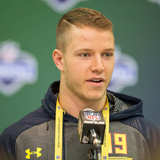 Unless the Oakland Raiders retain Latavius Murray or add another veteran running back, the team will surely target a player at this position early in the 2017 NFL Draft.Already linked to future Hall of Famer Adrian Peterson, there's a chance Oakland will will indeed add a veteran in free agency. This would make the need to go running back early in the draft pretty much non-existent...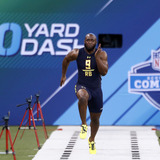 Leonard Fournette appears to be the full package as a running back. And much like Christian McCaffrey, he was very impressive at the NFL Combine on Friday.Fournette posted a 4.51 40-time at the scouting event. On the surface, that might not "wow" you, but when you place it into context, you see how impressive it is.Fournette is much bigger than your average back, which makes his...
All eyes were on LSU running back Leonard Fournette at the Scouting Combine on Friday, as the highest-projected back hit the field to go through some drills. Fournette is the largest running back at the combine, by a large margin, weighing in at 240 pounds. That worried some regarding his 40-yard dash time. But he delivered, and clocked in at 4.51 seconds on his first attempt,...
MORE STORIES >>
College Football News

Delivered to your inbox

You'll also receive Yardbarker's daily Top 10, featuring the best sports stories from around the web. Customize your newsletter to get articles on your favorite sports and teams. And the best part? It's free!
THE COLLEGE FOOTBALL HOT 10