We've updated our Privacy Policy.
By continuing to use this site, you are agreeing to the new Privacy Policy.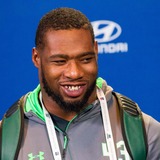 Baylor football continues to refuse to turn its back on its history of sexual assault. Players confirmed that former defensive end Shawn Oakman, who has been indicted for sexual assault, both attended the team's win over Rice and was also allowed in the locker room after the game. Oakman was even allowed to address the team. Former #Baylor DE Shawn Oakman is in the stands tonight...
Shawn Oakman, one of the top athletes entering the 2016 NFL Draft, already had some serious red flags regarding an alleged sexual assault in 2016. However, a new report, courtesy of Alex Dunlap of Rivals.com, shows a history of violence towards women that dates back to 2013. And the worst part is that Baylor reportedly knew about this history and did nothing about it. Source who...
Former Baylor star pass-rusher Shawn Oakman entered the 2015 season with potential to be a first-round draft pick, but an NFC executive now thinks he is "undraftable," according to NFL.com's Lance Zierlein. Oakman was slipping down draft boards to begin with after a subpar 2015 season and unimpressive showing at the NFL Scouting Combine in Indianapolis earlier this year, but the...
LIKE WHAT YOU SEE?
GET THE DAILY NEWSLETTER:
Once considered a sure-fire first-round pick in the NFL draft, former Baylor defensive end Shawn Oakman has other things to worry about in the lead up to the annual draft. The former top prospect was arrested on sexual assault charges Wednesday in Waco, Texas. The arrest comes after Oakman was interview by investigators from the police department, at which point he was served with...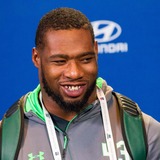 NFL Draft prospect Shawn Oakman is being investigated for an alleged sexual assault, according to multiple reports. Oakman, who played defensive end at Baylor and recorded 4.5 sacks last season, is accused of sexually assaulting a fellow Baylor student early Sunday morning, the Waco Tribune reports. According to the Tribune, a police affidavit states that the woman says she met...
When it comes to being a professional athlete, it's not always about what you can do on the field, court or diamond. Of course, having a ton of skills can help you out, but you should always have good character as well. Recently, NFL.com's Lance Zierlein put together a list of players who some scouts say they have concerns about their character. The list included names like Robert...
The legend of Shawn Oakman was more bark than bite this past year at Baylor, all the way down to how tall the freak athlete actually is. Oakman is in Mobile, Ala. this week with dozens of other top prospects to compete in the Senior Bowl — an NFL scouting paradise in which opinions that sometimes last until draft day are formed. During Tuesday's physical, it was discovered that Oakman...
The Baylor Bears defeated Texas Tech pretty soundly last Saturday. Despite that, the Red Raiders fan base found something positive within the embarrassing loss last week. On a run play for the Red Raiders, Baylor defensive end and potential first-round draft pick Shawn Oakman was looking to make a tackle right at the line of scrimmage. That's when senior offensive guard Le'Raven...
Baylor defensive lineman Shawn Oakman started gaining notoriety with his play in 2014 but it was how he looked in the Cotton Bowl versus Michigan State that saw him become a near household name. No, it wasn't how he looked playing the actual game. It was how chiseled, yolked up, and intimidating he looked in a picture that led him to become a popular internet meme for weeks following...
MORE STORIES >>
College Football News

Delivered to your inbox

You'll also receive Yardbarker's daily Top 10, featuring the best sports stories from around the web. Customize your newsletter to get articles on your favorite sports and teams. And the best part? It's free!
THE COLLEGE FOOTBALL HOT 10