Wyatt Shallman, a FB/LB for Michigan, shared that he will be pursuing a grad-transfer elsewhere: Thank you to The University of Michigan pic.twitter.com/gLyYESgZ2y — Wyatt Shallman (@WyattShallman) January 19, 2017 Shallman, a Novi, Michigan native who contributed on special teams this past year, was ranked as the No. 1 FB in the 2013 class. The post Former Four-Star Recruit...
Michigan RB/FB Wyatt Shallman shared the following video of some of the team playing some soccer in the locker room after finishing up their Friday workouts. Alittle post Friday lift soccer. Full field goal for your boy. #Bendit #ronaldo A video posted by Wyatt Shallman (@wyattshallman) on Feb 26, 2016 at 11:13am PST The post Watch: Michigan Players Take Up Soccer After...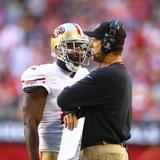 Rap group Migos made the trip up to Ann Arbor from Atlanta to visit the Michigan Wolverines football team this weekend. Migos has been making a habit of showing their love for the maize and blue, and even Michigan head coach Jim Harbaugh gave them a shout out on Twitter earlier in the season. Group members Quavo and Offset spent the day with the team and posed for photos with several...
Michigan's Wyatt Shallman apparently is dealing with an injury. The Sophomore running back from Novi, Michigan shared this photo from a hospital bed. Scout.com's Sam Webb is hearing that Shallman likely had surgery for a meniscus tear and should be out a few weeks. Only thing I can do now is get better! Love the challenges! #idontlikeneedles pic.twitter.com/ekDCCLVuTi — Wyatt Shallman...
Michigan FB/RB Wyatt Shallman shared a new pet he adopted on Instagram: Go big or go home…. New member of 1401 south state #kangaroo #imnotevenjoking A photo posted by Wyatt Shallman (@thepeoplesrepublicofshallman) on Jun 25, 2015 at 3:58pm PDT Shallman also has himself a pet ferret and dog: I am now the proud yet strict father […] The post Michigan's Wyatt Shallman Has A Pet Kangaroo...
There are some people who just have weird pets. In Scarface, Tony Montana got himself a tiger. Some like to keep monkeys as pets. Michigan running back Wyatt Shallman, however, has taken having exotic pets to a new level. On his Instagram, Shallman posted a picture in which he claimed to have adopted a kangaroo. Go big or go home…. New member of 1401 south state #kangaroo...
Maximus: I am required to kill, so I kill. That is enough. Proximo: That's enough for the provinces, but not enough for Rome.But first, the tipping point.Michigan had just given up a field goal on a short drive thanks to a Gardner tipped pass --> interception. On the following MU kickoff, a botched return in where a true freshman blocker (Wyatt Shallman) didn't hear the returner...
MORE STORIES >>
College Football News

Delivered to your inbox

You'll also receive Yardbarker's daily Top 10, featuring the best sports stories from around the web. Customize your newsletter to get articles on your favorite sports and teams. And the best part? It's free!
THE COLLEGE FOOTBALL HOT 10