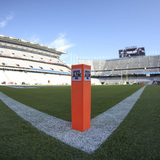 Nicholas Jerome Ackies, a freshman defensive lineman for Norfolk State, was tragically killed in a shooting Friday night.The school made the announcement Saturday, per The Virginian-Pilot."This is such a tragic situation. Our prayers are with Nick's family during this very difficult time," NSU Athletics Director Marty Miller said in a statement.Ackies, a criminal justice major, was...
(STATS) - Norfolk State's 2011 MEAC football championship has been vacated as part of the NCAA sanctions lobbied against the university for inaccurate reporting of some student-athletes' eligibility, the NCAA and the school announced Thursday. The athletic department has been placed on two years' probation for violations in football, men's and women's track, men's and women's tennis...
The Norfolk State Spartans' football team have never had a terrific run on the gridiron, but now they have just been slapped with a huge punishment from the NCAA. On Thursday, it was ruled that the school must vacate 97 total wins, 22 of which come from the football team. The school notified the NCAA of a number of eligibility issues that ran from 2009-2011, which they found in their...
PRINCESS ANNE, Md. (AP) Jeff Short scored 17 and Jonathan Wade hit a pair of free throws with 24 seconds left to help Norfolk State slip past Maryland-Eastern Shore 76-70 Monday night. D'Shon Taylor and Jordan Butler each had 16 points and eight rebounds, while Zaynah Robinson added 12 points and five assists for Norfolk State (12-13, 8-2 Mid-Eastern Athletic Conference). Devin...
(STATS) - A return to the Labor Day Classic will kick off Norfolk State's 11-game 2016 schedule, announced Wednesday. The Spartans will host the first Labor Day Classic since 2012 against former Division II rival Elizabeth City State on Sept. 3. The programs have played 55 times, the most among Norfolk State opponents. Their season-opening matchup will be among five the Spartans...
DURHAM, N.C. (AP) Charles Oliver was 5 of 8 from beyond the arc for 20 points as Norfolk State had a strong second half to pull away for an 88-79 win over North Carolina Central on Saturday. Oliver nailed three treys to total 13 points in the second period. Alex Long, Jeff Short and Jonathan Wade finished with 12 points apiece and Preston Bungei added 10 for Norfolk State (7-12...
A week ago, Amber Brown was like thousands of other women's college basketball players, playing and practicing with her Norfolk State teammates. Now, the junior forward is fighting for her life laying in a hospital bed. Brown, 19, was found unconscious on her dorm room floor on New Year's Day. She has been hospitalized the last eight days in a medically induced coma at a Norfolk...
FLAGSTAFF, Ariz.  -- D'Shon Taylor hit five 3-pointers and finished with a career-high 31 points, and Jeff Short scored 19, including a pair of free throws with three seconds left, to lead Norfolk State past Northern Arizona 70-66 Monday night. Norfolk State (2-4) used an 11-0 run to open up a 52-42 lead midway through the second half. Zaynah Robinson's layup gave the Spartans a...
Wide receiver Quinta Funderburk has played for both Syracuse and Arkansas, but now appears to be headed to an FCS program after only managing three catches for 50 yards in 2013, his only significant stats across both programs. Funderburk has announced that he will play his final season of eligibility for the Norfolk State Spartans of the Mid-Eastern Athletic Conference (MEAC). As...
As we delve further into the Pittsburgh Steelers offseason, our attention has begun to shift towards the draft. Like we've done in the past, these reports will cover the prospects of the 2015 NFL Draft, placing an emphasis on those who could help the Steelers the most. Today we look once again at the outside […] 2015 NFL Draft Player Profiles: Norfolk State DE/OLB Lynden Trail is...
MORE STORIES >>
Norfolk State News

Delivered to your inbox

You'll also receive Yardbarker's daily Top 10, featuring the best sports stories from around the web. Customize your newsletter to get articles on your favorite sports and teams. And the best part? It's free!
THE HOT 10: Who's Trending