We've updated our Privacy Policy.
By continuing to use this site, you are agreeing to the new Privacy Policy.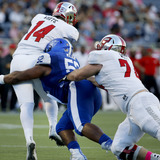 Bowl season officially kicked off Saturday with a five-game FBS slate, and in true college football fashion, it got a little weird, too.Underdogs ruled the day, since four matchups featured an upset. Boise State's convincing victory over Oregon highlighted the four, while Georgia State, Marshall and Middle Tennessee also upended favored teams. Trick plays and top individual performers...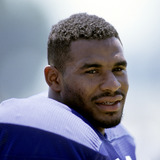 For NFL legends, it all started somewhere, and many times that somewhere was on the college gridiron. More specifically, certain players launched their pro careers in collegiate postseason games, shining in the bowls.For these 25 NFL legends, there stories began being written with their stellar performances in college football bowl games.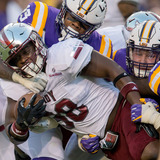 The men of Troy took it to the mighty LSU Tigers Saturday night in Baton Rouge, beating them 24-21. After the game, Troy's Twitter account did not pull any punches. — Troy University (@TROYUnews) October 1, 2017 This was supposed to be a gimme win for LSU on its homecoming weekend. In fact, LSU paid Troy to come to Baton Rouge. The festivities were quickly shut down, however, as...
LIKE WHAT YOU SEE?
GET THE DAILY NEWSLETTER:
Okay, listen, we get it. Most likely, you think bowl season starts on New Year's Eve. Maybe slightly earlier depending on when your team is playing. But regardless of whether or not you're aware of them, the bowls have already started, and there's plenty of college football action to get you through to the main event around New Year's.You may not know much about Ohio and...
The Troy Trojans have not been in contention for the Sun Belt championship for some time as they have missed making a bowl game for five straight years. While they may not compete for the crown this year, it certainly looks like they could look like a winning team this year. They have been teasing new uniforms for some time this offseason and Wednesday, they finally revealed at least...
The Troy Trojans were struck with tragedy Saturday afternoon when they learned of defensive back Nathan Harris being killed in a motorcycle accident. It was certainly some terrible news for the team to endure and the entire Trojan nation is shocked by the death. Troy confirmed the sad news on Saturday afternoon. Harris was just a redshirt freshman and only 19 years old. "This is...
The Troy Trojans didn't have a great season in 2015 as they went 4-8 and missed a bowl game for the fifth straight season. You would think that would motivate them to use all their practice time wisely as they try to improve going into the 2016 season. However, they decided to take a break from their hard work and make a pretty humorous dance video. The coaches, players, and what...
Isaiah Whitehead had 17 points against Troy/nydaliynewsSeton Hall survived a scare from a pesky Troy Trojans team that while ranked in the 280's in division 1 they sure didn't play like it on Thursday night at the Prudential Center. Here are three thoughts about the Pirates victory over the Trojans: 1. Desi Rodriguez has turned into an absolute weapon at the 3 spot on the floor....
In a campaign referred as "Rebuild the Wall," the Trojans of Troy University find themselves sitting on a gold mine in terms of new apparel for the upcoming season, which will be spearheaded by new head coach Neal Brown. From head to toe, the Trojans will alter between three fraternal helmets (chrome, matte and standard) that come complete with Oakley visors and a redesigned sword...
There is some sad news to report today coming from the Troy Trojans football program. After a three-car accident just north of Troy, nineteen-year-old offensive lineman Corey Ryan McCullers was killed. McCullers reportedly hit a vehicle in his car and then crached into a parked travel trailer on the side of the road. He was declared dead at the scene. "This is a terrible tragedy...
Troy coach Larry Blakeney turned to an old friend to revive the Trojans' ailing defense. He rehired former assistant Wayne Bolt as defensive coordinator after enduring two straight losing seasons for the first time in Blakeney's 22-year reign. The Trojans have won just eight games and gone 5-11 in the Sun Belt Conference in two seasons since winning a fifth consecutive league championship...
MORE STORIES >>
Troy News

Delivered to your inbox

You'll also receive Yardbarker's daily Top 10, featuring the best sports stories from around the web. Customize your newsletter to get articles on your favorite sports and teams. And the best part? It's free!
THE HOT 10: Who's Trending