We've updated our Privacy Policy.
By continuing to use this site, you are agreeing to the new Privacy Policy.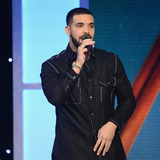 Sorry, Ashley Judd — Drake is the most famous Kentucky basketball fan on the planet. The Wildcats super fan is a fixture at the basketball program's biggest events.Friday, the program had its Big Blue Madness event, and of course, Drake was there. He even spoke to the crowd and gave a hug to his friend, head coach John Calipari. He also wore a hoodie that read "Kentucky Dad." Speaking...
There were some celebrities that showed up to the Women's March on DC Saturday, including Chelsea Handler, Ashley Judd and Mary McCormack. Judd was actually given the chance to speak at the rally, and she did a pretty great job of it. She took plenty of shots at president Donald Trump, and also praised feminism. "My name is Ashley Judd and I am a feminist. And I want to say hello...
Actress Ashley Judd has been a fixture at Kentucky games who almost gets as much air time as some of the players during broadcasts. Her love for the Wildcats knows no bounds and she does not hesitate to express it whenever and wherever she happens to be. With her team in the Final Four she was in Indianapolis Saturday night to watch the undefeated season for her beloved Wildcats...
LIKE WHAT YOU SEE?
GET THE DAILY NEWSLETTER:
Dear Ashley Judd, I'm writing you in response to your tweet Saturday night in which you praised Pitino and the Louisville Cardinals. Maybe all Louisville fans don't agree with me, but I found it offensive. Although I hope otherwise, I find it hard not to think that your tweet was simply a ploy to gain votes in your upcoming political campaign. You can say that it's because of your...
MORE STORIES >>
Entertainment News

Delivered to your inbox

You'll also receive Yardbarker's daily Top 10, featuring the best sports stories from around the web. Customize your newsletter to get articles on your favorite sports and teams. And the best part? It's free!