We've updated our Privacy Policy.
By continuing to use this site, you are agreeing to the new Privacy Policy.
ASSAGO, Italy (AP) — Olympic figure skating champions Aliona Savchenko and Bruno Massot of Germany set a world record as they claimed their first world championship as a pair with a flawless program packed with daring and grace on Thursday. The silver went to Evgenia Tarasova and Vladimir Morozov of Russia skating fast to Christina Aguilera's "Candyman," and the bronze to Vanessa...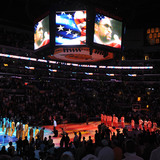 Fifty years ago, the Star Spangled Banner did not have the innate connection to sports that it does today. Certainly, the anthem and how athletes reacted to it was not a dynamic that received much scrutiny like it does in the present, though the 1968 Summer Olympics proved a notable exception. Still, it was performed before sporting events, and when the stage was big enough, like...
OFF KEY
One would think that moments before the biggest games of his life, Green Bay Packers quarterback Aaron Rodgers would have been too nervous, too preoccupied, too something to pay attention enough to notice the errors committed during Christina Aguilera's performance of the National Anthem prior to kickoff of Super Bowl XLV. But he did. And [...]
MORE STORIES >>
Entertainment News

Delivered to your inbox

You'll also receive Yardbarker's daily Top 10, featuring the best sports stories from around the web. Customize your newsletter to get articles on your favorite sports and teams. And the best part? It's free!