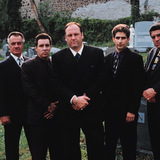 With 18 seasons under its belt and a 19th set to premiere on Sept. 27, 2017, "Law & Order: Special Victims Unit" is considered by many to be one of the greatest crime dramas of all time. We won't argue that, but what other shows about criminals, cops, attorneys, and gangsters could give the "Law & Order" franchise a run for its money? This slideshow will attempt to answer...
Since the mid-1990s, the film industry has moved towards the era of the franchise. This is especially true for animated movies, which went from stand-alone films (remember Aladdin and The Lion King) to sequels and prequels. This isn't necessarily a bad thing. For further proof, here are the best animated movie franchises of all time. 
Please, please, please tell me this photo was taken mere seconds before Brock Lesnar pummeled the hell out of Friends alum David Schwimmer. I mean, the guy has it coming, right? Anyway, I came across this photo during my extensive morning interwebs search and upon seeing it, I says to myself, I says: "Self: by [...]
MORE STORIES >>
Entertainment News

Delivered to your inbox

You'll also receive Yardbarker's daily Top 10, featuring the best sports stories from around the web. Customize your newsletter to get articles on your favorite sports and teams. And the best part? It's free!