We've updated our Privacy Policy.
By continuing to use this site, you are agreeing to the new Privacy Policy.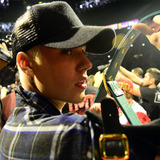 Justin Bieber may believe that he's invulnerable, but Floyd Mayweather Jr. apparently doesn't feel that way.Bieber won't be in Floyd's corner for his upcoming bout against Conor McGregor, and he may never be again, should Mayweather ever fight another time in the future.TMZ Sports has learned that there has been some beef between the two former friends. It started when his advisors...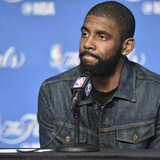 Just when we thought the Kyrie Irving saga couldn't get any stranger, a Justin Bieber angle, of all things, emerges.The story goes, as relayed by TMZ, that Irving met with pastor Carl Lentz of Hillsong Church prior to demanding a trade earlier this month from the Cleveland Cavaliers. Lentz's name may be familiar to some as he was the very same pastor Bieber reportedly met with before...
It is a risky proposition for any athlete or team to get involved with Justin Bieber, but that's exactly what Ole Miss football has done. Weeks after Bieber defended his habit of wearing pretty much every jersey he can get his hands on, the Rebels' football program saw a promotional opportunity. On Friday, they announced to the world that they were sending Bieber one of their new...
LIKE WHAT YOU SEE?
GET THE DAILY NEWSLETTER:
Justin Bieber has long been mocked by some for having the appearance of a bandwagon sports fan and now he's responding.Over the past several years, the famous singer has worn jerseys or other sports gear showing his support for some teams. Recently, he has donned Cleveland Cavaliers and Pittsburgh Penguins gear, showing support for teams that reached the NBA and NHL finals this year...
Not many things are stronger in sports than the Justin Bieber and Kardashian Curse, so we're apologizing in advance for what Cavs fans are about to see. Bieber, who rocked a Steph Curry jersey and shorts during a pickup game back in March, has jumped ship, it seems. The bandwagon Bieber was recently seen rocking a pair of Cavs shorts at a recent concert — without a jersey, though...
Ed Sheeran has been in the news a lot recently, as the popular singer is preparing to release his third album. Sheeran also recently opened up to Alexis Petridis of The Guardian, giving readers a window into his life in an exclusive interview. He talked about a variety of different topics, but one of them stands out among the rest. A night out with Justin Bieber once brought he and...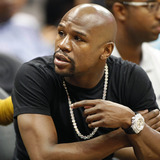 Floyd Mayweather Jr.'s home in Las Vegas was burglarized while the boxer was in Los Angeles celebrating his birthday over the weekend, according to a report.TMZ Sports says police believe the thieves broke into the home through a door in the back of the house and stole several purses. An expensive watch also was unaccounted for.TMZ Sports says $150,000 worth of belongings were stolen...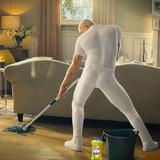 One of the greatest things about the Super Bowl is that, year after year, it is the one game where it doesn't really make sense to complain about the rampant stoppages of play, TV timeouts, and cutaways. Instead of being forced to sit through boring beer commercials while we wait for the on-field action to resume, we get to sit through exciting beer commercials while we wait for...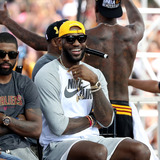 We're not sure how the GOP establishment would have handled it, but Justin Bieber was reportedly this close to performing at the RNC. We apparently have LeBron James to thank for Bieber's decision to turn down a reported $5 million offer to take the stage. According to TMZ, James urged Bieber to stay away from the convention. Reportedly, one of the draws for Bieber when he was considering...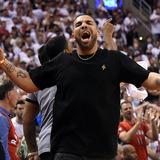 It quickly became quite clear the Cleveland Cavaliers wouldn't require any outside help, sneaky tricks or scoreboard shenanigans on Wednesday night to utterly dismantle the Toronto Raptors in Game 5 of the Eastern Conference Finals. The game was practically over as soon as it started with the Cavs taking a 3-2 series edge courtesy of a 116-78 throttling of the Raptors. But the...
MORE STORIES >>
Entertainment News

Delivered to your inbox

You'll also receive Yardbarker's daily Top 10, featuring the best sports stories from around the web. Customize your newsletter to get articles on your favorite sports and teams. And the best part? It's free!