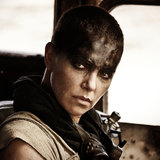 Hollywood is often lazy. It looks at what works in the past, and it tries to replicate its success again (and, sometimes, again and again after that). Oftentimes, these attempts at rehashing the old fail miserably. But once in a while, a modern take on an old idea turns out pretty well. With the reboot of "Tomb Raider" set to hit theaters on March 16, here are 20 examples of reboots...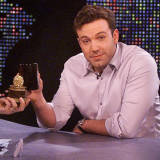 From its humble beginnings in founder John J.B. Wilson's living room to its now 38th year, the Golden Raspberries are a mock award that "celebrates" the worst in film. Now as we know, bad is as subjective as good, but sometimes bad isn't that bad at all, so in honor of this year's Razzies, we take a look at 20 winners who didn't deserve to win, because there's always something worse.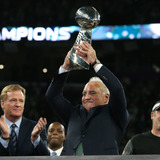 The Philadelphia Eagles championship parade will be held on Thursday and will finish at one of Philadelphia's most iconic locations — the famed "Rocky" steps in front of the Philadelphia Art Museum. It's a fitting place to finish, especially given how much support Sylvester Stallone gave to the Eagles during their championship run.This will be Philadelphia's first Super Bowl parade...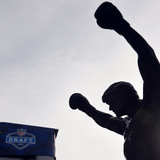 A Patriots fan managed to sneak a Tom Brady jersey onto the "Rocky" statue in Philadelphia over the weekend, making it appear as if the figurine was actually wearing it.That didn't go over well with Eagles fans — one of whom is committed to making sure that doesn't happy again. Jordie Demcher was seen standing guard at the iconic statue that is located in front of the Philadelphia...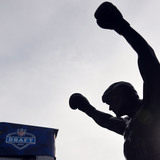 One of the most iconic landmarks in Philly is located in front of the Philadelphia Museum of Art, a place many tourists and locals alike have visited. The "Rocky" statue and "Rocky" steps there have been a major attraction since the famous "Rocky" movies, and likely will be for years to come.That's probably why a Patriots fan targeted that particular area for a recent prank he attempted...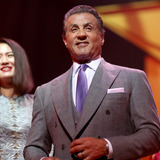 You won't believe what legendary movie star, writer, director and producer Sylvester Stallone put himself through to look the way he did in "Rocky III."Stallone waxed nostalgic in a recent Instagram post, showing off a photo he previously didn't even know existed, detailing what he put into his body during the filming of that movie. "Just for fun… A flashback from Rocky three," Stallone...
If there's one person whose opinion could help drum up support in the City of Brotherly Love for much-maligned Philadelphia Eagles head coach Chip Kelly, it's … Sylvester Stallone? Stallone of course became an adopted son of Philly decades ago after writing and starring in "Rocky" (and its numerous sequels), a rags-to-riches story about a boxer who rose from the mean streets of...
An extended trailer for The Expendables 3 featuring UFC women's bantamweight kingpin Ronda Rousey has been making the waves around the internets today. If you haven't had the chance to sit down and watch it yet we have it in full for you below. First though, if it's ok with you guys, we'd like to give you a quick bio (via imdb) of Luna, the character Rousey will be playing in the...
UFC Women's Bantamweight Champion Ronda Rousey will be making her third title defense when she takes on Miesha Tate next Saturday in the co feature of the promotions stacked year-end PPV extravaganza. Next August she'll see her first major motion picture hit the big screen. Ronda certainly chose a great film for a motion picture debut with The Expendables 3. She'll be the lone female...
I keep getting asked how I feel about Sylvestor Stallone being in the Boxing Hall of Fame. 1) Congratulations to Mike! I'm sorry I wasn't there to see him inducted this year. He deserves it. 2) I like that Rocky gave an uplift to boxing as a whole. In that respect, I would have liked to see the writers, all producers and all actors inducted, as a whole. Maybe the whole Rocky film...
MORE STORIES >>
Entertainment News

Delivered to your inbox

You'll also receive Yardbarker's daily Top 10, featuring the best sports stories from around the web. Customize your newsletter to get articles on your favorite sports and teams. And the best part? It's free!