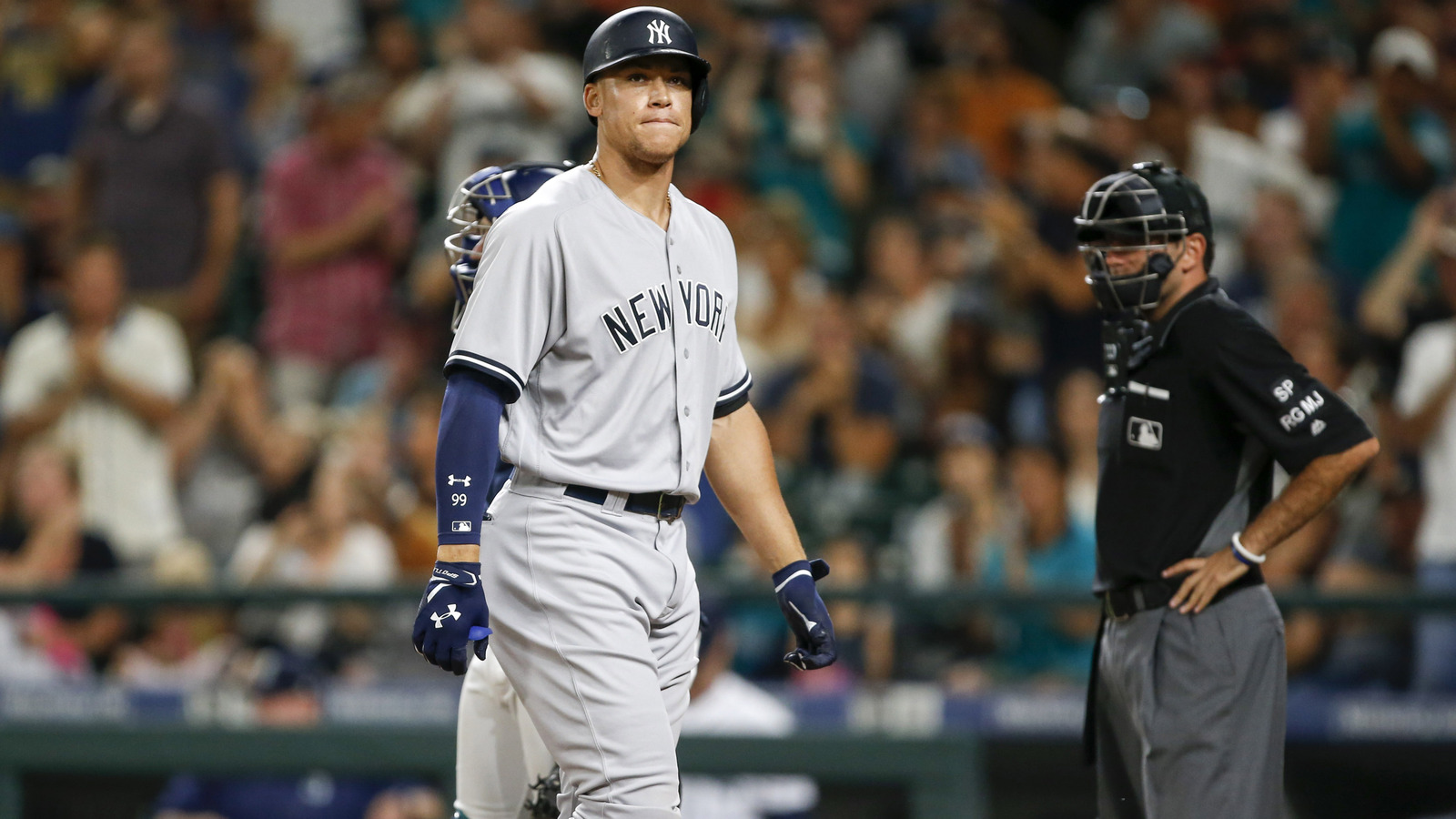 Jul 22, 2017; Seattle, WA, USA; New York Yankees right fielder Aaron Judge (99) walks back to the dugout after striking out against the Seattle Mariners during the tenth inning at Safeco Field.
Joe Nicholson-USA TODAY Sports
The dog days of August have made many MLB stars look quite ordinary over the years. As we head into the dog days of 2017, plenty are already beginning to look rather bland.
Who are those guys?
Which Yankees sluggers need to get things going? If the Cardinals are going to compete for a playoff spot, what pair of pitchers will need to rediscover their first-half forms? Can the Twins be a Cinderella story? If so, which players are under the most pressure to revert back to what they did in the first half? Lastly, what trade-deadline prize struggled in his final appearances with his old team?
The one qualifier here is that we're looking at guys on contending teams. For the sake of this argument, we're defining that as any team who entered August within five games of a playoff spot.
Fortunately (or maybe unfortunately), the contenders give us plenty of struggling stars to choose from. So, who are those guys? Which MLB stars on contending teams most need a jolt as we head into the dog days of the season.
Note: Unless otherwise noted, stats cited are accurate through play on July 31.
Aaron Judge, right fielder, New York Yankees
If you're worried about Judge in the long term, pump the brakes. He's not the first player to struggle after the Home Run Derby, and the second half is frequently unkind to rookies. But if you're wondering if Judge's slump will hinder New York's playoff chase, that's fair. After hitting .303, .347, and .324 in April, May, and June, he dropped to .230 in July. Worse, he's hit at a .169 clip since the All-Star Break. In the first half, he made team history. In the second half, he's been making history of another kind, becoming the first Yankee to strike out in 20 straight games.
Mike Leake, starting pitcher, St. Louis Cardinals
If the Cardinals were in either of the National League's other divisions, they'd be long out of contention. Even playing in what's been a fairly mediocre Central division, St. Louis is close. If the Cards are going to remain in contention, they'll need Leake to return to his first-half form when he posted a 3.12 ERA and 1.15 WHIP. Early in the second half, he's dropped to a 4.26 ERA and 1.74 WHIP, with opponents hitting .309 and sporting a .385 OBP.
Robinson Cano, second baseman, Seattle Mariners
Thanks to a fairly congested American League, the Mariners are only 2.5 games out of the second American League Wild Card spot. But it's hard to imagine Seattle making up those games (and holding off all of the trailing teams) if Cano can't find his first-half form. The All-Star Game MVP slumped through July, slashing at .210/.279/.350 with only three home runs. This was after going .287/.343/.504 with 14 home runs from April through June. The Mariners signed Cano in 2014 to come through in the big spots. The rest of the season qualifies.
Ervin Santana, starting pitcher, Minnesota Twins
Santana was one of the few bright spots on a dismal Twins team in 2016. Then he started 2017 on fire for Minnesota as it emerged as a surprising contender, earning a trip to the All-Star Game in the process. The second half, though, has been a turn in the other direction. It's only been three starts, but Santana has struggled to a 6.19 ERA and 1.63 WHIP. Moreover, opponents are slashing .292/.361/.615 against him. That's certainly not what you want to see heading into the notorious dog days of August.
Mark Reynolds, first baseman, Colorado Rockies
Colorado has been good to Reynolds. Over 2016 and 2017, he transitioned from a guy whose only strength was hitting home runs to a fairly well-rounded hitter. But July was a struggle, with Reynolds slashing at .229/.319/.410 and striking out 35 times in only 83 at-bats. Worse than that, he only hit three home runs and drove in 10 runs. With summer weather in full force, July should be one of the best months of the year for power hitters. Instead, it was a flop for Reynolds. August will need to be better.
Carlos Martinez, starting pitcher, St. Louis Cardinals
In May and June, Martinez was one of baseball's best pitchers. He posted a 2.23 ERA, 0.94 WHIP and posted a K/9 rate of 9.5. In July, things went a little differently. Martinez amassed a 5.90 ERA, 1.62 WHIP and struck out only 7.2 hitters per nine innings. Additionally, after allowing only six home runs over May and June combined, Martinez surrendered seven long balls in July. Much like Leake, Martinez will need to be significantly better in August if St. Louis is going to have any chance of playing meaningful baseball in September.
Gary Sanchez, catcher, New York Yankees
We know how powerful Sanchez is. We saw what he did in the Home Run Derby. In 2016, he hit 20 home runs in only 201 at-bats. Entering July, Sanchez had 13 long balls, hitting nine in June. So, it's noticeable that he only hit three homers in July, especially since it came with a paltry .231/.273/.396 slash line. Much like Judge, it's hard to think that this means too much for Sanchez long term. But like Judge, it's something that he needs to snap out of if New York is going to prevail in a crowded playoff race.
Lance McCullers Jr., starting pitcher, Houston Astros
We have to point out that McCullers is on the DL now, so his turnaround will have to wait. But when McCullers comes back, he'll need to be a much different pitcher than the one he was immediately before going to the DL. McCullers had a July to forget, surrendering a .386/.480/.470 line, posting a 9.64 ERA, 2.30 WHIP and allowing 20 earned runs after allowing only 26 over the first three months. The Astros had a quiet trade deadline, so if they're going to go on a deep playoff run, it will require a big step up from the current players, especially McCullers.
Jackie Bradley Jr., center fielder, Boston Red Sox
While he was streaky, Bradley went into the All-Star break with fine numbers. He had a .280/.363/.490 slash line, 12 home runs and 38 RBI. Since the break, Bradley has slumped, slashing at .205/.234/.260 with no home runs and only three batted in. A playoff spot is no guarantee for the Red Sox, as most of the American League is breathing down Boston's neck in the Wild Card race. Even then, the Red Sox would much rather win the division and use Chris Sale in Game 1 of the ALDS instead of a Wild Card Game. For that to happen, Bradley has to turn it around.
Jose Berrios, starting pitcher, Minnesota Twins
After a disastrous rookie season in 2016, Berrios spent the first half of 2017 showing why he was once one of the best pitching prospects in baseball. He finished the first half with 3.53/1.08 ERA/WHIP while striking out 69 hitters in 71.1 innings. Berrios has had only three starts in the second half. In those, he's lasted a total of 12.1 innings, accruing a 5.11 ERA, 1.87 WHIP and striking out only nine hitters. Like Santana, Berrios will have to up his game if the Twins are going to hang around in the playoff race.
Ben Zobrist, outfielder, Chicago Cubs
Unlike most of the players on this list, 2017 has been a season-long slump for Zobrist. He's slashing at .219/.307/.370. Zobrist followed up a particularly bad June (.132/.195/.237) with an only marginally better July (.208/.271/.312). He's also struggled to a .165/.297/.313 line on the road. That's always problematic, but is especially so this year. The Cubs are well behind both the Dodgers and Nationals. They're going to have to win playoff games on the road to get back to the World Series. It's hard to imagine that happening with Zobrist struggling so much.
Jason Vargas, starting pitcher, Kansas City Royals
Vargas earned his first career trip to the All-Star Game with a marvelous first half. He posted a 12-3 record with a 2.62 ERA and 1.15 WHIP. That was aided by a magnificent BB/9 rate of 2.1. That control has been gone in his first three second-half starts, with a 4.6 BB/9 rate, a 5.93 ERA and 1.90 WHIP. The Royals are not known for their deep starting rotation. Kansas City currently occupies the American League's second Wild Card spot, but if Vargas continues down this road, it will spell trouble.
Ryan Zimmerman, first baseman, Washington Nationals
The good news for Zimmerman is that he's stayed healthy in 2017. The bad news is that he's regressed. After a booming start from April through June (.339/.380/.628, 19 home runs), Zimmerman slumped through July (.234/.282/.455, five home runs). The good news for the Nationals is that they have plenty of cushion. But Washington needs to finally validate a great regular season with a deep playoff run. Zimmerman needs to find his form, because it will be very hard to wade through a stacked National League is he does not.
Fernando Rodney, relief pitcher, Arizona Diamondbacks
Much like Zobrist, the 2017 season has just been a mess for Rodney. In truth, Arizona probably has enough cushion to hold one of the Wild Card spots even if he continues to struggle. But winning a likely Wild Card Game showdown against a stacked Rockies offense, then beating two of the Dodgers, Cubs, and Nationals will be quite the chore. Doing so with a closer sporting an ERA north of 5.00 will be essentially impossible. Rodney needs to find the form that he had in 2016 when he had a solid 3.44 ERA. If not, the D-Backs will be in trouble.
Miguel Sano, third baseman, Minnesota Twins
Sano joins Judge and Sanchez as Home Run Derby participants struggling to find their form in the second half. After a first half that saw him thrive with a .276/.368/.538 slash line and 21 home runs, Sano's pace has fallen off dramatically. Since the All-Star Game, he's struggled to a .218/.302/.400 line with only two long balls. The Twins have fallen off for a lot of reasons. The struggles of pitchers like Santana and Berrios have contributed. Getting such anemic offensive production from stars like Sano has been another big factor.
Yu Darvish, starting pitcher, Los Angeles Dodgers
The Dodgers made a gargantuan splash right before the deadline, getting Darvish from the Texas Rangers. The trade clearly makes Los Angeles the World Series favorite, but before the Dodgers start engraving those rings we have to mention that he isn't exactly going to L.A. in top form. Darvish struggled in five July starts, posting an 0-3 record with a 7.20 ERA and 1.47 WHIP. He's been a great pitcher but will need to turn things around if he going to help the Dodgers win their first championship since 1988.
MORE FROM YARDBARKER:
QUIZ: Name every MLB player to hit 30 or more home runs in their rookie season
There have been 26 MLB players that have hit 30 or more dingers in their rookie season. How many can you name?
CLUE: YEAR/TEAM/HR # (* indicates player won Rookie of the Year)
MORE FROM YARDBARKER
MLB News

Delivered to your inbox

You'll also receive Yardbarker's daily Top 10, featuring the best sports stories from around the web. Customize your newsletter to get articles on your favorite sports and teams. And the best part? It's free!