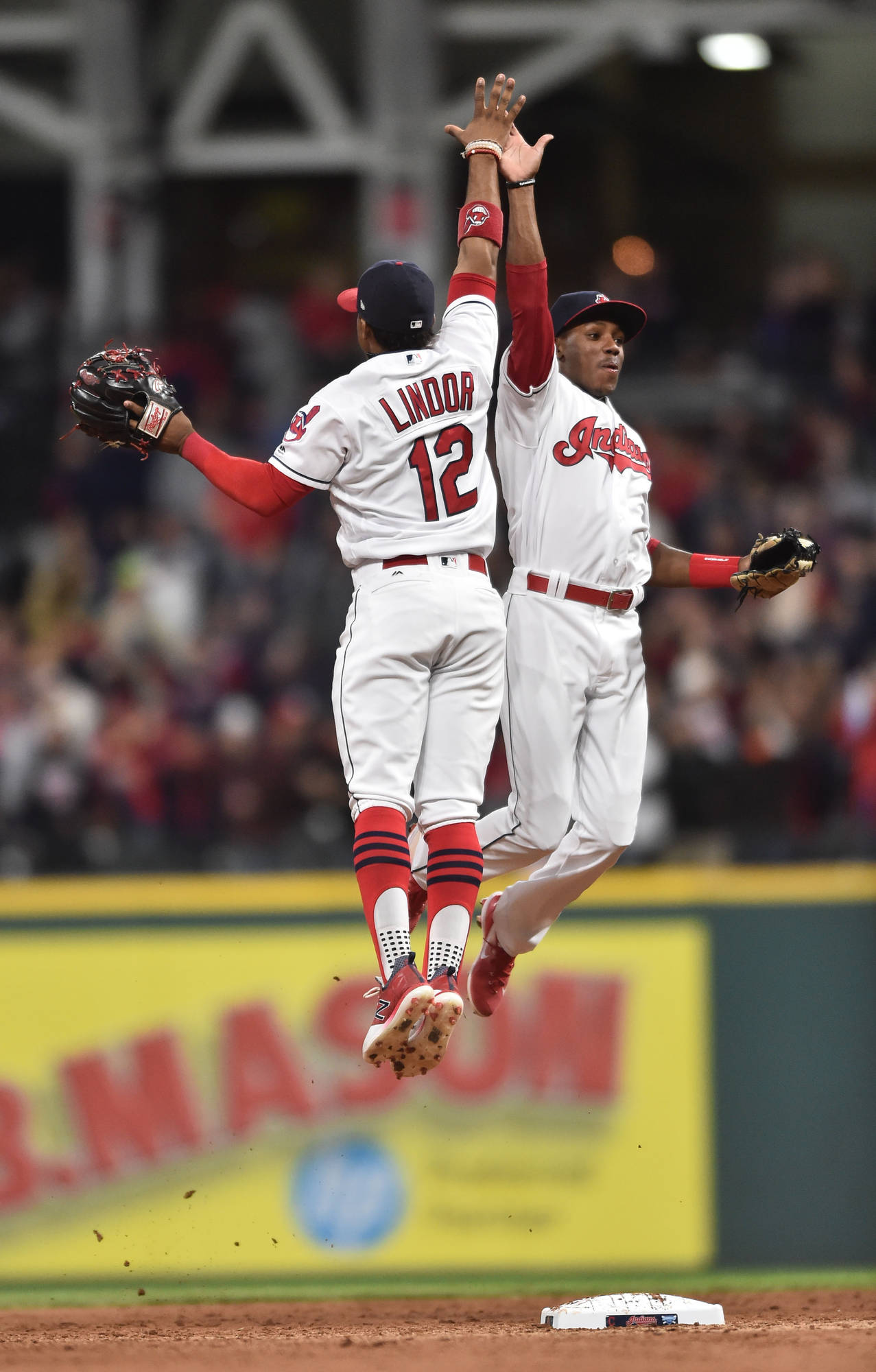 Sep 29, 2017; Cleveland, OH, USA; Cleveland Indians shortstop Francisco Lindor (12) and Cleveland Indians center fielder Greg Allen (53) celebrate the Indians win over the Chicago White Sox at Progressive Field. 
Ken Blaze-USA TODAY Sports
The eight teams remaining in the 2017 MLB postseason give us a pretty wide variety in terms of urgency to win it all.
While the reasons vary, teams like the Chicago Cubs and New York Yankees have a much different feeling than teams like the Los Angeles Dodgers, Washington Nationals and Cleveland Indians.
Every team clearly wants to win and would be disappointed to be sent home early. But some enter the 2017 MLB postseason with much more reason to be relaxed than their counterparts.
As series begin to unfold, a sense of desperation will come over any team that finds itself trailing. But for some teams, the desperation has already kicked in. Starting with the least and working our way up, this is how the remaining 2017 MLB postseason teams rank on the desperation scale.
8. Chicago Cubs
A year ago, the Cubs were a team with a lot of promise that hadn't won a World Series in 108 years or even appeared in one in 71. They would have checked in at No. 1 on this list and really, it wouldn't have been close. A lot can change in one year.
This isn't to say that the Chicago faces no pressure. That would be asinine. But if the Cubs fail, they'll merely be the 17th straight World Series champ to not successfully defend the title.
Heck, they're already the best defending champ in five years. Since the St. Louis Cardinals reached the NLCS in 2012, no defending champ has even made the playoffs. Chicago is one of only two since then to even finish with a winning record.
Certainly, the Cubs will earn plenty of critics if they don't win, especially if the postseason stay is a short one. A team that features guys like Anthony Rizzo, Kris Bryant, Jon Lester, Jake Arrieta and Wade Davis should not have a short postseason stay.
But given that Chicago is the defending champion and that so many of those teams have failed in recent years, it's not out of line to say that the Cubs are playing with house money this October.
7. New York Yankees
Some variation of "the Yankees are a year ahead of schedule" was said a lot before, during, and after New York's defeat of the Minnesota Twins in the American League Wild Card Game. Objectively, it's true.
The 2016 season was the one where New York finally cleared out much of the old, expensive, and largely washed-up talent from an era gone by. We were supposed to see a lot of rebuilding in 2017 and maybe even 2018 as the young team developed. Obviously, guys like Luis Severino and Aaron Judge developed quicker than expected. That's created something that we don't often see in the postseason: the Yankees as underdogs.
The underdog label is even more prevalent after Tuesday's game. New York would have been an underdog against the Cleveland Indians if the Wild Card Game went according to plan. But in addition to the starting rotation being on its head (something every Wild Card winner faces), Yankees relievers had to get 26 of 27 outs. So, expect some tired arms coming out of the bullpen. Also, we have to wonder where Severino's confidence is after getting shelled.
That's fairly sizable list of obstacles — and we haven't even talked about how good the Indians are yet.
There's definitely a road map to follow and overcome these obstacles. It would include Masahiro Tanaka shaking off a poor regular season and having a great postseason. Certainly, Sonny Gray could show why he was a Cy Young contender only two years ago. It wouldn't hurt if C.C. Sabathia could revert to the guy that won the Cy Young Award ten years ago and was the ace of New York's 2009 World Series winning team. Offensively, the power of Aaron Judge, Gary Sanchez and the rest of the Bronx Bombers can certainly take over a series.
But if that doesn't happen and the Yankees fall to Cleveland in the ALDS (or the Houston Astros or Boston Red Sox in the ALCS), so what? New York can come back next year and win. Now, the Yankees are not the only playoff team with a bright future. But unlike some of the other ones that we've yet to get to, the New York has won a World Series recently. Eight years might seem like a long time, but let's face it, it's not the kind of championship drought that people write books about.
Combine a fairly recent championship with a young team going against a more talented opponent, and the Yankees really have nothing to lose in 2017. The desperation level just isn't that high.
6. Houston Astros
What we've got in Houston is a team with great, young talent. With Jose Altuve, Carlos Correa and George Springer leading the way, the offense is overwhelming. The pitching is good and has the potential to be great. But objectively, the top-to-bottom pitching staff feels like it has some questions that need to be answered — at least compared to the other best teams in the American League.
If that sounds familiar to anyone, it should. If we jump to the National League and switch Altuve, Correa and Springer out with Kris Bryant, Anthony Rizzo and Kyle Schwarber, we were saying strikingly similar things about the Cubs entering the 2015 postseason.
Much like Chicago two years ago, it seems essentially inevitable that the Astros will win a World Series at some point in the not too distant future. But also much like the Cubs, who hadn't won a World Series in 108 years, Houston has never claimed baseball's ultimate prize.
That adds a level of tension. A deep, young nucleus is a great thing to have. But just because a team should win a championship doesn't mean that it will. Even for young teams, championship windows are short. Nobody knows that better than those associated with a team that hasn't won for a while, or ever, in this case.
We know now that the Cubs didn't win in 2015. Since they did win in 2016, we can now look back at that NLCS sweep at the hands of the New York Mets as a good learning experience. It was a necessary bump in the road on the way to the championship in 2016. But at the time, it created at least some fear that the team and its fans might just be being set up for another heartbreak.
We'll have similar doubts if the Astros fail to win in 2017. And if they win in 2018 or 2019 (or both), we'll look back on those hypothetical doubts and laugh that we ever wondered if a team this talented would win a championship. Of course it would. But in the moment, at least some uneasiness and doubt will exist.
5. Arizona Diamondbacks
In Arizona, the 2017 season played out the way that 2016 was supposed to. This is a strong team that realistically should be in contention for a while. But there are reasons for desperation that go beyond what we talked about with the Astros.
It starts with the man who got the ball in Wednesday's win over the Colorado Rockies, Zack Greinke. He has been one of baseball's best pitchers for a long time and is certainly a true ace. The Diamondbacks can feel good throwing him against anyone. But will that be the case for much longer? He's going to turn 34 in October. Greinke has shown no signs of slowing down, but time isn't exactly an ally, either.
Another guy we have to turn our attention towards is J.D. Martinez. While we get that Arizona was good before trading for Martinez, it would be foolish to suggest that he wasn't a big part of this team's success. He'll be a highly sought free agent this winter. The Diamondbacks will either lose Martinez or pay handsomely to get him back. If it's the latter, then we have to wonder how much that will impact their ability to keep integral players like A.J. Pollock and Patrick Corbin when they hit free agency after 2018.
While we're on the subject of looming free agents, it seems appropriate to point out that Paul Goldschmidt only has two years left on his extremely team friendly deal. Goldschmidt may not leave Arizona, but the Diamondbacks will certainly have to pay big money at some point. Like Martinez, it's hard to think that that won't impact the overall budget.
Additionally, the Dodgers are fixtures in the National League West. The San Francisco Giants were terrible this year, but we can't ignore their success this decade, either. Additionally, the Rockies were also a playoff team in 2017 and the San Diego Padres have a young group that has them pointed in the right direction.
It's a tough division to wade through on a yearly basis. Arizona has a great team. But if 2017 doesn't go according to plan, there's reason to wonder how many more chances there will be in he near future.
4. Boston Red Sox
Why isn't Boston sitting up with the Chicago and New York laughing at all of these desperate teams? The Red Sox have won a World Series as recently as 2013 and have won three since 2004. Young stars like Andrew Benintendi, Jackie Bradley Jr. and Mookie Betts will anchor this team for years to come. If somehow that's wrong, Boston can outspend just about any team in free agency. A team with this pedigree has no business being this high on a list like this.
Yet, here we are.
One reason that we're here is the dreaded rumor mill. Ken Rosenthal of The Athletic recently reported (paywall required) that John Farrell's job may be in jeopardy with another short playoff trip. That certainly creates some desperation for the team, at least those on the team who want Farrell back.
But there's another reason why the Red Sox have to be desperate. The city they play in.
Boston is a pressure cooker. When a team wins, the fans have high expectations. When it doesn't win, they get anxious wondering why it's not happening like it has in the past. Remember, every pro team in Boston has won at least one championship since 2008. New England teams have won 10 titles this century. The fans there know what a championship team looks like and when they're seeing a potential championship team underachieve, they're not bashful about voicing their displeasure.
Which leads us to our next point. This is absolutely a team with championship potential.
Offensively, we understand that the power isn't great. But we also understand that come playoff time, that's not always a big detriment. With Boston's offense, a World Series run would probably look similar to the Giants' recent runs. The Red Sox would hit the long ball, but it would be rare. We'd be far more likely to see them play station-to-station baseball — playing for singles and occasional doubles, picking up extra bases with good base running.
Boston has the team to do it, too. The Red Sox were sixth in stolen bases during the regular season, so they can take the bases when need be. They can also put the ball in play. Only seven teams struck out fewer times than Boston during the regular season and only two of those teams are in the playoffs. We understand that singles, steals, hitting behind runners, and hustling to pick up an extra base isn't as sexy as Aaron Judge hitting a ball 450 feet. But it can win a World Series.
That's just the offense. Chris Sale leads a starting rotation that ranked in the top-10 in ERA during the regular season. Craig Kimbrel anchors a group of relievers that had baseball's second-best bullpen ERA. A strong ace and an elite closer are generally key ingredients to long postseason runs.
If we don't see one, expect Farrell's job to be in jeopardy. Even if he isn't fired in 2017, he'll be in a tense situation in 2018. A home town with high expectations will only add to that.
Boston doesn't crack our top-three. But make no mistake, this team is a long way from playing with house money.
3. Los Angeles Dodgers
Consider this list like the LeBron James era Miami Heat teams. We had the top-three of LeBron, Dwyane Wade, and Chris Bosh, and a significant drop to No. 4 on the team. The only difference is that in this case, the top-three isn't exactly where anyone wants to be.
It starts with Los Angeles.
Since the current ownership group took over, the Dodgers have spent millions upon millions of dollars trying to make this team great. They've overhauled the front office, bringing in team president Andrew Friedman and general manager Farhan Zaidi. Field manager Dave Roberts was hired in 2016 to replace Don Mattingly. On the field, Los Angeles has the No. 1 payroll in baseball by a comfortable margin. The margin is so comfortable, in fact, that the gap between the No. 1 and No. 2 teams is greater than the gap between No. 2 and No. 10.
In a way, it's all worked. This is the Dodgers' fifth straight National League West championship. But make no mistake, this money was not spent to win NL West titles. It was spent to win championships. If you don't believe that, ask minority owner Magic Johnson. Unless his stance has dramatically changed since guaranteeing a World Series win in July, he'll tell you the same thing.
Certainly, this team is more than capable of winning a championship. Los Angeles did win 104 games, after all. Clayton Kershaw has been baseball's best pitcher for the better part of a decade. He's backed up in the starting rotation by capable arms, led by star trade deadline acquisition Yu Darvish. As far as closers go, you're not going to get much better than Kenley Jansen. Adding to that is an offense with explosive young players like Cody Bellinger and Corey Seager, and fantastic veterans like Justin Turner.
What all of that means is that if the Dodgers win, we can line up every human on planet earth, ask anyone who's truly surprised to raise his/her hand, and see precisely no hands go up. This team is just that good.
But what happens if they don't win? What happens if, for the fifth year in a row, Los Angeles' players are relegated to "other guys" status when the opponents are putting their postseason highlight packages together? We don't know the specifics. We just know a healthy deal of panic would be coming from the Dodgers organization.
2. Washington Nationals
To understand why the Nationals come in so high, we have to go back five years.
In 2012, Washington sported the best record in baseball. Amid much debate, the Nationals stuck to their guns and shut No. 1 pitcher Stephen Strasburg down late in the season. Now, the decision made some sense. Strasburg was recovering from Tommy John Surgery. Plus, with a young ace like Strasburg and Bryce Harper in his rookie year, the long-term championship potential of this team was off the charts. Still, shutting down the No. 1 starter before the playoffs was risky.
Five years later and we can now see how risky it was. The Nationals lost in the 2012 NLDS. They did the same in both 2014 and 2016. As frustrating as the recent run has been for the Los Angeles, the Dodgers have advanced to the NLCS twice. But even though it's had home field advantage in every playoff series it's ever been in, Washington has yet to celebrate a postseason series win. Even the 2015 signing of Max Scherzer hasn't brought postseason success.
Now, the fight to put those demons behind them would be enough to earn the Nationals high placement on his list. But really, we've only scratched the surface.
Key players like Harper, Daniel Murphy and Gio Gonzalez are only signed through 2018. Scherzer, meanwhile is locked up long term. But as good as Scherzer is, at 33, it's fair to wonder how many more prime years are left. Ryan Zimmerman is also 33. He enjoyed a tremendous season in 2017 but has dealt with a rash of injuries throughout his career. Durability doesn't usually get better for people as they get older.
Five years ago, a decision was made. That decision might have negatively impacted one team's chance at winning a World Series (it certainly didn't help). But at the time, protecting a seemingly endless championship window made at leas some sense. Between free agency and age, that championship window now has a potential end that isn't that far away. That makes the level of urgency sky high for Washington's baseball team this October.
1. Cleveland Indians
The Nationals and Dodgers are facing insane pressure to win. It takes a perfect storm to top them. Cleveland gives us just that.
What happens if the Indians don't win?
Well, a season that saw the team win 102 games and put together a record winning streak becomes a disappointment. It's that simple.
Sure, that seems harsh. But it's with good reason. The Cubs winning in 2016 gave the Indians baseball's longest championship drought. Having the longest drought in the game is significant enough. The fact that Chicago's drought was broken against Cleveland only magnifies things.
Now, let's take the Cubs out of the equation. For the sake of argument, let's say that everything about the 2016 World Series remained the same, except that the Indians lost to the Giants or St. Louis Cardinals, a team not breaking a significant drought of it own. In that situation, the Cleveland would still be No. 1 on this list.
You can't come any closer to winning a World Series than the Indians did in 2016. They blew a 3-1 series lead and were narrowly on the wrong side of an epic Game 7 loss at home. The only way that you can possibly improve on that is to come back the next year and win.
To be fair, much like Houston, Cleveland doesn't appear to be at the end of its championship window. Francisco Lindor leads a talented young nucleus that should be around to contend for another decade. But also like the Astros, having a team that should contend for at least a few more seasons does not guarantee a championship. Nobody knows that better than the Indians.
There's a reason that the MLB Network produced a 2017 documentary about the mid-late 1990's Cleveland teams called "The Dynasty That Almost Was." From 1995-2001, the Indians won six straight American League Central titles, two American League pennants, and no World Series championships. In 2007, Cleveland had the Red Sox down 3-1 in the ALCS, lost the series, and watched Boston sweep the World Series. The Indians wouldn't return to the playoffs for six years.
Cleveland, Washington, and Los Angeles could all say that they need a World Series win to call this season a true success. But the combination of a great team, a checkered distant past, and a heartbreaking puts the Indians higher than anyone in the 2017 MLB postseason on the "must win" scale.
PLAYERS:
Anthony Rizzo
,
Kris Bryant
,
Jon Lester
,
Jake Arrieta
,
Wade Davis
,
Luis Severino
,
Aaron Judge
,
Masahiro Tanaka
,
Sonny Gray
,
CC Sabathia
,
Gary Sanchez
,
Jose Altuve
,
Carlos Correa
,
George Springer
,
Kyle Schwarber
,
Zack Greinke
,
J.D. Martinez
,
A.J. Pollock
,
Patrick Corbin
,
Paul Goldschmidt
,
Andrew Benintendi
,
Jackie Bradley
,
J.R. Bradley
,
Mookie Betts
,
Ken Rosenthal
,
John Farrell
,
Chris Sale
,
Craig Kimbrel
,
LeBron James
,
Dwyane Wade
,
Chris Bosh
,
Don Mattingly
,
Magic Johnson
,
Clayton Kershaw
,
Yu Darvish
,
Kenley Jansen
,
Cody Bellinger
,
Corey Seager
,
Stephen Strasburg
,
Bryce Harper
,
Max Scherzer
,
Daniel Murphy
,
Gio Gonzalez
,
Ryan Zimmerman
,
Francisco Lindor
TEAMS:
Chicago Cubs
,
New York Yankees
,
Houston Astros
,
Arizona Diamondbacks
,
Boston Red Sox
,
Cleveland Cavaliers
,
Miami Heat
,
Miami Marlins
,
Los Angeles Dodgers
,
Washington Nationals
,
Cleveland Indians
,
Minnesota Twins
,
Colorado Rockies
,
St. Louis Cardinals
,
New York Mets
,
San Francisco Giants
,
San Diego Padres
MORE FROM YARDBARKER:
QUIZ: Name the starting pitchers for every MLB Wild Card game
MLB instituted a wild card game in each league beginning in 2012. Since then, 20 pitchers have taken the mound for their teams in said game. How many of those 20 can you name in five minutes?
Good luck!
CLUE: YEAR / TEAM
MORE FROM YARDBARKER
MLB News

Delivered to your inbox

You'll also receive Yardbarker's daily Top 10, featuring the best sports stories from around the web. Customize your newsletter to get articles on your favorite sports and teams. And the best part? It's free!