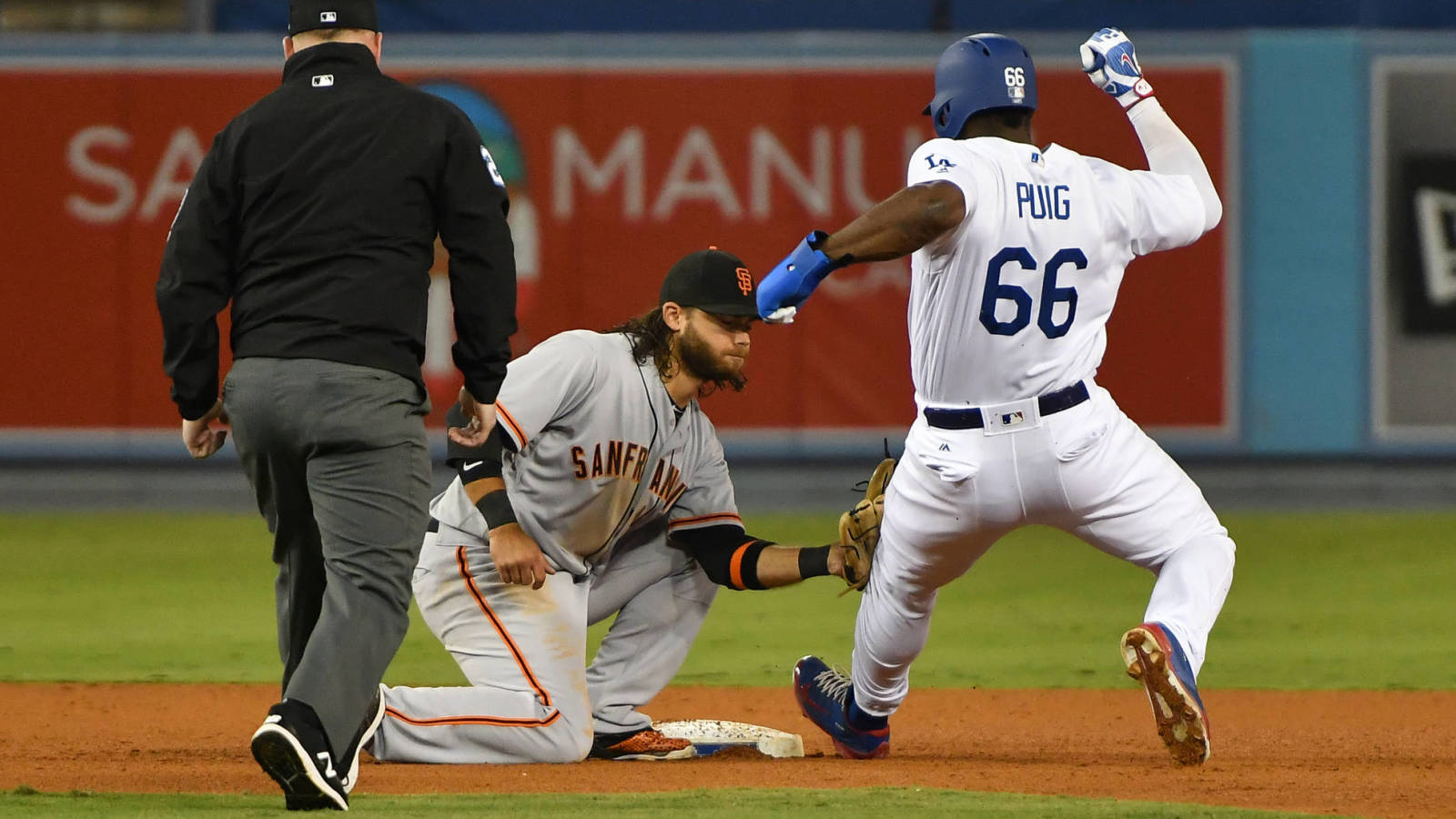 Icon Sportswire/Getty Images
Los Angeles Dodgers manager Dave Roberts decided to bench Yasiel Puig on Sunday after his frustrations boiled over following a game-ending play on Saturday night.
Puig was thrown out trying to steal second base at the end of a 2-1 loss to the Giants Saturday night. Puig made the decision to attempt the steal on his own, and then did not slide. The combination of events left Roberts frustrated.
Yasiel Puig was running on his own on the final play. Dave Roberts: "You can't get thrown out there. That's bad baseball."

— Eric Stephen (@truebluela) September 24, 2017
Puig said after the game that he tried to take advantage of the pitcher's slow delivery, and that's why he attempted to steal. He said he didn't slide because he hurt his ankle.
On Sunday, Roberts responded by benching Puig. The manager noted the decision was the culmination of multiple events.
Roberts said he needs to trust his players to remain focused on every pitch of every inning. He is still frustrated with Puig.

— Andy McCullough (@McCulloughTimes) September 24, 2017
Roberts indicated that Puig's benching was related to more than one incident. The irritation has built up, apparently.

— Andy McCullough (@McCulloughTimes) September 24, 2017
Joc Pederson, Curtis Granderson and Chris Taylor were the starting outfielders for Sunday's season finale between the teams.
MORE FROM YARDBARKER:
QUIZ: Name every member of the Dodgers to hit 30 or more home runs in a season
In the franchise history of the Los Angeles/Brooklyn Dodgers, a player has hit 30 or more home runs in a season 48 times. How many of these 21 sluggers can you name?
Clue: Home runs - Year
MORE FROM YARDBARKER
MLB News

Delivered to your inbox

You'll also receive Yardbarker's daily Top 10, featuring the best sports stories from around the web. Customize your newsletter to get articles on your favorite sports and teams. And the best part? It's free!