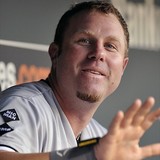 On August 31, Adam Dunn was traded from the Chicago White Sox to the Oakland A's.  A day later, he was in the lineup hitting home runs for his new team. And while the "Big Donkey" is far from hurting in the money department, one eagle-eyed fan noticed that he is still going the bargain route and sporting the old gear. @PhilHecken @UniWatch Adam Dunn still wearing @whitesox batting...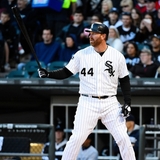 Adam Dunn hit a two run homer in his first at-bat with the Oakland A's The recent acquisition of Adam Dunn showed the baseball world that the Oakland A's were in need of a slugger. The month of August was the first losing month with a 12-17 record for the Athletics since the 2012 season. As a team, they only batted .223 for August with a .345 SLG. So everyone was excited to see what...
Adam Dunn is a peculiar beast…and I mean that in the most positive of ways. The 34-year-old slugger was dealt Sunday by the Chicago White Sox to the Oakland A's and, because people like a story, all the talk became about how he would end his streak of 1977 games (and counting) without a playoff appearance. What's missing is Dunn's consistency. And, no, I'm not talking about the strikeouts...
Your browser does not support iframes. Adam Dunn of all people saw his first career action on the mound Tuesday when he pitched the 9th inning of his White Sox 16-0 blowout loss to the Texas Rangers, and he didn't even embarrass himself. Dunn started the 9th with his team down 15-0 and allowed a […]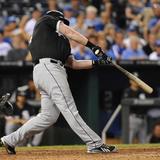 Adam Dunn entered Monday's White Sox game against the Texas Rangers as a pitcher in the 9th inning with his team down 15-0. Dunn surrendered only one run in the inning while giving up two hits and walking one. Expect him to move into the Sox rotation next week. The post Video Evidence Of Adam Dunn Pitching For The Chicago White Sox appeared first on Diehardsport.
A month ago if you had asked me who my least favorite player on the White Sox roster was, I probably would have said Adam Dunn. To me he has been a bigger Chicago free agent bust than Ben Wallace. But it seems a month into the season I've come full circle on the designated hitter because after just 22 games I think the White Sox should resign Dunn. Adam Dunn's first three years with...
Chicago White Sox designated hitter Adam Dunn may be best known for his slugging prowess (or alternatively, the frequency at which he strikes out when he's not demonstrating his slugging prowess) in the big leagues, but he has also dabbled a bit in acting. Dunn had a very minor, uncredited role as bartender Neddie Jay […]The post Adam Dunn ribbed by Chicago White Sox teammates for...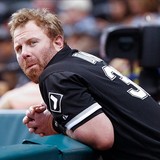 You don't often hear stories of a guy walking away from $15 million, but in the case of Adam Dunn...you just might. According to reports, the Chicago White Sox slugger is actually considering retirement. "If I'm not having fun, I can't do it. I won't do it. I can't. I'll be a miserable person. I don't want to be like that. I want to be like I am a lot. Happy," Dunn, who turns...
MORE STORIES >>
MLB News

Delivered to your inbox

You'll also receive Yardbarker's daily Top 10, featuring the best sports stories from around the web. Customize your newsletter to get articles on your favorite sports and teams. And the best part? It's free!