We've updated our Privacy Policy.
By continuing to use this site, you are agreeing to the new Privacy Policy.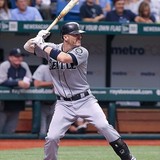 Uh-oh. Didn't see that coming...In December, when the Eve-Emp snagged Brendan Ryan for two years, we figured he was golden in the field, the perfect defensive replacement for Derek Jeter, and if he ever hit a single, we'd book a banquet hall and serve cheesecake. So what if he channeled Chico Escuela. (Pictured) He had the glove.Now, they're saying pinched nerve in the back.Five...
Everybody knows that Brendan Ryan can play shortstop. It seems like every game, Ryan makes the highlight reel with a remarkable play that saves a run or gets a pitcher out of a jam. He has been the starting shortstop this year because of his glove. Ryan is now starting to hit and he's becoming one of the best short stops in all of baseball. Ryan started the year in a slump and...
5/27/12: Brendan Ryan ranges up the middle to glove a grounder, then makes a terrific spinning throw to get Bobby Wilson by a stephttp://mlb.mlb.com/video/play.jsp?co...y_21809721&v=3Ryan's spinning throw
LIKE WHAT YOU SEE?
GET THE DAILY NEWSLETTER:
The Seattle Mariners were all over ESPN SportsCenter this weekend. Unfortunately, for the baseball team from the Pacific Northwest, it was for all the wrong reasons. Phillip Humber threw a perfect game Saturday highlighting the White Sox's three-game sweep of the Mariners. After a competitive series against the Indians, the Mariners did not have a lead on the White Sox until Sunday...
The Mariners' season-opening trip to Japan provided shortstop Brendan Ryan with the perfect opportunity to pop the question, and Major League Baseball provided an assist. The 30-year-old told his longtime girlfriend he would be taking her on a tour of the city Tuesday, but the guide was actually an employee of Major League Baseball who was in on the plan. When the couple reached...
Brendan Ryan the 30 year old all world short stop for the Seattle Mariners this week proposed to his long-time girlfriend on Tuesday. The event took place on the Sky Deck on the 90th floor of Mori Tower in downtown Tokyo. PER MLB.com Ryan told his girlfriend, Sharyn, they were going on a tour and needed to be dressed nicely. Quote: "I had this planned for quite...
MORE STORIES >>
Tigers News

Delivered to your inbox

You'll also receive Yardbarker's daily Top 10, featuring the best sports stories from around the web. Customize your newsletter to get articles on your favorite sports and teams. And the best part? It's free!