We at BSN Denver are running a series where we rank how valuable each of the Colorado Rockies' 51 players was to the team in 2015. Value was calculated by statistics, viewing, and how memorable each player's contributions were. The rankings will be from last to first, you may view the full rankings (here) Player: David Hale Stats: 17 G, 12 GS, 78.1 IP, 5-5, 6.09 ERA, 1.468 WHIP...
DENVER (AP) The Colorado Rockies have recalled right-hander David Hale from Triple-A Albuquerque. Hale was on the 15-day disabled list with a left groin strain from July 10 to Aug. 18. He made two starts before being optioned to Albuquerque on Aug. 23. He began the season on the 15-day DL with a strained left oblique. He was brought up twice as the 26th man for two doubleheaders...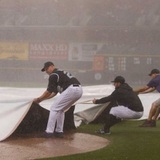 By Jason Rowan For the second time this week, a grounds crew at an MLB ballpark faced the wrath of Mother Nature as they attempted to drag a tarp over the infield during inclement weather. First, it was the crew at PNC Park who couldn't tame a wind-blown tarp during a rainstorm. On Thursday night, it was the grounds grew at Coors Field's turn during a game between the hometown Colorado...
LIKE WHAT YOU SEE?
GET THE DAILY NEWSLETTER:
DENVER (AP) Colorado Rockies right-hander David Hale left Thursday night's game against the Atlanta Braves in the third inning because of a mild left groin strain. Hale, who was scheduled to start Friday night, instead entered in the top of the second inning in place of starter Kyle Kendrick after a rain delay of 2 hours, 6 minutes. Kendrick did not return after pitching the first...
  It's been a common theme for the 2015 Colorado Rockies. The starter goes out and gives up a few runs early and the offense is forced to play catch-up all night long as the starter continues to slowly give up runs. On Monday night in Oakland, David Hale gave up four 1st inning runs on two, two-run home runs. In a pitcher's park like Oakland, the Rockies were essentially done before...
The Colorado Rockies placed Rafael Betancourt in the 15-day disabled list on Monday, retroactive to June 7, per Patrick Saunders on Twitter. Betancourt has been struggling with a sinus infection for at least a week now. He was forced from an appearance against the Philladelphia Phillies on May 30 due to the the sinus infection. He was moved to the DL due to vertigo symptoms. The...
ATLANTA -- The Braves pulled off another trade in their busy offseason Friday, dealing right-handed pitchers David Hale and Gus Schlosser to the Colorado Rockies for minor league catchers Jose Briceno and Chris O'Dowd. Hale pitched 45 games for the Braves last season, going 4-5 with a 3.30 ERA, and had been expected to compete for a spot in the starting rotation. Schlosser worked...
In standard formats, David Hale is not a guy you will be looking to have on your roster at the outset of the season. He is a guy to keep an eye on, but this article will be driven more towards NL only players and those in deep leagues. Hale is looking like a candidate for a starting gig with the Braves after their pitching staff has been ravaged by injuries during the spring's first...
Georgia native David Hale will make his first big league start Friday against the San Diego Padres. With their magic number whittled down to 6 games, the Atlanta Braves welcome back familiar faces and have high hopes for the return of others as they head home to Turner Field to face the under .500 San Diego Padres for the weekend series. In the first game of the weekend series, the...
MORE STORIES >>
Yankees News

Delivered to your inbox

You'll also receive Yardbarker's daily Top 10, featuring the best sports stories from around the web. Customize your newsletter to get articles on your favorite sports and teams. And the best part? It's free!