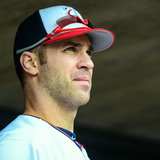 On the heels of a bounceback 2017 season in which he posted a strong .305/.384/.417 slash line and finished as a finalist in AL Gold Glove voting, Joe Mauer tells MLB.com's Rhett Bollinger that he believes he can continue playing beyond the 2018 season — the final year on his eight-year, $184MM contract. Mauer adds that he cannot envision himself donning a uniform other than that...
The only thing worse than overvaluing a small sample size is overvaluing a small minor-league sample size. When the Cleveland Indians signed veteran Juan Uribe to a one-year, $4 million deal this offseason, it more or less sealed the fate of Giovanny Urshela. The homegrown third baseman was spectacular on defense for the Indians in 2015, but his bat never found a rhythm. Whether...
This Urshela guy looks familiar. For the second time this season, a Cleveland Indians minor-leaguer was named a player of the week for their respective league. First, it was Mike Papi taking home honors in the Carolina League, and now Giovanny Urshela is being recognized for his fantastic week playing for the Columbus Clippers. Urshela had a dreadful start to the season, going...
Giovanny Urshela has not been with the Cleveland Indians for very long. However, the 23-year-old rookie is already making a positive impression. In doing so, he is looking to do what no player in a Tribe uniform has done since the turn of the century and that is take the reigns of the third base job and truly make the position his. Ever since Travis Fryman left Cleveland following...
The solution to the defensive woes of 2014 might be closer than expected, well at least for third base. Giovanny Urshela, 23, first arrived in the Indians system in 2009. He was never really anything super impressive, aside from his superb caliber defense. He struck out too much, didn't walk enough, and didn't provide much power in his swing. He's always had a decent slugging percentage...
Fans, players, coaches, family, and friends. A lot of people were excited when they found out Indians' top prospect Franciso Lindor was promoted to Triple-A Columbus. But one person was arguably more excited than anyone else about the news. Columbus Clippers third baseman Giovanny Urshela. "Yeah, very excited to see him here at the next level," Urshela said. "I'm very excited for...
Columbus Clippers third baseman Giovanny Urshela has always been known for his stellar defense and gun-slinging arm, but it's his power numbers at the plate that are raising eyebrows this season. As of June 12, the 22-year-old from Cartagena, Colombia leads the Cleveland Indians minor league organization with 61 runs batted in and ranks third in home runs with 13. Through 88 games...
MORE STORIES >>
Indians News

Delivered to your inbox

You'll also receive Yardbarker's daily Top 10, featuring the best sports stories from around the web. Customize your newsletter to get articles on your favorite sports and teams. And the best part? It's free!