We've updated our Privacy Policy.
By continuing to use this site, you are agreeing to the new Privacy Policy.
First and foremost, happy 30th birthday to the best pitcher on the planet, our very own Clayton Kershaw. Even though it seems that he has been with the Dodgers for a nice long time, it doesn't seem that he should yet be at the ripe old age of 30. Speaking of Dodgers pitchers, this weekend manager Dave Roberts announced what the starting rotation would look like heading into the start...
Manager Dave Roberts confirmed on Sunday that Alex Wood, Kenta Maeda, Rich Hill and Hyun-Jin Ryu will follow Opening Day starter Clayton Kershaw in the Dodgers' starting rotation during the first week of the season.
After two productive seasons to begin his Major League career, Los Angeles Dodgers starter Hyun-Jin Ryu missed...
LIKE WHAT YOU SEE?
GET THE DAILY NEWSLETTER:
Los Angeles Dodgers manager Dave Roberts spent a portion of Saturday morning speaking with optimism about Hyun-Jin...
The Los Angeles Dodgers are a visiting team for a second consecutive day but it's in name only Saturday, as it's a...
Though it took longer than anticipated, Los Angeles Dodgers left-hander Hyun-Jin Ryu finally made his 2018 Cactus League debut...
Dodgers lefty Hyun-Jin Ryu, making his first Cactus League start Sunday, had the chance to try out his reworked curveball against Major League batters.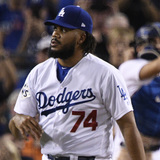 In the latest example of player frustration over the stagnant free-agent market, Dodgers closer Kenley Jansen illustrated that it's not only unsigned players that are unhappy with how the offseason has played out. "Maybe we have to go on strike, to be honest with you," Jansen told reporters at the team's Fan Fest over the weekend (link via Bill Shaikin of the L.A. Times). "…That...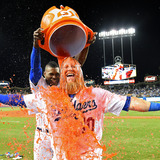 It's easy to look at the Los Angeles Dodgers and dismiss their remarkable success as being fueled by a $250 million payroll, allowing them to throw money at every problem that arises.Sure, the Dodgers' financial power has played a role in their success. But to chalk their success strictly up to that is ignoring a lot of the smart, savvy moves made by one of baseball's best front...
GLENDALE, Ariz. (AP) Hyun-Jin Ryu took a big step in his long comeback from a left shoulder injury. A member of the Los Angeles Dodgers starting rotation before surgery in May 2015, Ryu struck out two in two scoreless innings against the Los Angeles Angels on Saturday in his first exhibition game this year. Ryu, who turns 30 in two weeks, has pitched in only one regular-season...
MORE STORIES >>
Dodgers News

Delivered to your inbox

You'll also receive Yardbarker's daily Top 10, featuring the best sports stories from around the web. Customize your newsletter to get articles on your favorite sports and teams. And the best part? It's free!