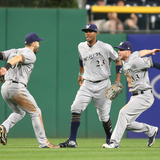 Much has been made of the Brewers' outfield logjam since the signing of Lorenzo Cain and acquisition of Christian Yelich seemingly left the team with more big leaguers than spots to play them. While Domingo Santana has been an oft-speculated trade candidate, frequently connected to pitching targets, Tom Haudricourt of the Milwaukee Journal-Sentinel reports that Keon Broxton has actually...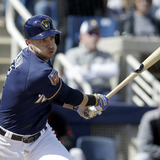 Much has been made of the Brewers' crowded outfield and the potential need to trade someone from that mix, but manager Craig Counsell doesn't see it that way. Speaking to ESPN's Jerry Crasnick, Counsell described a rotation of Ryan Braun, Lorenzo Cain, Christian Yelich, Domingo Santana and Eric Thames between the three outfield spots and first base that could still get everyone from...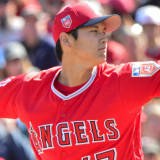 Shohei Ohtani made his highly anticipated spring training debut for the Los Angeles Angels on Saturday, and his reception was mixed.Ohtani went 1.1 innings, allowed two hits, two runs, a walk and struck out two. He allowed a home run to Milwaukee's Keon Broxton.The Milwaukee Journal Sentinel's Tom Haudricourt says Brewers hitters described Ohtani's fastball as firm but flat after...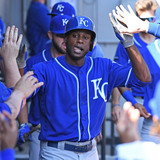 In a stunning turn, the Brewers have agreed to a deal with free agent outfielder Lorenzo Cain, according to Ken Rosenthal of The Athletic (via Twitter). It's a five-year, $80MM deal, according to ESPN.com's Jerry Crasnick (Twitter link), which includes no-trade protection and "significant award bonuses."Having passed his physical, per Crasnick (via Twitter), Cain will join Christian...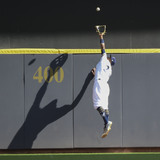 Milwaukee Brewers center fielder Keon Broxton deserves the save after making a remarkable catch to close out the Milwaukee Brewers' 6-5 win over the St. Louis Cardinals on Wednesday.With the Brewers clinging to a 6-5 lead with two outs in the ninth, St. Louis's Randal Grichuk hit a deep fly ball to center. It was headed over the fence to give the Cardinals a 7-6 lead — and then Broxton...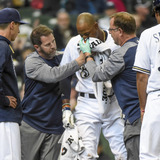 Keon Broxton suffered a broken nose after being hit in the face by a pitch on Thursday, but he will luckily avoid a DL stint.The Milwaukee Brewers outfielder was hit in the face by a pitch from Antonio Senzatela during the bottom of the second. It was his first at-bat of the game Broxton was bloodied but able to walk off on his own. The 26-year-old, who entered the game 0-for-6 on...
Brewers outfielder Keon Broxton left the game Thursday against the Rockies after being hit in the head by a pitch. Ouch! After watching the footage over and over again (and it's okay to admit that you did), it looks like it could have been way worse for Broxton. "Luckily," the face guard/flap of the helmet seems to have taken the brunt of some of the ball, protecting his face. The...
I've encouraged you to believe in Keon Broxton before. In baseball-game terms, that wasn't even very long ago. So you could accuse me here of being unoriginal, but I've prepared a counterargument. For one thing, it's January, shut up. For a second thing, I bet a lot of you missed my previous summary. And for a third thing, now there's some new information. This is a Keon Broxton...
Out of nowhere, center fielder Keon Broxton has made a case for himself as Milwaukee's best player in August. He has four homers and 11 stolen bases in just 24 games this month, and his .414 OBP leads all Brewers regulars to go with a .292 batting average and a .514 slugging percentage. After going 0-for-16 in his first stint with the big club in April, Broxton has turned his season...
Sometimes things don't work out. For example, this morning, I dropped my bagel when I was climbing the stairs. Had things gone according to plan, I would have not dropped my bagel when I was climbing the stairs. Unfortunate for me. Arguably unfortunate for the bagel. And then, sometimes, things do work out. For example, last Friday, I chatted a little bit about Keon Broxton. Then...
MORE STORIES >>
Brewers News

Delivered to your inbox

You'll also receive Yardbarker's daily Top 10, featuring the best sports stories from around the web. Customize your newsletter to get articles on your favorite sports and teams. And the best part? It's free!