In a candid, must-read interview with Bleacher Report's Joon Lee, former No. 1 overall pick Mark Appel reveals that he's stepping away from professional baseball at the age of 26. Appel didn't use the word "retirement" and suggested that perhaps, somewhere down the line, he'd give baseball another shot. However, for the time being, he won't be reporting to Spring Training with the...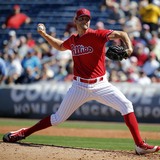 Back in 2013, the Houston Astros would select Mark Appel first overall. But unfortunately, the talented righty has never been able to put it all together. And now he's reportedly taking a break from baseball.In an interview with Bleacher Report's Joon Lee, Appel has other things on his mind. But primarily, it's health."Maybe we should all get together and have a party. I don't know...
Mark Appel is one of the great unknowns this spring. He remains something of an enigma, wrapped in a riddle, and now shrouded in post-surgery mystery. I will begin with a brief history of a player who has seen his prospect luster diminished as dramatically as few pitchers in recent memory. Recall that the former Stanford University ace was drafted twice in the first round. In 2012...
The Astros' decision to give up on the number one overall draft pick from 2013 could be a terrific blessing for the Phillies as righty hurler Mark Appel lands firmly among his new club's top prospect rankings following this off-season's trade that sent reliever Kenny Giles to Houston. There is no question that there would be extremely high expectations of a guy selected number one...
Newly-signed Houston Astros pitcher Mark Appel shows off his new uniform. (Photo: David J. Phillip, AP) When Mark Appel made the decision to forego the MLB Draft for another year following a dominant junior season at Stanford University, the Houston Astros made the decision to select Lance McCullers with the team's second pick in the first round of the 2012 draft, after taking Carlos...
As suggested by the 9.74 ERA he recorded over 44 innings in the California League this season — or even his most recent start in the Arizona Fall League, during which he conceded six runs over 4.0 innings — Houston right-hander Mark Appel's professional career hasn't been entirely free of difficulties. That he continues to […]
Top Houston Astros prospect Mark Appel has been fast tracked in the minors since being selected No. 1 overall in the 2013 MLB draft. The 24-year-old righty was just promoted to Double-A Corpus Christi despite putting up a 9.74 ERA in high Single-A ball.  That may or may not be the issue that some current Astros have with the way Houston is treating Appel at this point. The youngster...
Having a 9.74 ERA in the minor leagues would usually result in a pitcher being released. In Mark Appel's case, it led to a promotion. And that has members of the Houston Astros peeved. Appel, who was the No. 1 overall pick in the 2013 draft, was promoted from High-A Lancaster where he was struggling, […]
For the third year in a row, the No. 1 pick in the Major League Baseball First-Year Player Draft belongs to the Houston Astros. The team selected Stanford right-hander Mark Appel a year ago and it seems all but official a hurler is going to be top dog for the third time in four seasons in 2014. There's no question GM Jeff Luhnow has an appealing trio of pitchers at his doorstep to...
Reporting on prospects is a somewhat dicey proposition for a self-appointed sabermetrician. The big league game is dependent upon numbers while the prospect world is dependent on scouting reports and first person accounting. So, when I report on prospects I often report of what others have said about the player. This makes life difficult because most prospects have their defenders...
MORE STORIES >>
Phillies News

Delivered to your inbox

You'll also receive Yardbarker's daily Top 10, featuring the best sports stories from around the web. Customize your newsletter to get articles on your favorite sports and teams. And the best part? It's free!