We've updated our Privacy Policy.
By continuing to use this site, you are agreeing to the new Privacy Policy.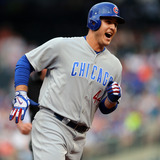 Anthony Rizzo responded to his first game atop the Cubs' batting order in impressive fashion.Joe Maddon has been searching for a leadoff hitter all season. So far, Javier Baez, Ian Happ, Jon Jay, Kyle Schwarber, Matt Szczur, and Ben Zobrist have each manned the top spot. On Tuesday, it was Rizzo's turn, and it didn't take long for the decision to pay dividends. The first baseman...
Remember that painting of Anthony Rizzo and Kris Bryant that teammate Matt Szczur did for charity? Well, the piece of art that immortalized the Chicago Cubs ending their 108-year World Series drought sold Wednesday…fetching $35,000 for charity To put everything into perspective…that's $35,000 more than you have ever thought about spending on a painting, much less one done by a backup outfielder.
LIKE WHAT YOU SEE?
GET THE DAILY NEWSLETTER:
The season is winding down and the Cubs have clinched not only the Division, but also the top seed in the National League. All that's left to do now is to prepare for the playoffs, and that includes trying to decide who is the best fit on the playoff roster. Most of the spots have […]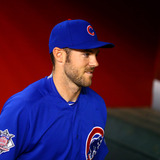 Former NFL quarterback and Heisman Trophy winner Tim Tebow held a workout for MLB teams in Los Angeles last week as part of his attempt to pursue a pro baseball career at the age of 29. Tebow showed off a powerful bat and above-average speed in the 60-yard dash, but there were a few areas of needed improvement. Still, it doesn't seem like he'll have trouble finding an organization...
Matt Szczur talks with CSN's Kelly Crull after he hit a grand slam in the Cubs' 6-1 win against the Braves and David Ross gave him an early shower.
Matt Szczur started for the Cubs on Tuesday night for a couple of reasons. First, he was continuing to fill in for an injured Javier Baez on the 15-day DL with an injured thumb. But more importantly, Szczur was repping Villanova Wildcats everywhere. A former Nova baseball player, Szczur was given his second starting nod of the season against the Los Angeles Angels in part due to...
Last night, Matt Szczur hit a home run on the first pitch he saw in the third inning (and, indeed, in the game). Here's what it looked like: There's any number of interesting angles to talk about here. You could draw a parallel between Szczur's alma mater (Villanova) and what happened in Houston on Monday […]
Chicago Cubs' Matt Szczur runs to first base after hitting a two-run single during the fifth inning of a baseball game against the Pittsburgh Pirates in Chicago, Friday, May 15, 2015. (AP Photo/Nam Y. Huh) Chicago Cubs players and fans were happy after the team's 11-10 victory over the Pittsburgh Pirates on Friday afternoon in Chicago. For once, the Cubs players weren't the ones...
Matt Szczur went 0-for-5 at the plate Wednesday night, but it wasn't the centerfielder's bat that Iowa Cubs pitcher Chris Rusin was thankful for, it was his glove.In the bottom of the ninth inning, Rusin faced Josh Rodriguez of the New Orleans Zephyrs, one out shy of a no-hitter. Rodriguez then hit a soft pop fly to the Bermuda Triangle of open outfield space between the shortstop...
MORE STORIES >>
Padres News

Delivered to your inbox

You'll also receive Yardbarker's daily Top 10, featuring the best sports stories from around the web. Customize your newsletter to get articles on your favorite sports and teams. And the best part? It's free!