We've updated our Privacy Policy.
By continuing to use this site, you are agreeing to the new Privacy Policy.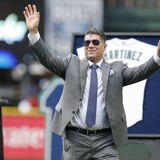 The results are in: four players were elected to the Baseball Hall of Fame and will represent the Class of 2018. Chipper Jones and Jim Thome got in on their first try, while Vladimir Guerrero (second) and Trevor Hoffman (third) also got in.From players who made it to those who didn't, as well as how the controversial figures fared in 2018, we have 10 interesting takeaways from the...
Mike Mussina never won the Cy Young Award. He made the All-Star team only five times over his 18 years in the big leagues. He won 20 games just once, in the final season of his career. His career ERA mark is closer to 4 than it is to 3. In other words, it's not difficult to see why Mussina hasn't been inducted into the Hall of Fame yet, given the traditionalism of the electorate...
Wait a minute. I know what you're thinking:I'm gonna piss and moan about Yankee-hating Gammonites in the Pooperstown vote. Well, you are wrong. How dare you. Nothing, NOTHING, could be further from the truth. This isn't about Mike Mussina being blackballed because he was a Yankee. Nope. He lost because of the F Troop-sorry state of the Orioles during the 1990s. If not for the wretchedness...
LIKE WHAT YOU SEE?
GET THE DAILY NEWSLETTER:
The results of this year's Hall of Fame voting by the Baseball Writers Association of America will be revealed on Wednesday. Some will get in and rightfully so. Others will fall short of election, it may not be because they're undeserving, but rather because of the thought process of some of the voters. ESPN's Pedro Gomez tweeted Monday, "Anyone with a problem with HOF voting should...
The Hall of Fame is set to announce its Expansion Era results Dec. 9. Most certainly, one of Joe Torre, Bobby Cox or Tony La Russa, if not all three, have an excellent chance of getting elected. If so, they would have to wait until Jan. 8 to see who would join them in the Class of 2014. Credit: National Baseball Hall of Fame     I don't have a vote as to who gets elected, but it...
Mike Mussina won 270 games over the course of an 18-year career with the Baltimore Orioles and New York Yankees, and now the right-hander, who went out with a 20-win season at the age of 39 in 2008, is taking the reins of the program where it all started. The basketball program, that is. According to the Williamsport Sun-Gazette , Mussina has been hired as the head basketball coach...
MORE STORIES >>
MLB News

Delivered to your inbox

You'll also receive Yardbarker's daily Top 10, featuring the best sports stories from around the web. Customize your newsletter to get articles on your favorite sports and teams. And the best part? It's free!