We've updated our Privacy Policy.
By continuing to use this site, you are agreeing to the new Privacy Policy.
check out all things Colorado on BuffsTV at CUBuffs.com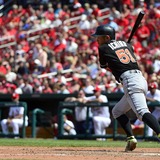 While the Miami Marlins fell to the St. Louis Cardinals on Thursday, outfielder Ichiro Suzuki made history. With two hits, Ichiro became MLB's all-time hit king among foreign born players. Panamanian-born Hall of Famer Rod Carew held the previous record with 3,053.Suzuki is one of only three foreign born players in baseball's esteemed 3,000-hit club. In addition to Carew, the list...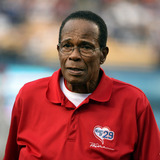 Baseball Hall of Famer Rod Carew is fortunate to be alive after facing a number of health challenges over the past year-plus, but he is doing well because of a heart transplant he received back in December. Believe it or not, the heart that is currently keeping Carew alive once belonged to a fellow former professional athlete.Konrad Reuland, an ex-NFL tight end who was just 29 when...
LIKE WHAT YOU SEE?
GET THE DAILY NEWSLETTER:
Former Major League Baseball player Rod Carew will be in for the battle of his life. The Hall of Famer is scheduled to undergo heart transplant surgery on Thursday after suffering a major heart attack last year. Heart donor has been found for Angels legend Rod Carew. He will undergo transplant today pic.twitter.com/dJE0HQKQQZ — CBS Los Angeles (@CBSLA) December 15, 2016 The...
FORT MYERS, Fla. -- Hall of Famer Rod Carew has reached his goal of attending the Minnesota Twins first full day of spring training, five months after a massive heart attack.He couldn't have been more touched by what he saw when he walked into the clubhouse.The players and staff all were wearing red T-shirts with a white-shaped heart in the center and the words "Heart of 29" in the...
MINNEAPOLIS -- Rod Carew is about four months removed from a massive heart attack that nearly killed him.The 70-year-old Hall of Fame infielder carries a battery-powered device with him to keep his heart on track. But he says without hesitation he'll be at spring training with the Minnesota Twins next month.The meticulous and slender Carew was fit enough last year to look like he...
MINNEAPOLIS -- The Minnesota Twins say Hall of Famer Rod Carew is healthy enough to attend the team's annual fan festival next weekend.Carew had a heart attack in September and is awaiting a heart transplant. But the Twins said Friday that he's feeling strong enough and has been cleared by doctors to attend TwinsFest. The event begins on Jan. 29 and runs through the weekend.Carew...
Hall of Famer Rod Carew has opened up about the health challenges he has faced lately, which are marked by a massive heart attack two months ago that left him facing death. The 7-time batting champion and career .328 hitter spoke with SI's Steve Rushin and shared the details of his heart attack and current health. Carew was playing golf in Corona, Calif., on Sept. 23 when he suffered...
MINNEAPOLIS -- Hall of Famer Rod Carew is hoping to qualify for a heart transplant after a massive heart attack two months ago.The 70-year-old Carew tells Sports Illustrated he was stricken while golfing alone in Corona, California, on Sept. 20.He tells the magazine "they brought me back to life." He underwent six hours of open heart surgery in which a device that pumps blood was...
By Rob Goldman - AngelsWin.com Historical Writer "He won't dare come in on me." Carew thought to himself as he got down in his stance to face Frank Viola." If it's a Breaking balls outside- I'll take it the other way, aim for the gap." Viola ran the count 1-2 and Carew knew he'd be seeing more breaking balls. Viola didn't have his best stuff this inning. He had already surrendered...
MORE STORIES >>
MLB News

Delivered to your inbox

You'll also receive Yardbarker's daily Top 10, featuring the best sports stories from around the web. Customize your newsletter to get articles on your favorite sports and teams. And the best part? It's free!