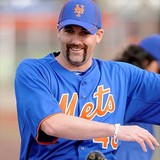 Mets reliever Tim Byrdak has been known for his antics. From Little Jerry the Chicken to the spring training Hulk Hogan, the 39-year old always finds a way to keep the mood light. Sunday at Citi Field, prior to the Amazin's series finale and eventual 12th inning walk-off win, Byrdak was headed to the clubhouse after batting practice. As he walked down the right field line, a number...
As reported by Adam Rubin Of ESPN NY, Tim Byrdak will be signing a minor-league deal with the Mets for 2013 While a bit of an odd move considering Byrdak just had surgery on a torn anterior capsule and the recovery time is over a year, the Mets may just be looking to add some depth that may be able to contribute to some extent for the 2013 season. This may be something that is beneficial...
The New York Mets have announced that left handed reliever Tim Byrdak has been placed on the 15 Day DL with a sore left shoulder. Byrdak, 38, will have an MRI in New York on Monday and will be examined by team doctors from the Hospital for Special Surgery. The Mets lefty specialist is 2-2 for the season with a 4.41 in 56 appearances spanning 30.2 innings.
In his last 10 games Tim Byrdak has faced 11 batters. He has done an outstanding job, retiring 10 of the 11 batters and the only one to reach base drew a walk. Byrdak is a lefty specialist and manager Terry Collins is maximizing his use in that very role. Last year Collins did an outstanding job getting Byrdak to face a LHB in 65% of his PA. This year he is on a similar pace, facing...
Lefty reliever Tim Byrdak underwent successful arthroscopic knee surgery to repair his torn meniscus and will be out for a minimum of six weeks. Last season, his first year with the Mets, Byrdak posted a 3.82 ERA and a 1.407 WHIP. That performance so overwhelmed the team's brass that they rushed out and signed the 38 year old to a contract for 2012. Now the team is scrambling to...
Left-handed reliever Tim Byrdak will have surgery to repair a torn meniscus in his left knee, a team official has confirmed. Byrdak had been complaining of a sore knee that has bothered him the last few weeks. He was sent to New York this morning for further testing at the Hospital For Special Surgery in Manhattan. Surgery has been scheduled for Tuesday (tomorrow). Byrdak was the...
Last year's Mets roster had a bunch of questionable additions on Opening Day that it took until mid-May or later to correct. This year's roster had fewer head-scratching selections and the new management team has been quicker to address problems. Blaine Boyer, clearly the biggest Opening Day mistake, lasted all of 10 days. Lucas Duda was sent to the minors at the same time, a...
Another day, another scoreless inning for Tim Byrdak. So far this Spring, Byrdak has appeared in five games and has 5.1 scoreless IP. Yesterday he even picked up the save, although save chances will probably be non-existent for whoever earns the LOOGY job out of the Mets pen. Byrdak signed a minor league contract with the Mets in January and now has to be considered the favorite...
MORE STORIES >>
MLB News

Delivered to your inbox

You'll also receive Yardbarker's daily Top 10, featuring the best sports stories from around the web. Customize your newsletter to get articles on your favorite sports and teams. And the best part? It's free!