We've updated our Privacy Policy.
By continuing to use this site, you are agreeing to the new Privacy Policy.
Tony Wolters had a dreadful 2017 but multiple factors can both explain this and show a better path moving forward.
Former infielder Tony Wolters is learning the intricacies of being a catcher and has shown the desire to get the job done.
Near the end of spring training in 2013, just days before the Cleveland Indians were to travel north, then-middle-infield prospect Tony Wolters was called into the manager's office at the club's complex in Goodyear, Ariz. There, Terry Francona and a number of front-office members awaited. They offered Wolters a choice. One option was that he could remain a middle infielder, even...
LIKE WHAT YOU SEE?
GET THE DAILY NEWSLETTER: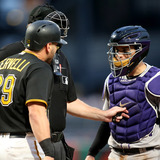 Francisco Cervelli says Colorado catcher Tony Wolters was looking for a fight, which helped spark a benches-clearing incident on Wednesday between the Pirates and Rockies.Cervelli was hit by a pitch from Rockies pitcher German Marquez in the bottom of the fifth inning with his team down 3-0. The Pittsburgh catcher was slow to make it up the line and exchanged words with Wolters,...
In two months or so, we'll roll out our 2017 positional power rankings. Between now and then, not a whole lot should change, so perhaps I shouldn't go out of my way to issue spoilers. But, what the hell, here's our current ranking of the catchers. The Giants are in first. Buster Posey is amazing! The Rockies are in last. Their catchers are also amazing, but less amazing relative...
SCOTTSDALE, Ariz. (AP) The Colorado Rockies have claimed catcher Tony Wolters off waivers from the Cleveland Indians. To make room on the 40-man roster, they transferred right-hander Adam Ottovino to the 60-day disabled list. Wolters, 23, spent last season at Double-A Akron, where he hit .209 with two homers and 17 RBIs and threw out 38 of 77 runners (49 percent) attempting to...
Going into the 2016 season, the catching depth for the Indians is pretty thin. They're lucky enough to have two outstanding catchers at the major league level in Yan Gomes and Roberto Perez. Behind the pair though, there are no viable options at Triple-A Columbus. The next player to be on the depth charts behind these two would be converted catcher Tony Wolters, but last season wasn...
Back in 2012, I had the privilege of sitting down and meeting Tribe High-A prospect Tony Wolters, who was a young, hard-working middle infield prospect who was in the infancy stage of switching positions from shortstop to second base back then. The organization was making the position move for one of their top 10 young stars because of a massive logjam that was forming at the shortstop...
The Indians have a problem in the upper-middle minor league levels that they have yet to fully address. With Jason Kipnis under control through 2017, the Indians have little need for another top level second baseman, but they have a plethora available. From Carolina to Columbus, the Indians have no less than nine Major League quality prospects that could play short stop or second...
Rarely do players successfully transition to more difficult positions, but the Cleveland Indians believe second base prospect Tony Wolters can be the next infielder to be successful converted into a catcher. It's common for a player to move to a less valuable position when his abilities fall short of major league competency, but occasionally a player will increase his value by moving...
MORE STORIES >>
Rockies News

Delivered to your inbox

You'll also receive Yardbarker's daily Top 10, featuring the best sports stories from around the web. Customize your newsletter to get articles on your favorite sports and teams. And the best part? It's free!