Diego Sanchez is looking to start afresh by dropping down to the featherweight division for the first time this coming weekend at UFC Fight Night 78 in Mexico, but even before he steps into the Octagon he's facing a big fight just to make weight. Speaking to MMAjunkie yesterday, the 33 year-old Sanchez admitted that […]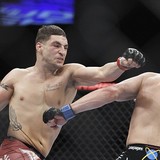 The woes continue for the injury plagued UFC 180 event in Mexico on November 15th as now Diego Sanchez has pulled out of the event too. Sanchez had already seen two potential match-ups at the event fall through after both Myles Jury and then Joe Lauzon both succumbed to injuries, and now it's turn with the fighter reporting that he's torn a knee ligament. "To all my fans I hurt my...
UFC lightweight Diego Sanchez (pictured) didn't appear to be himself in Saturday's unanimous decision defeat to Myles Jury at UFC 171. And no, I'm not just referring to Sanchez's gaudy Mohawk. The creator of the infamous Yes Cartwheel claims his stomach was doing No Cartwheels after eating some funky steak tartare shortly after making weight on Friday. Sanchez believes his bout of...
Diego Sanchez lost out by unanimous decision to Myles Jury at UFC 171 this past weekend and then blamed food poisoning the night before the fight for his performance. "I wasn't my self last night I sustained Food poisoning from eating a beef tar tar with raw quail egg as a appetizer at dinner," Sanchez explained in the first of a series of post-fight messages on Twitter. "This was...
Myles Jury put in a controlled, assured performance tonight against Diego Sanchez at UFC 171 as he claimed a unanimous decision win. Round One: Sanchez with a low stance and tries to land a front kick to the thigh that misses. Sanchez tries a spinning kick, misses and is caught with a good strike. That gets Sanchez fired up and he motions for Jury to come forward. Jury being patient...
UFC 171 has received another stellar addition as Ultimate Fighter season one winner Diego Sanchez gets back in action against undefeated prospect Myles Jury at the March 15 show in Dallas. UFC officials confirmed the new bout on Thursday . Undefeated lightweight Myles Jury gets his toughest challenge yet at UFC 171 in Dallas against FOTN collector Diego Sanchez. -- UFC News (...
Guess who's doing some YES! Cartwheels right now? Well, UFC lightweight Diego Sanchez (pictured) was probably already doing them anyways, but Sanchez has real reason for joy after signing an eight-fight contract extension to remain with the planet's premier mixed martial arts promotion. Sanchez's employment status was reported on this week's edition of "UFC Tonight." As customary...
Diego Sanchez is coming off what could be the Fight of the Year against Gilbert Melendez at UFC 166 in October. UFC president Dana White was super impressed with his performance afterward and now the tough-as-nails lightweight will likely be seeing the effect in his wallet. Sanchez signed a new multi-fight contract with the UFC recently, according to UFC Tonight's Ariel Helwani...
There's no disputing that Conor McGregor and Diego Sanchez would put on an epic fight in the UFC. But on Twitter their beef has become a bit of a mismatch – mostly because of McGregor's willingness to fight dirty. The brash Irishman referred to Sanchez, who happens to be of Mexican descent, as "guacamole brain" during a Twitter tête-à-tête last week. @DiegoSanchezUFC I smell like...
One-and-a-half months after surgery to address a torn ACL and meniscus tear in his left knee, Conor McGregor comes bounding into a room awaiting his arrival. He has no limp, no brace, no noticeable sign that he is nursing an injury that sidetracks most athletes for up to a year. He is wearing a blue suit with a blue and red checkerboard shirt, a polka-dot tie and pocket square. His...
MORE STORIES >>
MMA News

Delivered to your inbox

You'll also receive Yardbarker's daily Top 10, featuring the best sports stories from around the web. Customize your newsletter to get articles on your favorite sports and teams. And the best part? It's free!