We've updated our Privacy Policy.
By continuing to use this site, you are agreeing to the new Privacy Policy.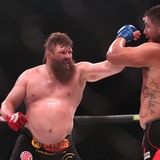 The fans in attendance at Mohegan Sun Arena in Connecticut were not happy with the judges for the result of the Matt Mitrione-Roy Nelson fight at Bellator 194 on Friday night.Mitrione won the fight by majority decision, with the judges scoring the fight 28-28, 29-28 and 29-28 in favor of Mitrione.After the result was announced, fans could be heard booing: Many felt that Mitrione...
Brock Lesnar was reportedly removed from the UFC's active roster as part of a roster purge on Friday.A Twitter account called UFC Fighters Info runs a webscript that produces notifications when UFC.com deletes fighters from its roster. Over 40 fighters were marked as deleted Friday. These can be fighters whose contract with the UFC expired, or ones who retired or are no longer competing...
Former UFC heavyweight champion Frank Mir (pictured) was notified Friday by the U.S. Anti-Doping Agency (USADA), the third party organization the UFC hired in July to conduct year-round drug testing, of a "potential" violation on March 19th's fight night drug test. Mir was knocked out by Mark Hunt in the opening round at UFC Fight Night 85, which took place Brisbane, Australia....
LIKE WHAT YOU SEE?
GET THE DAILY NEWSLETTER:
Former heavyweight champion Frank Mir is the latest competitor to come up on the wrong end of the ongoing battle against doping in the UFC. The following statement was just released by UFC officials moments ago: The UFC organization was notified today that the U.S. Anti-Doping Agency (USADA) has informed Frank Mir of a potential Anti-Doping Policy violation stemming from an in-competition...
Frank Mir just can't get enough now can he? After having lost by unanimous decision to Andre Arlovski at UFC 191, Mir fully heartedly believes that he won the fight. Now Mir is lobbying for a rematch to crown a true victor. Speaking to to Chael Sonnen on his podcast he said, "I think it was a close fight. I don't think it was one-sided." Continuing his conversation with Sonnen, Mir...
Watching it live it almost looked fixed. Frank Mir hits the 6 ft 4 in giant Antonio 'Bigfoot' Silva with a little jab and he drops like a sack of potatoes. Mir follows it up with some more lefts hands and right elbows and Silva is out; referee Mario Yamaskai is forced to wave off the contest. Then we saw the replay. Mir's stand up game has never been his strong suit. During his heyday...
Having dropped four straight scraps, former heavyweight champion Frank Mir (pictured) was fighting for his UFC life Sunday against Antonio "Bigfoot" Silva. Mir came out calm, cool and collected. Oh, and he also came out firing. Mir proved that once again, speed kills. He dropped the Brazilian with a left and proceeded to give him the business on the mat. Silva is now 0-3-1 over...
Former UFC Heavyweight Champion Frank Mir recently spoke with UFC.com about his upcoming fight with Antonio "Bigfoot" Silva at UFC Fight Night 61. There are some gems in this piece. Check out the highlights down below.
Without a doubt, this is do-or-die time for former heavyweight champion Frank Mir (pictured). On Wednesday, it was announced Mir will be fighting for his UFC life against Antonio "Bigfoot" Silva at UFC 184. Staples Center in Los Angeles, California hosts the February 28 festivities. Mir is in the midst of a four-fight losing skid. Many thought the UFC would have cut Mir after his...
Antonio Rodrigo Nogueira probably should have finished a rocked Frank Mir with ground and pound back in December 2011. But his Brazilian jiu-jitsu instincts didn't allow it. In this Gracie Breakdown from "UFC Ultimate Insider," Rener and Ryron give an in-depth look at that Rener describes as "one of the most spectacular submission finishes of all time" – Mir's gruesome kimura finish...
MORE STORIES >>
MMA News

Delivered to your inbox

You'll also receive Yardbarker's daily Top 10, featuring the best sports stories from around the web. Customize your newsletter to get articles on your favorite sports and teams. And the best part? It's free!