We've updated our Privacy Policy.
By continuing to use this site, you are agreeing to the new Privacy Policy.
The two-time Daytona 500 champion posted another update from the slopes.
The two-time Daytona 500 winner who won't be in The Great American Race for the first time in nearly 20 years had some fun Tuesday on Twitter.
Under new guidelines, teams with too many men over the wall will serve a two-lap penalty instead of being parked.
LIKE WHAT YOU SEE?
GET THE DAILY NEWSLETTER:
Matt Kenseth checks in with the 'NASCAR Victory Lane' crew after winning the Can-Am 500(k) at Phoenix International Raceway.
The future of the No. 77 team in the NASCAR Cup Series beyond this season is currently in doubt. Talk coming out of this past weekend in Kentucky has opened the door of possibility of the No. 77 team not running next season. Coming in the 2017 season there was already questions in regards to the No. 77 team of Furniture Row Racing. The team is currently being led by rookie Erik...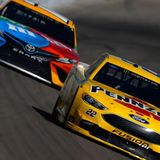 Without intending to, Joey Logano created a hornet's nest for NASCAR when he lost control of his No. 22 Team Penske Ford on the last lap at Las Vegas Motor Speedway and wrecked Kyle Busch as the two were racing for fourth place last Sunday.And may turn out to be the best thing that's happened to NASCAR in a long time.That's because in racing as in wrasslin', hate is great.Nothing...
Now the real Monster Energy NASCAR Cup Series season begins.Daytona Speedweeks was what it always is — two incredibly busy weekends of high-intensity, wide-open racing that resulted in a ton of wrecked race cars and dashed hopes, and an emotionally charged triumph for the winner, in this case, Kurt Busch.That said, Daytona is its own animal, with a totally different rules package...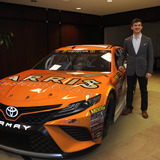 If Drake was to ever become a bandwagon fan in NASCAR, he'd be taking warm-up laps in a Camry. What a time to be alive for Toyota racing.2016 was a groundbreaking year for Toyota in many respects. They hope to take that momentum and carry it into 2017. In a sport where Ford and Chevrolet has dominated the scene for more than 30 years, Toyota secured its first-ever NASCAR Sprint Cup...
NASCAR: Matt Kenseth has his title hopes dashed after being taken out on the final restart and finishing 21st.
MORE STORIES >>
NASCAR News

Delivered to your inbox

You'll also receive Yardbarker's daily Top 10, featuring the best sports stories from around the web. Customize your newsletter to get articles on your favorite sports and teams. And the best part? It's free!