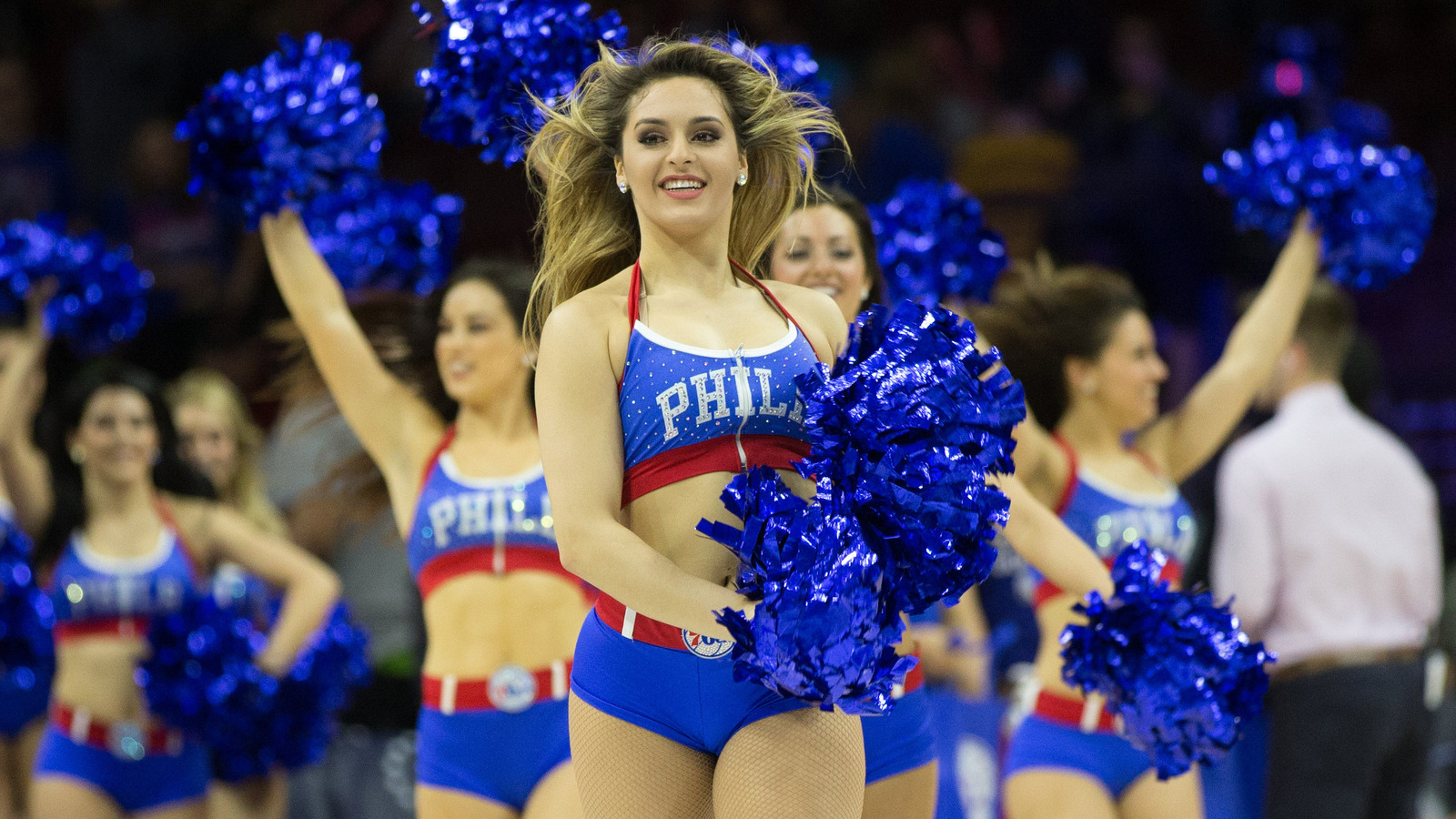 Apr 4, 2017; Philadelphia, PA, USA; the Philadelphia 76ers dancers take the court during a timeout in the second half against the Brooklyn Nets at Wells Fargo Center. The Brooklyn Nets won 141-118. 
Bill Streicher-USA TODAY Sports
If there's any two teams most likely to meet in multiple Eastern Conference Finals over the next decade, it's the Boston Celtics and Philadelphia 76ers, and that potential rivalry became captivatingly intertwined with the biggest draft trade since the early 1990s.
The methodology of Sam Hinkie was always about asset collection with acquiring multiple potential or established superstars the end goal. Hinkie now spends his days listening to books at 3X speed, having frequent "let's pick each other's brain" coffee dates in Palo Alto, and snowboarding in Lake Tahoe while the 76ers are carrying out the intention of his project without him.
The 76ers first moved up to No. 3 thanks to a pick swap with the Kings and then moved up to No. 1 by packaging that pick along with the Los Angeles Lakers' 2018 first rounder and the Kings' 2019 first rounder to the Celtics (with protections). The Lakers' pick came to Philadelphia when they traded Michael Carter-Williams to the Milwaukee Bucks a few months after he won Rookie of the Year.
The number one pick is rarely traded in the NBA with just three instances since 1980: the Kevin McHale and Robert Parish for Joe Barry Carroll trade involving the Celtics and Warriors, the Cleveland Cavaliers acquisition of Brad Daugherty with the 76ers, and the Chris Webber for Penny Hardaway and three future first rounders as the Warriors again moved up but this time with the Magic. One trade helped build a legacy for Boston and the other one should have set Orlando up for the rest of the 1990s if Shaquille O'Neal doesn't leave for the Lakers.
Number one overall picks are historically magnitudes better than any other pick in the draft, but Markelle Fultz is a little bit different as a late bloomer in a draft class without a lot of separation amongst the top-4 or even top-5.
Even still, Fultz will fit perfectly with the 76ers' core of Joel Embiid and Ben Simmons and they will have the most promising players from their respective draft classes in a way that resembles the 2007-2009 run of the Thunder with Kevin Durant, Russell Westbrook and James Harden. If only Hinkie would have picked Kristaps Porzingis instead of Jahlil Okafor.
Fultz can be a traditional point guard but he is more of a scorer than a facilitator. While certainly capable of dominating the ball, Fultz doesn't need to operate in that way to be effective. Fultz projects to be a 40 percent three-point shooter on spot-ups and he'll be dangerous playmaking when he puts the ball on the floor after the catch. Simmons is a better passer than Fultz and the optionality that will come with either player initiating the offense could make Philadelphia a top-5 offense, especially when factoring in the inside/outside game of Embiid.
The size, skill and versatility of this trio will be almost impossible for defenses to contain since switching won't be as effective as it has been against the five-out offenses that have become so common over the past few years. You can see horns sets with these three being run on loop in the halfcourt.
There isn't a guard in the 2018 class that fits with the 76ers as well as Fultz while settling on a lesser fit in De'Aaron Fox or lesser talent in Malik Monk doesn't make sense when there's all these surplus assets waiting to be cashed in. This trade also takes the 76ers out of the running for a veteran free agent point guard like Kyle Lowry or George Hill, which would have clearly been a short-term bridge move. A player like Fultz may have become completely unreachable had the 76ers waited. The Celtics, of all teams, understand there's no guarantee of cashing in those famed assets adequately.
Grade for 76ers: A
For Boston, their trade of the No. 1 pick for No. 3, and two more probable lottery picks, is a signal they plan on continuing to compete in the short-term with their current backcourt unchanged. They also have more future draft picks to trade out for someone like Jimmy Butler, or they can instead give themselves an additional chance of a high pick in next year's draft, which should be even better on the high end with Michael Porter Jr. and Luka Doncic going first and second in some order.
Drafting Fultz would have required a shuffling of Boston's existing roster since there wouldn't have been enough backcourt minutes to split up between Isaiah Thomas, Avery Bradley, Marcus Smart, Terry Rozier and Fultz. The more prudent course may have instead been a mini reset of the roster in which they drafted Fultz and then traded Thomas and Bradley. Both Thomas and Bradley are entering the final year of their current contracts being paid $6.26 million and $8.8 million respectively.
Thomas will be 29 when he becomes a free agent next offseason and is already on record expecting the most money possible when he comes off his four-year, $28 million deal. No matter how long Thomas can keep up his King of the Fourth scoring abilities, he will forever be a 5'9 defensive liability that needs the ball in his hands. Thomas is a great player for a team with a good to average roster as the Celtics have had over the past two seasons. The issue is his value decreases dramatically to a true title contending team that has multiple playmaking All-Stars. Thomas' usage will decrease and his liabilities on defense become even harder to justify. You can realistically argue the Celtics would be better off immediately with a 19-year-old Fultz over Thomas if they add some combination of Hayward or Butler or Blake Griffin, not to mention the obvious benefits of age, affordability and upside.
Assuming there isn't a trade for Butler forthcoming, the anticipated decision to draft Josh Jackson one year after picking Jaylen Brown and two years after attempting to send four picks out for Justise Winslow is a well-defined signal of the type of player Danny Ainge values. If those types of wings can develop a reliable three-pointer, their athleticism and switchability on defense is the toughest player prototype to find in today's NBA while also the most valuable. I understand the logic of preferring Jackson over Fultz and then picking up additional picks on top of that; Jackson is my favorite player in this year's draft, but I'm immensely skeptical of constructing a title contender with Isaiah Thomas as a central figure.
In terms of a value play, the Celtics did extremely well and can't be downgraded for moves that may or not may happen, and contracts to certain players that may or not may happen. Boston could end up with Jackson or Lonzo Ball at No. 3 while also adding Porter or Doncic a year from now, or they may even have enough future picks to trade for Anthony Davis.
Grade for Celtics: A-
MORE FROM YARDBARKER:
Name every No. 1 overall NBA draft pick in the lottery era
Starting in 1985, the NBA implemented a lottery system to determine which team receives the No. 1 overall pick in that year's draft. How many of the top overall picks from this time cane you name in six minutes?
MORE FROM YARDBARKER
76ers News

Delivered to your inbox

You'll also receive Yardbarker's daily Top 10, featuring the best sports stories from around the web. Customize your newsletter to get articles on your favorite sports and teams. And the best part? It's free!