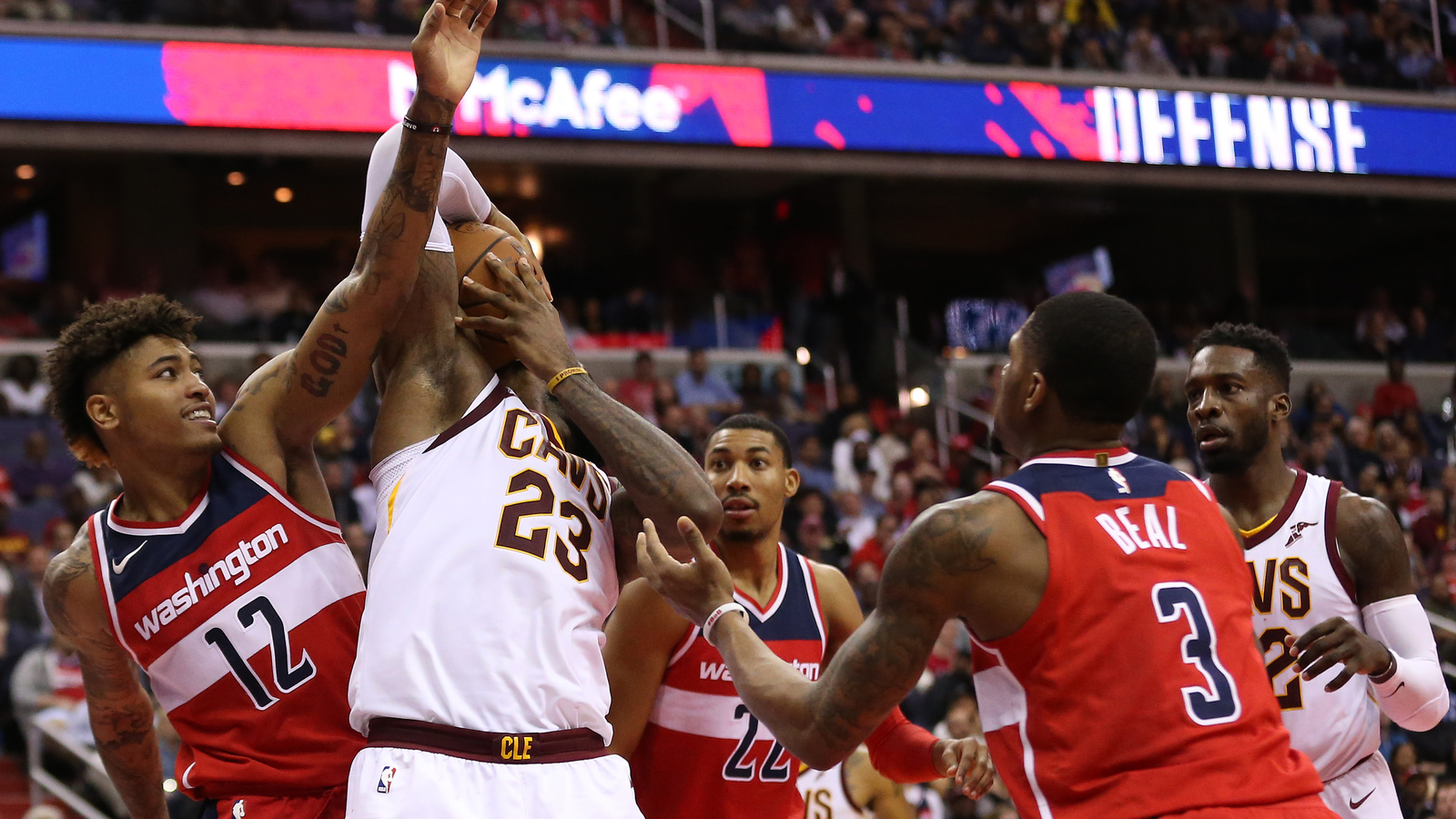 Expect plenty more chippy play in what should be the best game of the week.
Geoff Burke-USA TODAY Sports
The NBA season is still taking shape but this is a nice time to take stock of different teams and players at varying levels of success. Victor Oladipo's big week earns the Pacers a few appearances on the list but the headliner is Cavs/Wizards on Sunday.
Monday
Heat at Grizzlies, 8 p.m.: Both of these teams are looking for momentum as the early part of the season has not gone as well as they hoped. Marc Gasol will not have to face Hassan Whiteside but Miami could counter the big man's strengths by starting Kelly Olynyk.
Hornets at Thunder, 8 p.m.: This season's Oklahoma City team has the capacity to make any game competitive but it will take a big game from Kemba Walker to put the Thunder on their heels. Traditional centers Steven Adams and Dwight Howard will also have a major impact on the outcome.
Trail Blazers at Warriors, 10:30 p.m.: These teams have experience facing off without Stephen Curry as he missed a portion of their 2016 playoff series. Damian Lillard will try to put on a show in his hometown while Kevin Durant will try to repeat as Western Conference Player of the Week.
Tuesday
Nuggets at Pistons, 7 p.m.: Nikola Jokic will not play but the Nuggets have been competitive without their two starting big men. We will have to see how Stan Van Gundy utilizes Avery Bradley but he presents a brutal challenge for sophomore point guard Jamal Murray. 
Spurs at Mavericks, 8:30 p.m.: The Kawhi Leonard return game as of this writing warrants automatic inclusion on this list. Plus, these two teams played a close game against each other about a month ago. 
Suns at Kings, 10 p.m.: A lottery special, especially since Devin Booker will miss this one. Still, good to see a slew of young players on the court against more equal competition.
Wednesday
Clippers at Magic, 7 p.m.: Unsurprisingly, the Clippers have become more competitive as they have gotten healthier and this should be a nice test for them as the Magic started the season strong but have struggled since. Aaron Gordon and Danilo Gallinari may guard each other on both ends, which would be worth watching.
Trail Blazers at Heat, 7:30 p.m.: Both teams will likely be without their starting centers, which could open up their respective offenses a little more. Damian Lillard and Goran Dragic are both dynamic and central to their respective teams' success. 
Bucks at Pelicans, 8 p.m.: Giannis and Boogie on the same floor makes this one fascinating and the point guard matchup of Eric Bledsoe and Jrue Holiday will be a blast as well.
Thursday
Pistons at Hawks, 7:30 p.m.: Atlanta may be getting rookie John Collins back and he instantly makes the Hawks substantially more interesting. Detroit needs to keep pace in a stronger than expected East playoff field but the Hawks have enough talent to win against capable opponents. 
Knicks at Nets, 7:30 p.m.: The Battle of New York still needs competitive teams but Kristaps Porzingis and the Knicks have looked better at close to full strength. This could also be a chance for newly acquired big man Jahlil Okafor to get some minutes.
Kings at Timberwolves, 8 p.m.: This is a game Minnesota should win going away but they have made some missteps this season and keep an eye on how De'Aaron Fox and the Kings try to run on the Wolves, especially in some of their smaller lineups.
Friday
Pistons at Pacers, 7 p.m.: These teams played one of the more fun League Pass games of the season so far when Indiana picked up a comeback win behind a big fourth quarter from a bench-heavy unit. Victor Oladipo's star has risen so much this season, which puts a bigger target on his back for Avery Bradley.
Jazz at Celtics, 7:30 p.m.: Two things to watch here: how quickly Quin Snyder moves away from his two-big starting lineup and how Donovan Mitchell fares against a switch-heavy Celtics defense.
Pelicans at Nuggets, 9 p.m.: If Nikola Jokic and Anthony Davis can play, this game becomes even more compelling but it should be worth watching either way. Denver ended last week going small more regularly and that could work against a Pelicans team that is still shallow on the wing.
Saturday
Trail Blazers at Hornets, 7 p.m.: Damian Lillard vs. Kemba Walker tops the bill but Charlotte will have to worry about CJ McCollum too. His ability to create shots in the mid-range poses a challenge for the Hornets' defense.
Bucks at Rockets, 8 p.m.: Two very different but also very fun teams square off and this one also features former teammates Chris Paul and Eric Bledsoe dueling, which will add intensity. Milwaukee will have to figure out a way to slow down James Harden while the Rockets have a slew of forwards to try on Giannis.
Mavericks at Spurs, 8:30 p.m.: If Leonard does not return for Tuesday's matchup in Dallas, his first League Pass game will likely be against the same opponent here. Either way, it will always be fun to see Rick Carlisle and Gregg Popovich's teams go at it.
Sunday
Magic at Pistons, 3:30 p.m.: Orlando has hit the skids but Nikola Vucevic's ability to pick and pop will force Andre Drummond and the Pistons to make some uncomfortable choices on defense. This also serves as a revenge game for Tobias Harris, who has been hitting threes at a much more prodigious clip this season.
Cavs at Wizards, 6 p.m. (Game of the Week): After the Cavs clearly dropped from the #1 seed in order to duck the NBA's best backcourt in the 2017 playoffs, the games between the two teams have had even more sizzle. Washington still needs to figure out the best way to slow down LeBron James but they should at least have John Wall back to help their offense.
Pacers at Nets, 6 p.m.: The Nets and Pacers combined for 271 points in a regulation game at the beginning of the season, so every remaining game between them will probably end up on this list.
QUIZ: Name every NBA rookie of the Year to also win at least one MVP
In the NBA, winning Rookie of the Year does not guarantee a successful career. In fact, only 17 players who have Rookie of the Year have also gone on to win at least one league MVP awards. How many of these 17 legends can you name in five minutes?
Good luck!
CLUE: ROOKIE SEASON
NBA News

Delivered to your inbox

You'll also receive Yardbarker's daily Top 10, featuring the best sports stories from around the web. Customize your newsletter to get articles on your favorite sports and teams. And the best part? It's free!
PLAYERS:
Marc Gasol
,
Dwight Howard
,
Stephen Curry
,
Kevin Durant
,
Nikola Jokic
,
Devin Booker
,
Danilo Gallinari
,
Goran Dragic
,
Kristaps Porzingis
,
Donovan Mitchell
,
Chris Paul
,
Rick Carlisle
,
Gregg Popovich
,
LeBron James
,
Stan Van Gundy
TEAMS:
Memphis Grizzlies
,
Charlotte Hornets
,
Golden State Warriors
,
Denver Nuggets
,
Phoenix Suns
,
Los Angeles Clippers
,
Miami Heat
,
New York Knicks
,
Utah Jazz
,
Houston Rockets
,
Dallas Mavericks
,
San Antonio Spurs
,
Cleveland Cavaliers
,
Detroit Pistons
,
Portland Trail Blazers
MORE FROM YARDBARKER
NBA News

Delivered to your inbox

You'll also receive Yardbarker's daily Top 10, featuring the best sports stories from around the web. Customize your newsletter to get articles on your favorite sports and teams. And the best part? It's free!